Close
UHV students gain work experience through Victoria County internships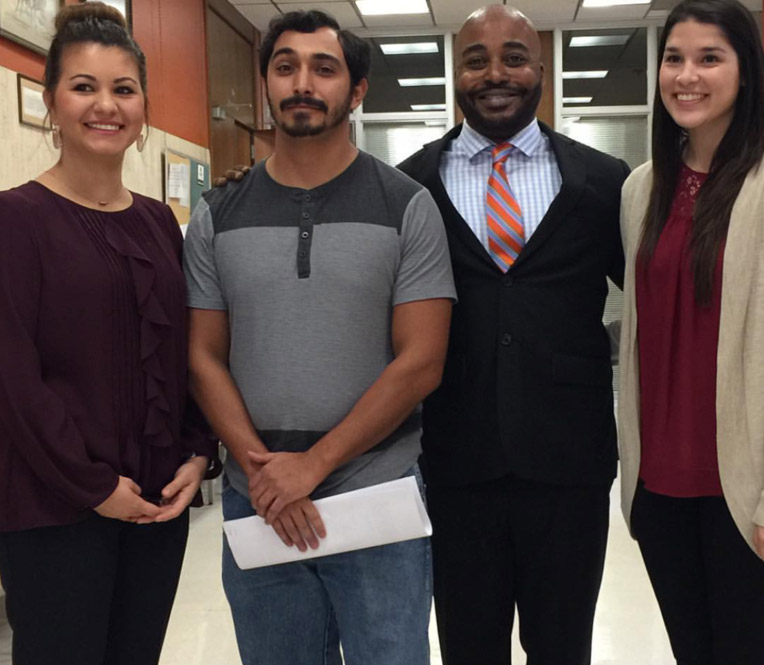 Derrick Neal, second from right, Victoria County director of public health, stands with UHV students Kadie Johnson, left, Brian Hogan and Hillary Cisneros after the students gave a presentation Dec. 12 at the Victoria County Commissioners Court. The three students interned with the county's Public Health Department and Environmental Services from August to December.
Kadie Johnson looked for an internship for two years before she became one of three University of Houston-Victoria students to intern at the Victoria County Public Health Department.
"Almost all the available internships in my area of study were in other metropolitan locations," said Johnson, who graduated from UHV in December with her Bachelor of Business Administration in healthcare administration. "It was great for Victoria County to reach out and offer these internships. If more companies and groups offered these opportunities, more students might choose to stay in Victoria."
Victoria natives Johnson and Hillary Cisneros, who also received her BBA in healthcare administration in December, worked for the Victoria County Public Health Department. In addition, Brian Hogan, a Victoria senior biology major, took part in an internship with the county's Environmental Services unit. The internships began in August and ended in December.
"All of the students did really well," said Derrick Neal, Victoria County director of public health. "Victoria County and the Public Health Department are stronger organizations because of what they contributed. It's rewarding to know that these students will have a leg up because of the work they did with the county."
Johnson and Cisneros hit the ground running, Neal said. Within the first week, they took a trip to Austin, where they helped deliver a presentation on a community grant.
"They started on a Monday, and I told them that day that I wanted to take them with me to Austin on Wednesday," Neal said. "They had to crunch for a couple days to learn as much as they could about the Texas Healthy Communities grant and the Victoria County Active Living Plan. It was a good chance for me to see what they could do and get to know them and how they work under pressure."
The students received a lot of praise, including from Texas Department of State Health Services personnel, Neal said. Johnson and Cisneros helped develop and put together public health policies and procedures for the county, helped with audit preparation, sat in on personnel meetings and met with Mike Olson, CEO of Citizens Medical Center.
Hogan took part in several projects, including inspecting septic systems, water quality testing and food truck inspections, Neal said. He was able to see firsthand the importance of state health and safety codes and the basis for restaurant inspections.
With the adoption of the City of Victoria's mobile food truck ordinance, Hogan experienced how local government works with state regulations in the interest of public health. While most of the activities in Environmental Services involves regulations, Hogan also learned that educating and interacting with the public on a daily basis is an important part of promoting public health, Neal said.
The internships came about from a collaboration between Victoria County and UHV Career Services. Amy Hatmaker, UHV Career Services manager, met Neal when she joined the Active Living Plan Committee. She asked if he was interested in starting an internship program through the county. Neal had previous experience with internship programs in Abilene and Houston, and he was excited to start a program in Victoria.
The university and the county are now working to expand the program to include other county offices, Hatmaker said. There is discussion about creating an internship position in the Fire Marshal's office, and the county is considering creating openings for psychology interns in the Public Health Department.
"It's exciting to be able to place students in these positions and see them succeed," Hatmaker said. "Internships can be pivotal opportunities for students to gain work experience, and their input also becomes a bonus for the county. I look forward to seeing this expand to other offices."
For Johnson, the internship offered her exactly the experience she needed. She hopes to work in hospital administration, and the exposure to administrative work helped her better understand what goes into successful leadership.
"The hands-on experience was invaluable," she said. "I got to see exactly what a director has to do on a daily basis, and it's unbelievable to see how much needs to be done and can be done daily. It was an amazing experience."
The University of Houston-Victoria, located in the heart of the Coastal Bend region since 1973 in Victoria, Texas, offers courses leading to more than 80 academic programs in the schools of Arts & Sciences; Business Administration; and Education, Health Professions & Human Development. UHV provides face-to-face classes at its Victoria campus, as well as an instructional site in Katy, Texas, and online classes that students can take from anywhere. UHV supports the American Association of State Colleges and Universities Opportunities for All initiative to increase awareness about state colleges and universities and the important role they have in providing a high-quality and accessible education to an increasingly diverse student population, as well as contributing to regional and state economic development.