Close
Author, playwright brings personal connection to storytelling
Inspiration for James Magnuson's books come from a million different sources: someone's diary he was secretly reading, a Bible story he turns on its head, childhood memories of harvesting wheat with his uncle in North Dakota or a friend's disappearance in the anti-war movement of the 1960s.
"Of course it's all personal," said Magnuson, the director of the Michener Center for Writers at the University of Texas at Austin. "But the personal gets reworked and reworked by the imagination for a couple of years until it becomes something totally other. In the end, I have a lot of trouble sorting out what happened to me and what I invented."
Magnuson, an author, playwright and screenwriter, is the first author in the spring 2017 University of Houston-Victoria/American Book Review Reading Series. The reading will begin at noon Jan. 26 in the UHV University West Alcorn Auditorium, 3007 N. Ben Wilson St. It is free and open to the public.
"James Magnuson has a talent for delivering poignant yet amusing stories," said Jeffrey Di Leo, dean of the UHV School of Arts & Sciences and ABR editor and publisher. "He is a savvy writer with an interesting outlook on storytelling. I look forward to sharing his perceptions with the Victoria community."
Magnuson's most recent novel, "Famous Writers I Have Known," came from his experiences picking up writers at the airport as part of his work for the Michener Center. Many of these writers were people he had never seen before, and he sometimes wondered what would happen if he picked up the wrong person.
The center's main benefactor was James Michener, a bestselling author who gave $20 million. Michener became the inspiration for one of the characters in "Famous Writers I Have Known," which centers on a con man impersonating a reclusive writer who receives a teaching position at a writing center and tries to con a dying millionaire out of his fortune.
"When James Michener was dying, there were all these buzzards who came in trying to get the last of his money," Magnuson said. "It was so unseemly, and I started imagining what would happen if a real son of his came back to claim the fortune. That turned into a book about money, literature, fame and the agonies of being a young writer."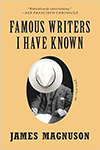 This was just one of Magnuson's pieces that was inspired by his own experiences. "The Hounds of Winter" came from an event that left a big impression on Magnuson. A friend slipped off a bridge and drowned in the middle of a spring flood.
In addition to books, Magnuson has written plays. When he finished college in the 1960, he worked for the welfare department in New York. His experiences there, including the environment of racial tension during that decade, inspired him to write the play "No Snakes in This Grass" about what would happen if a white Adam had been given a black Eve. The play still is performed today.
In addition, he wrote episodes in the 1990s for the TV show "Knots Landing." Magnuson's friend was working for the show and invited him to come to Hollywood to write an episode. His friend convinced him to stay for more than a year working for the show and writing other screenplays.
"It was an exhilarating and demoralizing experience," Magnuson said. "I got to walk through the lot every day and see sets and movies being created. But there are times when people start second-guessing each other because of unexpected changes or ratings drops, and things get crazy."
Magnuson said he is looking forward to taking part in the series, and especially meeting the UHV faculty and reading to Victoria community members. He is planning to read from "Famous Writers I Have Known."
"I hope people will be stimulated," he said. "I've been writing for 50 years, and I've seen my writing and my life change a lot. Each step has influenced my life, and I've learned a lot in the process."
Other writers scheduled for the spring UHV/ABR Reading Series are:
Vivian Gornick, Feb. 16 – Gornick is an essayist and memoirist whose books include the memoirs "Fierce Attachments" and "The Odd Woman and The City," and the essay collections "The End of the Novel of Love" and "Approaching Eye Level." She lives in New York, a city to which she says she is joined at the hip.
T. Geronimo Johnson, March 9 – Born and raised in New Orleans, Johnson is the best-selling author of "Welcome to Braggsville" and "Hold It 'Til It Hurts," a finalist for the 2013 PEN/Faulkner Award for fiction. He has taught writing at Arizona State University, University of Iowa, University of California Berkeley, Western Michigan University and Stanford University, and was selected for a Stegner Fellowship and an Iowa Arts Fellowship. He lives in Berkeley, Calif.
Martha R. Serpas, April 6 – Serpas has published three collections of poetry, "Côte Blanche," "The Dirty Side of the Storm" and "The Diener." Her work has appeared in The New Yorker, The Nation, Image and Southwest Review and has been anthologized in the "Library of America's American Religious Poems" and "The Art of the Sonnet." Active in efforts to restore Louisiana's wetlands, she co-produced "Veins in the Gulf," a documentary about coastal erosion. She teaches at the University of Houston and serves as a hospital trauma chaplain.
Duane Niatum, April 27 – Niatum, a member of the Jamestown S'Klallam tribe, has been writing poems, stories and essays for more than 50 years. He is published widely in the U.S. and abroad. Niatum has published eight books of poetry, including "The Pull of the Green Kite." Duane's writing is connected with the Northwest landscape. The legends and traditions of his ancestors help shape and animate his poetry. He has made a lifelong study of European and American Indian art, literature and culture.
ABR is a nonprofit, internationally distributed literary journal published six times a year. It began in 1977, moved to UHV 10 years ago and has a circulation of about 8,000. The journal specializes in reviews of works published by small presses.
For more information about the UHV/ABR Reading Series, call the ABR office at 361-570-4101 or go to www.americanbookreview.org.
The University of Houston-Victoria, located in the heart of the Coastal Bend region since 1973 in Victoria, Texas, offers courses leading to more than 80 academic programs in the schools of Arts & Sciences; Business Administration; and Education, Health Professions & Human Development. UHV provides face-to-face classes at its Victoria campus, as well as an instructional site in Katy, Texas, and online classes that students can take from anywhere. UHV supports the American Association of State Colleges and Universities Opportunities for All initiative to increase awareness about state colleges and universities and the important role they have in providing a high-quality and accessible education to an increasingly diverse student population, as well as contributing to regional and state economic development.