Close
UHV opens reading center to teach literacy strategies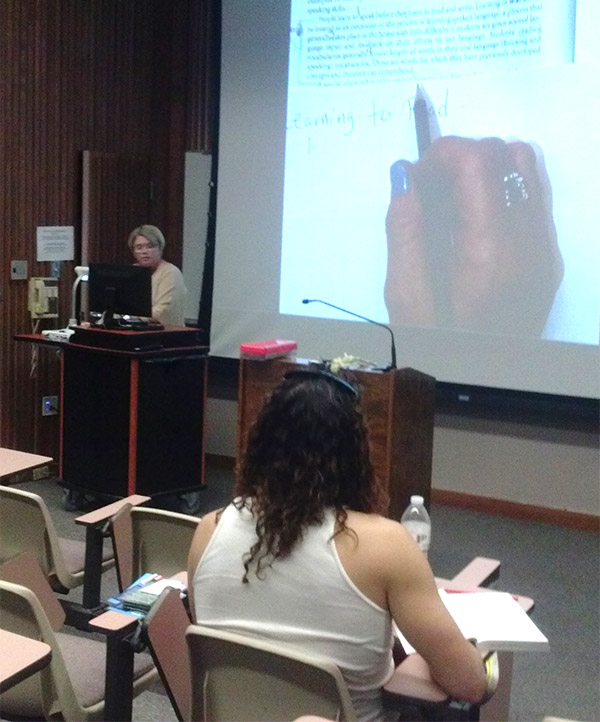 Carol Klages, a University of Houston-Victoria associate professor of education, talks about reading strategies Monday at the new reading center. The center was started to help UHV students better comprehend textbooks and course materials.
Two University of Houston-Victoria School of Education, Health Professions & Human Development faculty members have started a literary center to help students become better college readers.
The UHV Reading Center got underway on Monday and will be open seven more times during the spring semester. It's open to all undergraduate students regardless of major or year in school.
"The Reading Center is where UHV students can learn various reading strategies, so they can get more out of their college textbooks and course materials," said Carol Klages, a UHV associate professor of education. "The strategies learned will work for English or history classes, or any other discipline. Once a student learns the strategy, he can apply it to any course and any text."
The center will be open from 4:30 to 5:30 p.m. in the UHV University West Alcorn Auditorium on the following Mondays: Feb. 13, Feb. 20, March 20, March 27, April 10, April 24 and May 1.
Beyond strategies to help with reading, Klages and Jane Fry, a UHV associate professor of literacy studies, opened the center to provide intervention for UHV students who have identified reading difficulties or dyslexia.
While Texas K-12 public schools test for dyslexia, there is no requirement in higher education.
Since not all college students are aware if they have dyslexia or reading difficulties, the center will provide free reading screenings to UHV students. That way the student has a better idea about what can be done, Klages said. Klages is a dyslexia specialist and is in the process of obtaining her national dyslexia license.
"If someone is identified as dyslexic, we absolutely offer accommodations," she said. "But an accommodation is not the same thing as an intervention, and that's what the Reading Center seeks to do. It will provide all students with the skills and strategies to read and participate in their classes."
Students in UHV's "First Year Seminar" classes this spring will take a reading assessment administered by Klages and Fry. This will provide some data about student needs and what the center should focus on.
"It's not tutoring; it's strategies and interventions," Klages said. "We hope this will help the university with student retention. We also think it could boost recruitment. If we have an established reading center that provides services geared toward people who are dyslexic, then we will attract more students who want those types of services."
The center was aided by a $2,000 contribution from an anonymous donor. Fry said the money was used to buy testing materials and other resources.
Fry said they also have worked with the UHV Student Success Center. In fact, Sara Thurmond, UHV student success coaches manager, will offer a special math reading workshop at a reading center event this spring.
For more information about the reading center, email Klages at klagesc@uhv.edu or Fry at fryj@uhv.edu.
The University of Houston-Victoria, located in the heart of the Coastal Bend region since 1973 in Victoria, Texas, offers courses leading to more than 80 academic programs in the schools of Arts & Sciences; Business Administration; and Education, Health Professions & Human Development. UHV provides face-to-face classes at its Victoria campus, as well as an instructional site in Katy, Texas, and online classes that students can take from anywhere. UHV supports the American Association of State Colleges and Universities Opportunities for All initiative to increase awareness about state colleges and universities and the important role they have in providing a high-quality and accessible education to an increasingly diverse student population, as well as contributing to regional and state economic development.