Close
UHV alumnus earns international leadership award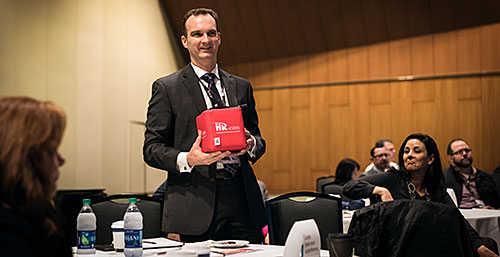 Chad Hall, a UHV alumnus and general manager of Regional Steel Products Inc., leads a roundtable discussion on Feb. 8 during the Leadership Excellence and Development 2017 conference in Nashville, Tenn. Hall and Regional Steel were recognized at the conference for excellence in leadership and customer service.
When University of Houston-Victoria alumnus Chad Hall first joined Regional Steel, he brought an important philosophy with him: People are the most important resources businesses can have.
"Something that struck a chord with me when I was getting my master's degree at UHV was the concept of sustainable competitive advantage," said Hall, who is now general manager of Regional Steel. "When Apple introduced the iPhone, that advantage didn't last because of all the imitations that followed. The only true sustainable advantage is the people you have working for your company."
That philosophy was a crucial part of why Hall and Victoria-based Regional Steel Products Inc. were honored at the Leadership Excellence and Development 2017 conference awards on Feb. 7 and 8 in Nashville, Tenn. The LEAD awards recognize the world's top leadership practitioners and rank the top 10 percent in each leadership category in the Winner's Circle. Hundreds of companies and programs apply for the awards each year, and winners and rankings are published in the February issue of Leadership Excellence Essentials magazine.
Regional Steel was named to the Winner's Circle as fifth out of over 100 eligible companies in the Best Customer Service Leadership Training Program category, which included businesses such as Southwest Airlines, Synchrony Financial and CIGNA Corp.
Hall was named to the Winner's Circle and ranked 12th in the Top Corporate Leader Award for leaders over the age of 35 out of over 350 qualified candidates. Hall earned his Strategic Master of Business Administration in management from the UHV School of Business Administration in 2004.
"This recognition of Chad Hall as a leader is a proud moment for the UHV School of Business Administration," said Farhang Niroomand, dean of the school. "He is one of our outstanding alumni, and it is exciting to see his work at Regional Steel yield such positive results."
Hall has relied on the training he received at UHV. The strategies he learned while earning his degree have helped him every step of the way, he said.
"It is so gratifying to see Regional Steel and Victoria listed among all the other international companies that received awards," Hall said. "All that success is only possible because of how UHV has helped me shape my career. I am proud of the progress the employees have made, and I'm proud to be a UHV graduate."
LEAD 2017 is a two-day leadership forum designed to inspire leadership in people from all walks of life. Leaders attend in person as well as through live simulcast to hundreds of remote host sites internationally.
This is the second time Regional Steel was honored as part of the Top 10 percent in the customer service category, and it is the first time Hall has received an individual award. In addition to the award, Hall was invited to conduct two roundtable discussions at the conference. The discussions covered customer service leadership and how he received his leadership award.
"A lot of big-name companies came to the roundtable to learn what they could take back to their own companies to increase performance," Hall said. "We talked about servant leadership, why quality trumps everything, and how to focus on what customers value the most."
Hall was nominated by Nikki Felcman, human resources and payroll coordinator at Regional Steel. The decision to nominate him for recognition was an easy one, she said. When Hall joined the company, he took a genuine interest in every department and started implementing changes to improve performance, especially in the area of quality control.
A big part of the success goes back to Hall's emphasis on the importance of taking care of employees and encouraging them to do their best, Felcman said. The people in the warehouse are proud of their successful record, and they work together to double check orders and keep that momentum going.
"Our quality control has only improved under this program," Felcman said. "We used to have as many as 17 delivery issues a month, and each mistake incurred a significant cost. Now, we've gone more than 290 days without a mistake. That kind of improvement has completely changed how our employees operate in the warehouse, and it builds a reputation of reliability with our customers."
The University of Houston-Victoria, located in the heart of the Coastal Bend region since 1973 in Victoria, Texas, offers courses leading to more than 80 academic programs in the schools of Arts & Sciences; Business Administration; and Education, Health Professions & Human Development. UHV provides face-to-face classes at its Victoria campus, as well as an instructional site in Katy, Texas, and online classes that students can take from anywhere. UHV supports the American Association of State Colleges and Universities Opportunities for All initiative to increase awareness about state colleges and universities and the important role they have in providing a high-quality and accessible education to an increasingly diverse student population, as well as contributing to regional and state economic development.