Close
Furniture company CEO shares strategies for success with students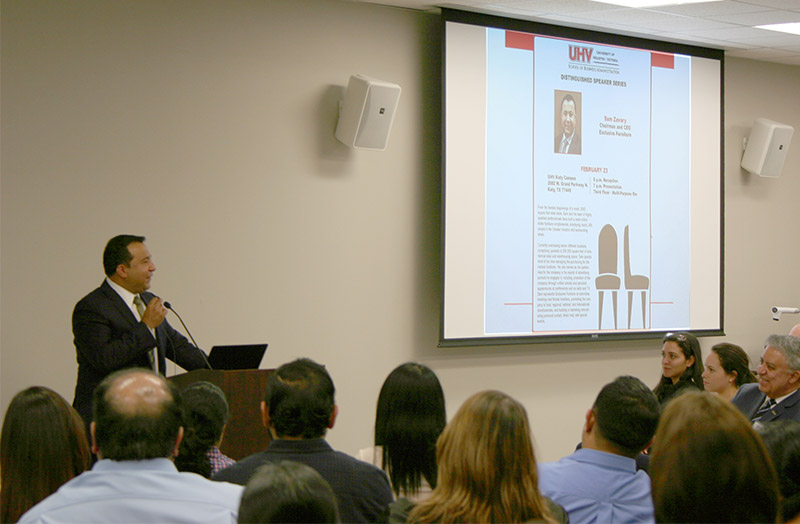 Exclusive Furniture CEO Sam Zavary gives a presentation Thursday as part of the UHV School of Business Administration Distinguished Speaker Series at the UHV Katy Campus. Zavary emphasized the importance of communication and training when running a business.
KATY – When it comes to working toward a successful business, Sam Zavary says the key is planning, planning, planning.
That was the message of the Exclusive Furniture CEO's presentation Thursday night at the University of Houston-Victoria Katy Campus. Zavary shared his knowledge with UHV students, alumni, faculty and staff, and community members as part of the UHV School of Business Administration Distinguished Speaker Series.
"The Distinguished Speaker Series gives UHV students access to some of the wisdom and personal experiences of leaders in the business world," said Farhang Niroomand, dean of the UHV School of Business Administration. "Sam Zavary's presentation was full of insight and advice that reinforces many of the concepts taught in our classrooms. We are grateful for his participation in the series."
Zavary began selling furniture 18 years ago in a 2,000-square-foot store. Now, the company has access to 250,000 square feet of space, including warehousing and seven Exclusive Furniture locations throughout Houston.
The CEO took a more interactive approach to his presentation than many previous speakers. Instead of a long lecture, he opened with a 10-minute presentation, then took questions from the large audience.
"This was a great opportunity for our students to have personal interaction with someone who was just like them 18 years ago," said Jifu Wang, associate dean of the UHV School of Business Administration. "Students can learn the theory of how to be successful in the classroom and even get some experience through simulations, but it's important for them to see these high-caliber, successful stories in person."
In addition to planning, Zavary emphasized the importance of communication and training. Poor communication can lead to all kinds of problems for businesses, he said. And because the market constantly is changing, it is vital that employees go through training that reflects those changes.
"My employees undergo training every day," he said. "It is what makes us different from our competitors."
At the end of the discussion, Zavary referred to the changing attitude many people have toward shopping and making major purchases. Today, more and more customers are interested in buying everything from clothes to furniture online instead of going to a store. If retail businesses want to remain successful, they must find a way to integrate those changes into their business models, he said.
"The point about the importance of integrating online sales and social media is an important one for today's students," Wang said. "At its core, business is about getting results, and we train our students to create solutions to the changes in customers' preferences and shifts in the business environment."
In addition to Zavary's presentation, the winners of the December 2016 undergraduate and graduate Case Conferences were recognized during the event. The first-, second- and third-place teams and honorable mentions were given plaques and honored for their achievement.
Since 2011, the UHV School of Business Administration Distinguished Speaker Series has brought in area executives to discuss contemporary business issues. Past speakers have included Mike Rydin, Heavy Construction System Specialist CEO; Helen Sharkey, a former consultant with Dynegy; Ben Keating, president and owner of Keating Auto Group and Viper Exchange Racing; and Roger Dartt, DeLorean Motor Co. president.
The University of Houston-Victoria, located in the heart of the Coastal Bend region since 1973 in Victoria, Texas, offers courses leading to more than 80 academic programs in the schools of Arts & Sciences; Business Administration; and Education, Health Professions & Human Development. UHV provides face-to-face classes at its Victoria campus, as well as an instructional site in Katy, Texas, and online classes that students can take from anywhere. UHV supports the American Association of State Colleges and Universities Opportunities for All initiative to increase awareness about state colleges and universities and the important role they have in providing a high-quality and accessible education to an increasingly diverse student population, as well as contributing to regional and state economic development.