Close
After-school UHV class teaches high school students about robotics, programming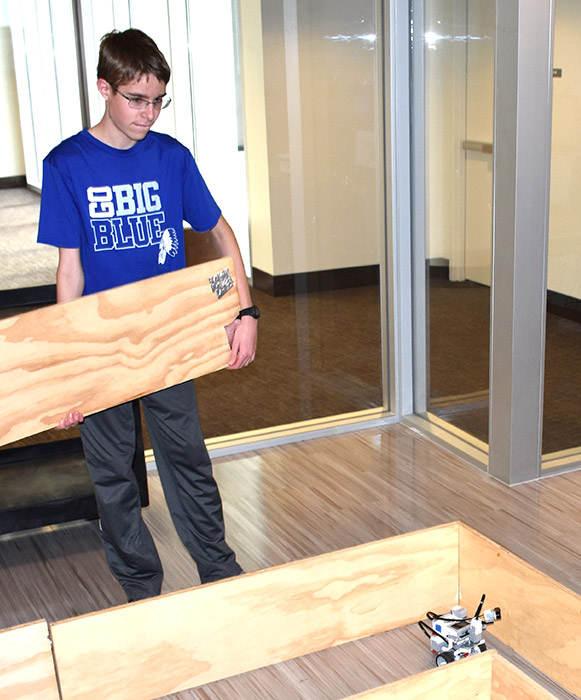 John Cesarz, a freshman at Sacred Heart High School in Hallettsville, works on expanding the maze his robot is navigating. Cesarz is one of 22 high school students taking part in a University of Houston-Victoria after-school robotics course.
John Cesarz stood back and watched as his small robot swiveled its head back and forth to find its way through a maze.
Cesarz, a 14-year-old freshman at Sacred Heart High School in Hallettsville, is one of 22 high school students taking part in a University of Houston-Victoria after-school robotics course.
The weekly course, funded by a grant from Alcoa Foundation and awarded to UHV for several years, allows students to learn how to build and program robots to fulfill certain functions. The class is led by Alireza Tavakkoli, director of the UHV digital gaming and simulation program and an associate professor of computer science.
In the past, there has been a class for beginners and another for advanced students. However, all of the students taking the spring class have experience with robots and programming either from previously attending the UHV class or from high school courses, Tavakkoli said.
"It's exciting to see that so many students are being exposed to programming and robotics early on now," he said. "We don't have to start just teaching the basics. We can jump right in and focus on expanding their knowledge with practical experience."
The robots will be programmed to complete basic tasks such as solving mazes, recognizing colors and picking up objects. The students will equip their robots with sensors that can recognize light, ultraviolet light and color.
For Sterling Dumesnil, a 17-year-old Victoria West High School senior, the class is a chance to learn more programming language as he prepares for college. This is his first time taking the UHV class, but he took a programming course at his school two years ago.
"I want to refresh my memory and prepare for the future as much as possible," Dumesnil said. "I want to go to Texas A&M to study mechanical engineering. This class is helping me sharpen all kinds of skills, including spatial awareness, critical thinking and problem solving."
In addition to the class, the grant from Alcoa Foundation allows UHV to offer a robotics summer camp, a math camp and a Math & Robotics Awareness Day that allows students to learn about the uses of math and robotics in multiple fields. This year, the Math & Robotics Awareness Day event will be April 25.
"The Alcoa Foundation grant is such a great resource for UHV and the students in our area," Tavakkoli said. "Programming and robotics are becoming more and more important in our society, and this allows us to help students get experience working with these tools."
The University of Houston-Victoria, located in the heart of the Coastal Bend region since 1973 in Victoria, Texas, offers courses leading to more than 80 academic programs in the schools of Arts & Sciences; Business Administration; and Education, Health Professions & Human Development. UHV provides face-to-face classes at its Victoria campus, as well as an instructional site in Katy, Texas, and online classes that students can take from anywhere. UHV supports the American Association of State Colleges and Universities Opportunities for All initiative to increase awareness about state colleges and universities and the important role they have in providing a high-quality and accessible education to an increasingly diverse student population, as well as contributing to regional and state economic development.