Close
UHV welcomes Pakistani exchange student as part of federal program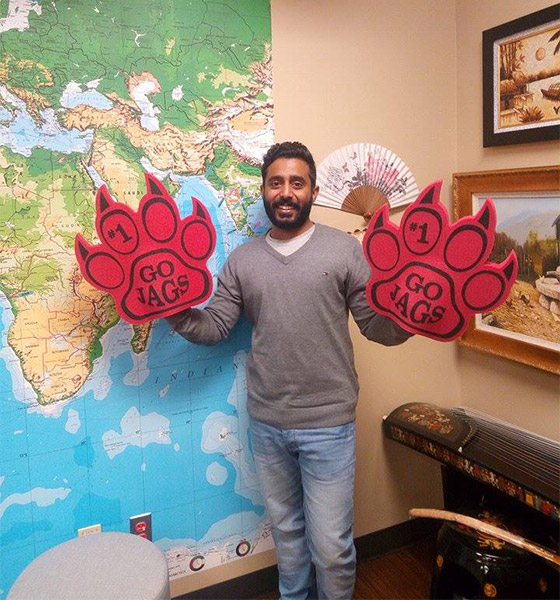 Muhammad Bilal poses with UHV foam hands. Bilal is attending UHV for a semester as part of the U.S. Department of State's Global Undergraduate Exchange Program in Pakistan.
When Muhammad Bilal found out there was an opportunity for him to spend a semester studying in the U.S., he jumped at the chance.
"I want to be an entrepreneur, and that is a popular choice in the U.S.," Bilal said. "The American economy leads the world, and I want to learn how it works and how to be a risk taker like the successful business leaders here. In developing countries, there are those who discourage people from doing new things, but that is not the case here."
Bilal, a student at Lahore University of Management Services in Lahore, Pakistan, came to UHV as part of the U.S. Department of State's Global Undergraduate Exchange Program in Pakistan. Global UGRAD-Pakistan uses U.S.-based training and practical experience in leadership positions, community engagement and professional fields to help undergraduate students gain the skills needed to implement long-term civic and economic changes in their communities.
Through semester-long programs of study, exploration of U.S. culture, leadership development, and integration into U.S. communities, Global UGRAD-Pakistan students develop a broad and nuanced understanding of U.S. values and become citizen ambassadors who support expanded diplomatic and development partnerships, said Ludmi Herath, UHV International Programs director. UHV applied to become a host institution for Global UGRAD-Pakistan.
"I previously have worked with multiple sponsored programs through Global UGRAD and other federal programs," Herath said. "UHV is open and welcoming to all exchange and sponsored programs available to students."
In addition to academic studies, Bilal will take part in community service opportunities, explore American culture and share presentations about his home country with UHV and the community. He will share information about his country during a Beautiful Pakistan program on March 22 and at the April 19 International Festival. He also was part of a panel discussion where UHV students learned about dating habits around the world.
"This is my first time in the U.S., and I want to challenge and change the mental image that many Americans have about my country," Bilal said. "Pakistan is much more than the typical Hollywood image of terrorism and danger. We have a rich culture, and our country is developing in exciting ways."
Bilal will have the opportunity to choose what kinds of community service he wants to perform, and he attended the Volunteer Fair the university hosted for students to connect with community organizations and find service opportunities. He is interested in volunteering as a tutor or working with animals.
When he first came to UHV, Bilal was impressed by how welcoming and friendly everyone was toward him and each other. He is enrolled in five classes, and all of his instructors are ready and willing to get to know their students and help them with any difficulties they might have, Bilal said. In addition, his classmates and fellow students have made him feel welcome at UHV.
"I've heard from some of my friends at other universities that they have had some trouble settling in, but that has not been the case for me," he said. "Everyone here has so much respect toward each other. People who have no idea who I am have invited me to sit with them in the cafeteria. Even off campus, everyone has been so helpful and pleasant."
One of the cultural differences that surprised Bilal was how confident people are no matter what their economic or social situation. Once, he saw one of his classmates working on campus.
"In Pakistan, it is uncommon for students to work," Bilal said. "There's a social stigma attached to having to work while you're in school, and those students are often made to feel inferior. Here, it is very common for students to work, and I love seeing so many people who are able to be confident while working to earn their education."
As the semester continues, Bilal looks forward to learning as much as he can about American leadership styles and business. He is grateful for the opportunity to take that knowledge back home and the welcoming atmosphere at UHV.
"The UHV International Programs Office is like my family," he said. "They're always ready to help me find my way around town or give me financial advice. I know they want the best for me, and I am glad to have a family while away from home."
The University of Houston-Victoria, located in the heart of the Coastal Bend region since 1973 in Victoria, Texas, offers courses leading to more than 80 academic programs in the schools of Arts & Sciences; Business Administration; and Education, Health Professions & Human Development. UHV provides face-to-face classes at its Victoria campus, as well as an instructional site in Katy, Texas, and online classes that students can take from anywhere. UHV supports the American Association of State Colleges and Universities Opportunities for All initiative to increase awareness about state colleges and universities and the important role they have in providing a high-quality and accessible education to an increasingly diverse student population, as well as contributing to regional and state economic development.