Close
UHV students visit Texas Legislature to explain funding needs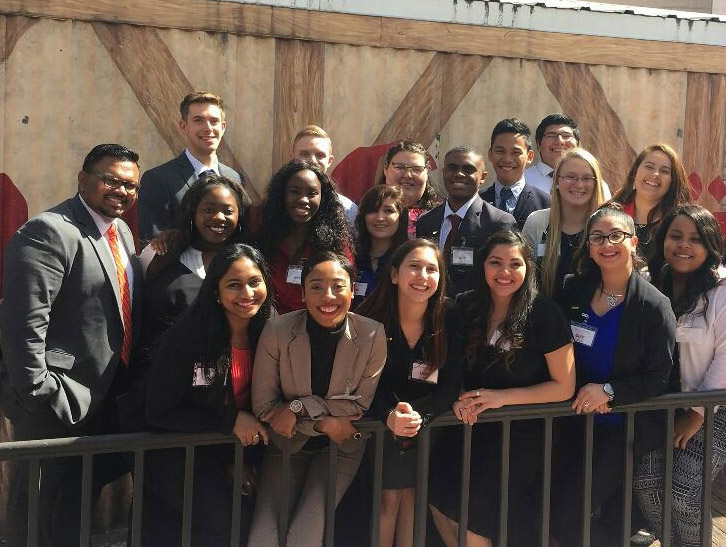 UHV students pose for a group photo March 1 near the Texas Capitol in Austin. The students spent the day talking with legislators and their staffs about the university's impact and future plans.
Megan Huerta, University of Houston-Victoria Student Government Association president, was recognized March 1 on the floor of the Texas House of Representatives, but her favorite part of the trip to Austin was getting a chance to talk about her school.
Huerta was one of 19 UHV students who talked with legislative staff members about the university's funding needs and future plans.
"They took an interest in the special needs we have," Huerta said. "I think it helped to see the faces behind what our university president is pushing for. To have a diverse group of students spend the day at the Capitol showed we are passionate about UHV and serious about fighting for what the university needs in the future."
UHV President Vic Morgan said the students did a great job bringing a personal perspective to the legislative process. UHV's legislative request includes continued funding for institutional enhancement small business development, nursing and recruitment as well as an additional $900,000 to bring UHV to parity with other Texas institutions that have added freshman and sophomore students.
"UHV is a student-centered university, so I'm delighted our students took the time to come to Austin to discuss their experiences," Morgan said. "When crunching figures and going through the funding process, it can be easy to lose sight of how regional universities like UHV are making a difference in student's lives. UHV is a driving force in increasing the educational attainment and economic wellbeing in the Coastal Bend."
The trip to Austin was part of UH/UHV Day at the Capitol. Students, administrators, staff and alumni from both universities participated.
Huerta and Morgan appeared on the House floor with UH System Chancellor Renu Khator; Tilman J. Fertitta, UH System Board of Regents chairman; and Shane Smith, UH student body president. They were recognized in the House proceedings. In the Senate, a resolution was read in honor of UHV and UH, and Huerta and Morgan were asked to stand.
"It was nice of the legislators to take the time out of their day to recognize the universities," Huerta said.
UHV students enjoyed lunch at Scholz Garten where they had a chance to interact with UH students, UH System regents and UH football coach Major Applewhite.
The UHV attendees then split into groups and went to the offices of state legislators. They visited the offices of Sens. Lois Kolkhorst and Joan Huffman, and Reps. Todd Hunter, J.M. Lozano, Geanie Morrison, Mike Schofield, Leighton Schubert, Phil Stephenson and John Zerwas.
Christo Varghese, a UHV senior from Missouri City, said the legislative staffs asked questions about UHV becoming a destination university and the university's legislative request.
"We got to plead our case," Varghese said. "They heard firsthand from students what we are asking for, why we are asking for it and how it will help us. We also got to discuss why students are invested in the university."
Varghese attended UH System Day at the Capitol two years ago and was familiar with UHV's allocation from the last legislative session. He talked about how the university put past funding to good use.
"I was able to say this is what UHV did, and this is how our students benefited from the funding," Varghese said. "Since that's what happened last time, it's a safe assumption that students will further benefit this time."
Students wrote thank you postcards to the legislators on the bus ride home.
"The legislative staffs were warm and welcoming, and enjoyed visiting with our students, staff and alumni," said Kira Mudd, UHV director of alumni relations and annual giving. "The day was an educational opportunity to expose our students to state government and let them speak on behalf of the university they attend."
The University of Houston-Victoria, located in the heart of the Coastal Bend region since 1973 in Victoria, Texas, offers courses leading to more than 80 academic programs in the schools of Arts & Sciences; Business Administration; and Education, Health Professions & Human Development. UHV provides face-to-face classes at its Victoria campus, as well as an instructional site in Katy, Texas, and online classes that students can take from anywhere. UHV supports the American Association of State Colleges and Universities Opportunities for All initiative to increase awareness about state colleges and universities and the important role they have in providing a high-quality and accessible education to an increasingly diverse student population, as well as contributing to regional and state economic development.