Close
UHV unveils official class ring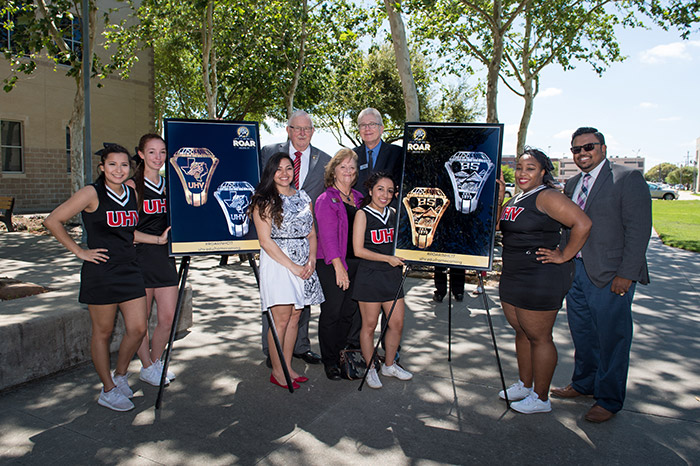 UHV's first official class ring is now available for graduating students and alumni to purchase. The ring was unveiled Monday as part of Homecoming events at the university. Standing with pictures of the new ring are the UHV cheerleaders and, in center from left, Megan Huerta, UHV Student Government Association president; UHV President Vic Morgan; Balfour sales representative Janet Luft; and Robert Baker, Balfour senior regional manager. Also pictured is Christo Varghese, far right, former UHV SGA vice president.
For the first time in the University of Houston-Victoria's 44-year history, students and alumni will be able to order an official UHV class ring.
The ring was unveiled during a ceremony Monday at the UHV campus to kick off Homecoming week. The ring was designed by students and is available through Balfour, a national school ring company.
"A class ring is a unifying symbol, and UHV is proud to be able to offer this ring to our alumni and students," UHV President Vic Morgan said. "For years to come, alumni will be able to identify each other with this ring and appreciate it as a source of pride and accomplishment."
Developing an official UHV class ring was a three-year process led by the UHV Student Government Association, said Michael Wilkinson, director of UHV Student Life & Services.
"When I first came to UHV in 2014, there was already talk about starting a class ring initiative," Wilkinson said. "The students, especially members of SGA, have put three years of hard work into this, and the result is a ring that represents both UHV and Victoria that looks amazing."
During the ceremony, UHV SGA President Megan Huerta spoke about the design and symbols on the ring. The ring features a design on two sides as well as the UHV seal on the top.
On one side, the ring features the UHV Athletics jaguar mascot on top of the state of Texas. These symbols are meant to be especially meaningful for out-of-state and international students, who will have a memento of the time they spent in Texas, Huerta said. On the other side, there is a group of symbols that represent UHV and Victoria that include:
Kayaks on the Guadalupe River in Riverside Park, one of Victoria's landmarks and a place where many students go for outdoor activities as well as UHV baseball games in Riverside Stadium.
DeLeon Plaza gazebo in downtown Victoria where students attend many festivals the city hosts.
Pyramids on the UHV campus, where students complete Jaguar Journey Welcome Weekend and participate in many other activities throughout the year.
"It is exciting to see UHV add this monumental tradition," said Huerta, a graduate biomedical sciences student from Van Vleck. "I was involved in the process of developing the ring design, and it was exciting to assist in choosing the elements that went into it and see how Balfour incorporated them into the final design. I think it represents UHV and Victoria well."
At the end of the ceremony, Huerta and UHV senior Christo Varghese were awarded the first two rings. Varghese, a healthcare administration major from Missouri City, was finance director of the Student Government Association during the 2014-2015 school year and vice president in 2015-2016, and took the lead starting the process of creating the ring.
"The other students and I have really worked hard to see this happen, and it's amazing to see it come to fruition," Varghese said. "We've seen UHV grow and adapt into a destination university, and this is another step in that direction. I've been hearing from a lot of students and alumni who are excited to get their rings. I hope this will encourage more growth at UHV and in the Victoria community."
The rings are available in small, medium or large designs and can be made out of several metal options. These include celestrium, silver and 10-, 14- or 18-karat white or yellow gold. Students and alumni also can choose to include a diamond on top. Rings can be customized with the owner's graduation year and degree as well as engraving inside the band.
Rings may be purchased by UHV alumni or students who have earned at least 90 credit hours toward their degree. During the next year, Balfour will allow alumni who previously chose to create their own UHV ring to trade those in for a comparable official class ring.
The class ring can be ordered online at www.balfour.com. The university will host a May 12 ring ceremony for graduates before they walk the stage the next day at commencement. To learn more about the ring, contact Wilkinson at 361-485-4408 or wilkinsonmr@uhv.edu.
UHV Homecoming festivities continue this week with the UHV Alumni Banquet on Friday and the Homecoming carnival, concert and baseball doubleheader on Saturday at Riverside Stadium. The festivities will start at 11 a.m. with the first baseball game beginning at 12:30 p.m. The Homecoming king and queen will be crowned between games.
The University of Houston-Victoria, located in the heart of the Coastal Bend region since 1973 in Victoria, Texas, offers courses leading to more than 80 academic programs in the schools of Arts & Sciences; Business Administration; and Education, Health Professions & Human Development. UHV provides face-to-face classes at its Victoria campus, as well as an instructional site in Katy, Texas, and online classes that students can take from anywhere. UHV supports the American Association of State Colleges and Universities Opportunities for All initiative to increase awareness about state colleges and universities and the important role they have in providing a high-quality and accessible education to an increasingly diverse student population, as well as contributing to regional and state economic development.