Close
UHV, Coastal Bend College sign agreement simplifying student transfers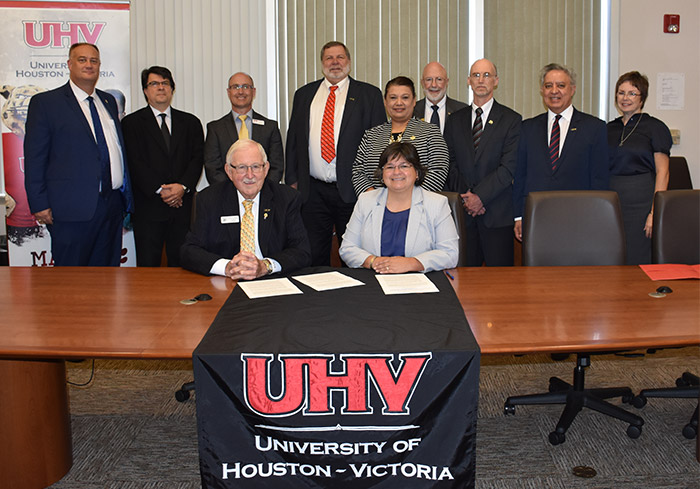 University of Houston-Victoria President Vic Morgan, front row left, and Coastal Bend College President Beatriz Espinoza sign an agreement Tuesday that makes it easier for CBC students to transfer to UHV. Also pictured are Todd Ecklund, left, CBC vice president of instruction and economic development; Jeffrey Di Leo, dean of the UHV School of Arts & Sciences; Jay Lambert, UHV vice president for enrollment management and student affairs; Fred Litton, dean of the UHV School of Education, Health Professions & Human Development; Guadalupe Ganceres, CBC executive dean of student services; David Cockrum, UHV interim provost and vice president for academic affairs; Mark Second, CBC dean of academics; Farhang Niroomand, dean of the UHV School of Business Administration; and Denee Thomas, UHV assistant vice president for enrollment management.
Coastal Bend College students will have an easier path to a bachelor's degree thanks to a new agreement with the University of Houston-Victoria.
UHV President Vic Morgan and CBC President Beatriz Espinoza signed the articulation agreement on Tuesday. By clarifying and streamlining transfer policies, the institutions seek to forge a seamless transfer for students to earn both associate and bachelor's degrees. CBC is a community college in Beeville with additional branches in Alice, Kingsville and Pleasanton.
"This partnership is an opportunity for us to make a difference," Morgan said. "Both institutions are dedicated to raising educational attainment in the Coastal Bend. Anything we can do to make the path to degree completion easier will be beneficial. We're excited to work with Coastal Bend College on this important initiative."
This agreement formally recognizes that both institutions are active educational partners, committed to providing greater educational opportunities and services for transfer students.
"I appreciate the opportunity and willingness to partner," Espinoza said. "To have a partnership between a college and university in commutable distance is important. Students can get the full college experience through academics and residence life at CBC and UHV."
UHV and CBC will develop plans by degree, so it will be clear what courses students will take at CBC and those to be completed at UHV. Degree maps soon will be created for a number of majors, said David Cockrum, UHV interim provost and vice president for academic affairs. CBC students also will be able to talk with UHV advisors before transferring.
Another advantage of the agreement is CBC students will have the opportunity to finish their associate degree even after transferring to UHV. If a student transfers to UHV short of the credit hours needed for an associate degree, he can complete his associate degree by taking UHV courses for reverse transfer. The same classes also will count toward earning a UHV bachelor's degree.
UHV and Coastal Bend College have a history of collaboration. The schools received a joint federal Title V grant in 2006 for $3.5 million that boosted enrollment and education attainment levels among underserved students in the Coastal Bend.
"This agreement renews old ties," Cockrum said. "A number of new staff have come aboard at both institutions in recent years, so it was time to craft a new partnership."
Todd Ecklund, Coastal Bend College vice president of instruction and economic development, reached out to Cockrum to ask if UHV was interested in a new articulation agreement. Cockrum went to Beeville and met with CBC administrations. From there, the two schools worked to form an agreement.
The agreement includes some data sharing between the schools. For example, UHV will provide CBC with information about CBC transfer students to help college leaders determine students who could benefit from reverse transfer of courses. CBC will provide contact information for students who have expressed an interest in transferring to UHV.
In addition, cooperative advising will allow students to access academic advisors at both institutions for the purpose of planning and selecting courses. CBC students transferring to UHV also can apply for scholarships.
"We've enjoyed a long relationship with Coastal Bend College through the years," Cockrum said. "We look forward to renewing and strengthening that relationship for years to come."
The University of Houston-Victoria, located in the heart of the Coastal Bend region since 1973 in Victoria, Texas, offers courses leading to more than 80 academic programs in the schools of Arts & Sciences; Business Administration; and Education, Health Professions & Human Development. UHV provides face-to-face classes at its Victoria campus, as well as an instructional site in Katy, Texas, and online classes that students can take from anywhere. UHV supports the American Association of State Colleges and Universities Opportunities for All initiative to increase awareness about state colleges and universities and the important role they have in providing a high-quality and accessible education to an increasingly diverse student population, as well as contributing to regional and state economic development.