Close
First responders to encourage reading at UHV children's literacy event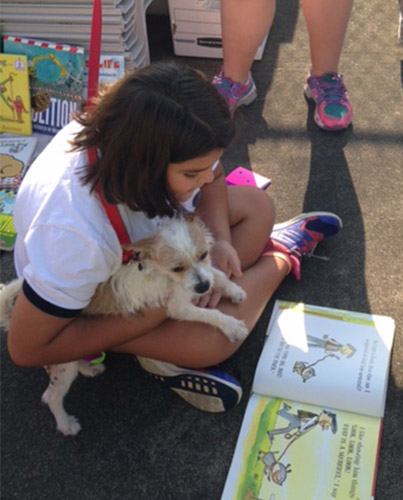 Elena Martinez, a 9-year-old student at Goliad Elementary School, reads a story to a dog from Adopt-A-Pet during the 2016 Building Literacy in the Community event. The event returns Saturday and will feature first responders and activities to encourage literacy.
Area children and their families are invited to participate in a University of Houston-Victoria literacy event featuring Victoria first responders and the opportunity to read to dogs.
Building Literacy in the Community will be from 10 a.m. to noon Saturday at UHV's Pyramid Row, 3007 N. Ben Wilson St. The free event focuses on encouraging children to build literacy skills. The theme for this semester's event is First Responders Spreading the Word About Literacy.
"Literacy is key to all levels of learning," said Jane Fry, a UHV associate professor of curriculum and instruction, and literacy studies. "It's a foundation that everything else is built on. People can be health literate or science literate, and we want to promote the benefits of a literate society."
The event is part of the UHV School of Education, Health Professions & Human Development Reading Center. Spread the Word about Literacy was formed in 2016 by Fry and Carol Klages, a UHV associate professor of curriculum and instruction, and literacy studies, to encourage the advancement of literacy in the Victoria region through community cooperation. This is the second Building Literacy event UHV has hosted. The first was in November.
Saturday's event will include members of various first responder groups from the Victoria area, including the Victoria Police Department and the Victoria Fire Department. Dow Chemical representatives also will bring a firetruck. The first responders will answer children's questions and either read to the children or let children read to them.
In addition, there will be several literacy-building activities such as writing thank you notes to first responders, drawing story scenes and making books. Children also will be able to read to dogs from Adopt-A-Pet.
"Reading to dogs is something a lot of children enjoy, and it helps improve reading skills," Klages said. "They feel safe because dogs will just sit and listen in a nonjudgmental manner. There's less pressure, so the children can be comfortable, which improves their fluency."
About 40 UHV graduate education students will be taking part in the event, Fry said. The students will help organize the activities and work with children in each activity. Representatives from the Girl Scouts of America also will be present.
"Literacy is a skill that's vital to individual success and our society," said Fred Litton, dean of the school. "UHV takes every opportunity to encourage others to improve their literacy skills and focus on learning. I'm looking forward to seeing how this event touches the lives of these children."
Community members can donate children's books to be used during the event. Books can be brought to the UHV School of Education, Health Professions & Human Development office in UHV University West Suite 213.
For more information about the event, contact Fry at fryj@uhv.edu.
The University of Houston-Victoria, located in the heart of the Coastal Bend region since 1973 in Victoria, Texas, offers courses leading to more than 80 academic programs in the schools of Arts & Sciences; Business Administration; and Education, Health Professions & Human Development. UHV provides face-to-face classes at its Victoria campus, as well as an instructional site in Katy, Texas, and online classes that students can take from anywhere. UHV supports the American Association of State Colleges and Universities Opportunities for All initiative to increase awareness about state colleges and universities and the important role they have in providing a high-quality and accessible education to an increasingly diverse student population, as well as contributing to regional and state economic development.