Close
Business alumni return to UHV to provide guidance to students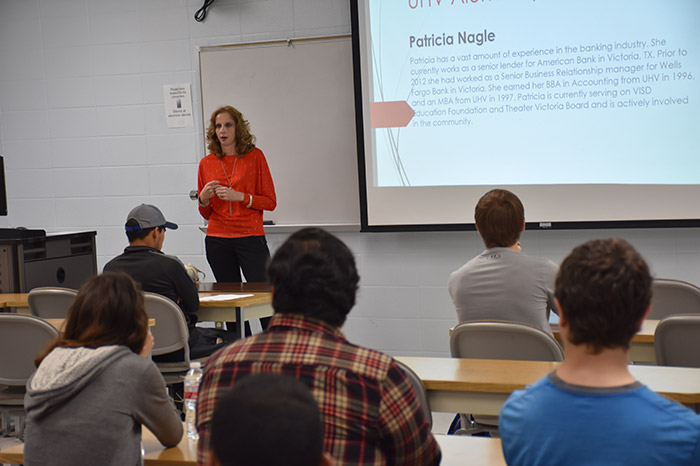 Patricia Nagle, a senior lender for American Bank in Victoria, talks with students Thursday during a UHV accounting class. Nagle was one of 27 UHV alumni who returned to the university to give presentations during Business Alumni Week.
Patricia Nagle stressed the importance of adaptability when she returned to her alma mater for University of Houston-Victoria Business Alumni Week.
Nagle, a senior lender for American Bank in Victoria, told UHV students in a "Principles of Financial Accounting" class taught by Qiao Xu how she and a colleague at her previous job with Wells Fargo went door to door in Port Lavaca to ask for business.
"On average, of the 10 houses I visited, I would get two appointments set up and one of those would open an account," Nagle said. "People don't go into the bank anymore. We have to go to them. You have to adapt to what's going on."
A total of 27 alumni spoke to 32 UHV business classes in Victoria and Katy from March 27 through Thursday. The alumni came from the health care, financial services, marketing, accounting, entrepreneurial and information technology sectors.
This marked the sixth time the UHV School of Business Administration has made a collective effort to bring back a group of alumni to share their experiences with students.
"Alumni Week is one of my favorite weeks of the year for a number of reasons," said Farhang Niroomand, dean of the UHV School of Business Administration. "It speaks volumes that so many alumni are willing to take the time to return to UHV and share their experiences with our students. We frequently talk about real-world applications for what students are learning. During alumni week, this point really hits home because alumni are talking about how they use what they learned."
Nagle earned her Bachelor of Business Administration in accounting from UHV in 1996, followed by a Master of Business Administration in 1997.
She said her MBA made her well-rounded, including the ability to market her organization and herself. At Wells Fargo, she didn't need to market the organization since the bank is widely known, but when she took a job at American Bank, she quickly discovered she had to market the company.
"The client may know me, but he doesn't know anything about the bank," she said. "Again, I had to adapt my presentation."
Nagle became interested in banking during accounting classes at UHV.
"Even if you don't become a CPA, this class is very useful," she told the 20 students attending Thursday's accounting class. "The basics of accounting will help you read financial statements. Learning never stops. Continuing to learn and making yourself more marketable are important in the long run."
Nagle encouraged students to get involved now in student and community organizations.
"By volunteering your time and talents, you will make your mark in the community as well as your career," she said.
Students asked Nagle a number of questions, including several about job interviews.
"The best thing is to practice and be prepared," Nagle said. "It's good to anticipate what you will be asked. The more you do anything, the more comfortable you become."
Other speakers during the UHV School of Business Administration Alumni Week were:
Sol Bobst, former senior regulatory compliance and toxicology advisor at Nexeo Solutions
Lorene Bothe, a realtor for Re/Max in Victoria
Nafis Bhuiyan, principal consultant for NAB Professional Services
Kar Chong, a hospital systems analyst who owns retail, hospitality and real estate companies
Robert Dechert, Airgas salesman and a doctoral student studying international strategy and innovation
L. Sarah DeMerchant, founder and CEO of FuzionApps
Lisa Fee, volunteer advanced-certified tax preparer for Neighborhood Centers Inc.
Ben Gonzalez, petrochemicals analyst at Platts in Houston
Neal Goswami, lead application engineer for GE Power
Culeathia Hopkins, store manager of Wells Fargo bank in Sugar Land
Rose James, partner at Z. A. R. Consulting, a company that works with executive leadership to bring effective management strategies
Donald Jirkovsky, a business advisor for the UHV Small Business Development Center
Paul McClurg, finance director for the Association of Industry Analysts
Teri Moten, principal of Moten Financial Services in Victoria
Clark Mott, an accountant for Occidental Petroleum Corp.
Patricia Nagle, senior lender for American Bank in Victoria
Magesh Nair, senior managing director and chief operating officer for CCI
Benny Nguyen, commercial real estate brokerage at Retail Solutions
Mayank Patel, chemical engineer for Jacobs Engineering
Terry Register, chief auditor and director of information technology audit for Enbridge Energy Partners
Karen Sanders, UHV budget director
Modesto Santana, risk solutions representative for H-E-B
Kim Smallwood, contract plant and warehouse manager for CITGO petroleum
Adam Wagner, senior fraud investigator for Texas Children's Health Plan
Anthony Williams, financial advisor for Galene Financial
David Woods, computer science instructor at Wharton County Junior College
Jimmy Youngblood, chief information officer of OsteoStrong, a health and wellness technology startup
The University of Houston-Victoria, located in the heart of the Coastal Bend region since 1973 in Victoria, Texas, offers courses leading to more than 80 academic programs in the schools of Arts & Sciences; Business Administration; and Education, Health Professions & Human Development. UHV provides face-to-face classes at its Victoria campus, as well as an instructional site in Katy, Texas, and online classes that students can take from anywhere. UHV supports the American Association of State Colleges and Universities Opportunities for All initiative to increase awareness about state colleges and universities and the important role they have in providing a high-quality and accessible education to an increasingly diverse student population, as well as contributing to regional and state economic development.