Close
UHV students volunteer at nonprofits for Day of Service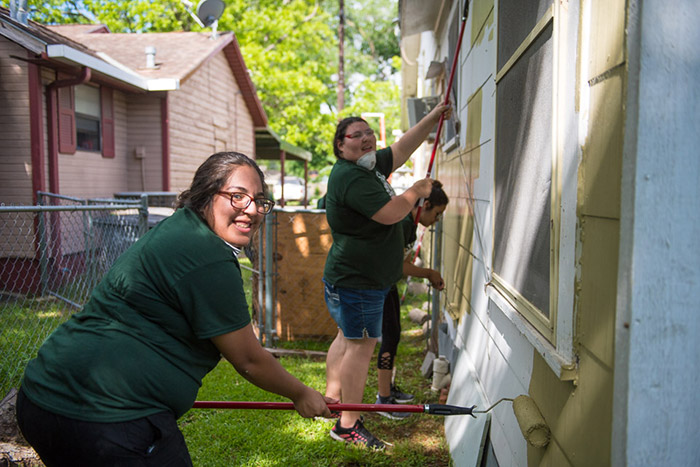 UHV students Devin Luna, left, Bethani Wade and Amethyst Ayala paint the side of a house Saturday as part of the UHV Jags Join In – Day of Service event. More than 50 UHV students, faculty and staff members participated in volunteer opportunities at Adopt-A-Pet, the Food Bank of the Golden Crescent and Golden Crescent Habitat for Humanity.
Instead of sleeping in, a group of University of Houston-Victoria students chose to spend Saturday morning serving others.
Fifty-four students, faculty and staff members participated in the UHV Jags Join In – Day of Service Saturday by volunteering at Adopt-A-Pet, the Food Bank of the Golden Crescent and Golden Crescent Habitat for Humanity. The event kicked off UHV's Volunteer Week activities.
"Jags Join In is an amazing opportunity for UHV students to learn about the needs in the community and see how they can help others," said Hilary Kofron, associate director of UHV Student Life. "We want to inspire them and let them see that they are able to make a difference."
Students at Adopt-A-Pet spent the day cleaning the animals' living areas as well as spending time playing with the dogs and cats. The students who went to the Food Bank worked on organizing the warehouse and preparing donations.
Vito Lozano, an Eagle Pass freshman, spent the morning with Habitat for Humanity helping to paint a house owned by Josephine Lerma. He learned the importance of discipline and involvement playing football in high school, he said.
"Everybody needs a little help sometimes, and I try to help out whenever I can," he said. "It's important to be involved in things like this while you're young so you can help others while also gaining experience. That way, you can improve yourself while you're making a difference to someone else."
For Devin Luna, a Sinton sophomore biology major, volunteering is an ongoing goal. Luna did a lot of volunteer work as a member of the National Honor Society in high school. She recently went on UHV's Alternative Spring Break trip to Louisiana, where she and other UHV students helped repair homes damaged by flooding.
"The people in Louisiana were so grateful about what we were doing," Luna said. "After that, I was excited to take part in this project. It's nice to see how our actions can impact the community. It's rewarding to see how happy the people are when the work is done."
Other UHV Volunteer Week activities included preparing and serving lunch Wednesday at Christ's Kitchen. On Friday afternoon, students will create art with residents of Retama Manor South.
For Lerma and her son, Richard Lerma, who lives with her, seeing the students come out on a Saturday and paint her house was an encouraging experience. In addition to painting, the students replaced rotten wood.
"There's really no way to fully say 'thank you' for all this hard work," Lerma said. "They're taking time away from working on their education to help me fix my house. They've done such a good job."
The University of Houston-Victoria, located in the heart of the Coastal Bend region since 1973 in Victoria, Texas, offers courses leading to more than 80 academic programs in the schools of Arts & Sciences; Business Administration; and Education, Health Professions & Human Development. UHV provides face-to-face classes at its Victoria campus, as well as an instructional site in Katy, Texas, and online classes that students can take from anywhere. UHV supports the American Association of State Colleges and Universities Opportunities for All initiative to increase awareness about state colleges and universities and the important role they have in providing a high-quality and accessible education to an increasingly diverse student population, as well as contributing to regional and state economic development.