Close
Student leaders, organizations celebrated at awards banquet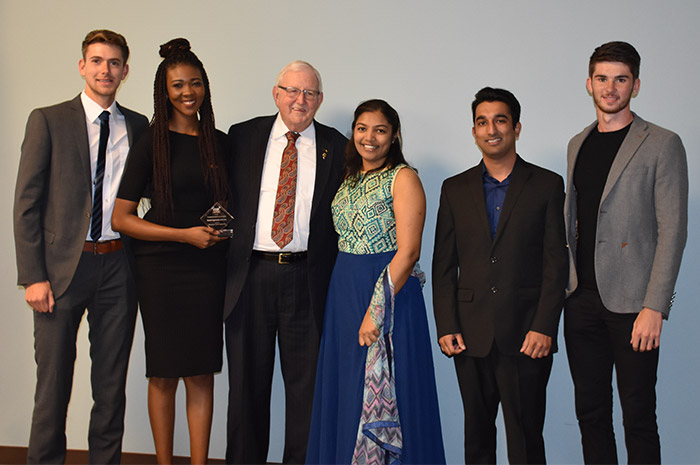 Members of the UHV International Student Organization have their photo taken Tuesday with UHV President Vic Morgan, third from left, after being named Student Organization of the Year at the UHV Student Organization and Leadership Banquet. Pictured are Ben Taylor, left, Loveth Ohenhen, Sree Sandhya Kona, Akash Mishra and Brian Foulger.
UHV's International Student Organization members knew Tuesday's University of Houston-Victoria Student Organization and Leadership Banquet was going to be a special night, but it turned out to be even more memorable than they imagined.
The International Student Organization was one of three UHV student groups that were officially chartered Tuesday. In addition, ISO won the award for Student Organization of the Year. The award goes to a student organization that demonstrated consistent flexibility, initiative, creativity and perseverance in the past school year.
"We were excited and grateful to find out we won Student Organization of the Year," said Loveth Ohenhen, a UHV graduate student from Nigeria. "We are honored to be selected, especially in our first year."
A total of 137 students, faculty and staff attended Tuesday's banquet. It was the fourth time UHV has held a formal event to recognize student leaders and organizations.
The Campus Lions Club and eSports joined ISO as UHV's newest chartered student organizations. Campus Lions Club provides service projects to the campus and community. eSports allows students to enjoy the competitive scene of gaming. Students are welcome to watch, play or discuss gaming strategy.
The ISO's main objectives are to enrich the international experience at UHV and promote cultural diversity on campus. The group has been active this semester helping plan International Game Night, the UHV International Festival and other cultural events.
To become a chartered organization, a group must have at least five members, three of whom need to be executive officers with a minimum 2.5 grade-point average. The students also must write a constitution and a charter application.
"While the process of becoming a chartered organization takes some effort, we had great support from UHV Student Life & Services and the International Programs Office," Ohenhen said.
"This whole year has been exciting for us."
Bethani Wade, a sophomore from Rockport, was chosen as the Volunteer of the Year. Wade volunteered for UHV's Alternative Spring Break trip, the disaster relief trip to Baton Rouge in the fall, helped clean up beaches and made herself available at a number of community service activities around Victoria, including the recent Jags Join In – Day of Service and Art with the Elderly events.
"I was so surprised because I always thought of myself as a background person," Wade said. "When my name got called, I was really amazed."
The Advisor of the Year went to Jennifer Ortiz-Garza, a UHV psychology lecturer. She advises the Jaguar Cheer Team.
"The team has done a phenomenal job," she said. "I'm just in the background answering questions. We already are looking forward to all the activities we can take part in next year."
Christina Chavarria of San Antonio, Alvaro De La Cruz of Converse, Faizon Matthews of Baytown, Blue McCreary of Houston and Ben Taylor of Nottingham, England, were recipients of this year's Spirt of the Jaguar award. The award recognizes integrity, citizenship, academics and respect. Students selected are actively involved in student life and encompass what it means to be a Jaguar.
Other award winners Tuesday were:
On-Campus Student Worker of the Year – Sophia Solano, San Antonio
Off-Campus Student Worker of the Year – Juan Vega, Houston
Quiet Influencer – Joanne Carrejo, Natalia
Emerging Leader of the Year – Rebecca Fransen, Victoria
Leadership Legacy – Folake Olayinka, Houston
Student Government Representative of the Year – Ashley Yaws, Edna
Student Government Senator of the Year – Madeline Colunga, Houston
Student Organization Member of the Year – Kevin Cortez, Houston
Wonderful Women Awards – Chavarria, Genesis Corona, Ke'Andre Green, Megan Huerta, Hilary Kofron, Veronica Lopez, Jessica McCue, Ortiz-Garza, Camilla Sutton, Sara Thurmond and Beverly Tomek
In addition to awards, Huerta gave her farewell remarks as Student Government Association president and installed the next group of officers. De La Cruz will began his term as SGA president on June 5.
The University of Houston-Victoria, located in the heart of the Coastal Bend region since 1973 in Victoria, Texas, offers courses leading to more than 80 academic programs in the schools of Arts & Sciences; Business Administration; and Education, Health Professions & Human Development. UHV provides face-to-face classes at its Victoria campus, as well as an instructional site in Katy, Texas, and online classes that students can take from anywhere. UHV supports the American Association of State Colleges and Universities Opportunities for All initiative to increase awareness about state colleges and universities and the important role they have in providing a high-quality and accessible education to an increasingly diverse student population, as well as contributing to regional and state economic development.