Close
UHV business students make their case at BBA Conference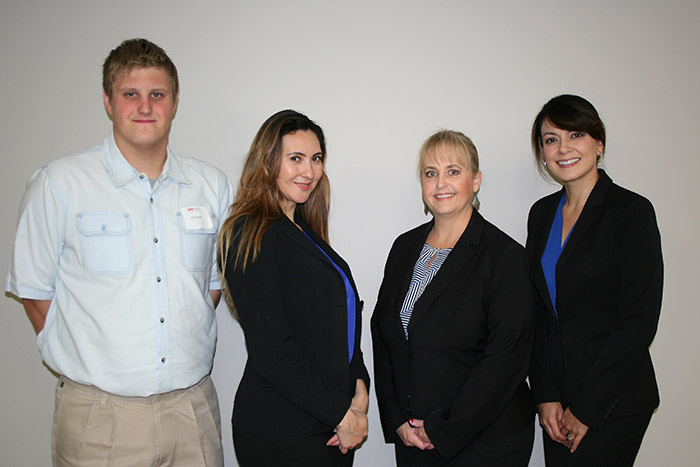 Members of the first-place team at the UHV Bachelor of Business Administration Conference pose for a photo April 29 at UHV Katy. Winning team members were John Boyd, left, Lizbeth Montenegro, Jill McMurrey and April Hernandez.
KATY – The winning team at the University of Houston-Victoria Bachelor of Business Administration Case Conference initially had never heard of Omega Protein Corp.
So John Boyd of Houston, April Hernandez of Katy, Jill McMurrey of Richmond and Lizbeth Montenegro of Houston set out to learn as much as they could about the Houston-based natural ingredients company.
In the end, their expert analysis about the company and ability to draw from what they learned in UHV business classes earned the team first place in the case competition.
"One of the elements of the conference I always enjoy is watching how students apply what they've learned in our program to making analyses and recommendations about a real-world company," said Farhang Niroomand, dean of the UHV School of Business Administration. "The students did an excellent job in this regard. They made thoughtful presentations and got some useful experience in presenting business analysis."
The UHV School of Business Administration held the conference April 29 at UHV Katy. Every semester since 2007, students enrolled in "Strategic Management," the capstone course of the BBA program, have attended the conference and competed as teams in the presentation of a company case analysis. This year's competition featured 112 students on 28 teams.
Omega Protein develops, produces and delivers nutritional ingredients to three primary industries: human, animal and plant nutrition. McMurrey said the team started by studying the company website and its last five annual reports. Next, team members dove into financial data and various acquisitions and transactions the company has made. The team also looked up industry reports.
"We went from never even hearing of Omega Protein to learning more than we ever wanted to know about the industry," McMurrey said.
Like many groups, McMurrey said finding time to meet was a struggle. Between full-time jobs and family obligations, it was challenging to come together. Still they were able to carve out enough time to plan and practice before the conference.
McMurrey said the help of Ehsan Fakharizadi, a UHV assistant professor of management, was instrumental. Fakharizadi is one of three professors who teach the capstone course.
"Dr. Fakharizadi provided a lot of feedback along the way, and our team took that seriously," McMurrey said. "The other key was teamwork. We all gave each other feedback. All of us had different concentrations in the BBA program, so we've taken different kinds of classes and have accumulated different types of knowledge."
McMurrey said her team thought it did a good job presenting the case, but the members were not necessarily expecting to be in the top three.
"We were very surprised and excited that we won," she said.
Each member of the winning team will receive a plaque at a future business school event. The names of the team members also will appear on a plaque in the UHV School of Business Administration office in Victoria. In addition, team members will be invited to serve as panelists at future case competitions. About 40 faculty members and alumni served as panelists for this year's competition.
Other teams placing in the BBA competition were:
Second Place – Devin Daniels of Sugar Land, Sondria Patterson of San Marcos, Sachiko Peet of Katy and Michael Pitz of Damon
Third Place – Valorie Forero of Cypress, and Natalie Cespedes, Ibrahim Halawa, Maria Reuss, all of Richmond
There also were three honorable mention teams. Those teams were:
Sandra Castellon of Houston, Jason Josan of Katy, Heather Price of Houston and Bhairavi Shah of Richmond
Randy Castner of Victoria, Meghan Klimitchek of Inez, Stormie Lutz of Goliad and Anum Saad of Sugar Land
Trella Pina of Victoria, April Ronquillo of El Paso, Stanley Smith of Arlington and Andre Williams of Victoria
The University of Houston-Victoria, located in the heart of the Coastal Bend region since 1973 in Victoria, Texas, offers courses leading to more than 80 academic programs in the schools of Arts & Sciences; Business Administration; and Education, Health Professions & Human Development. UHV provides face-to-face classes at its Victoria campus, as well as an instructional site in Katy, Texas, and online classes that students can take from anywhere. UHV supports the American Association of State Colleges and Universities Opportunities for All initiative to increase awareness about state colleges and universities and the important role they have in providing a high-quality and accessible education to an increasingly diverse student population, as well as contributing to regional and state economic development.