Close
Crossroads students get unique perspectives on math at event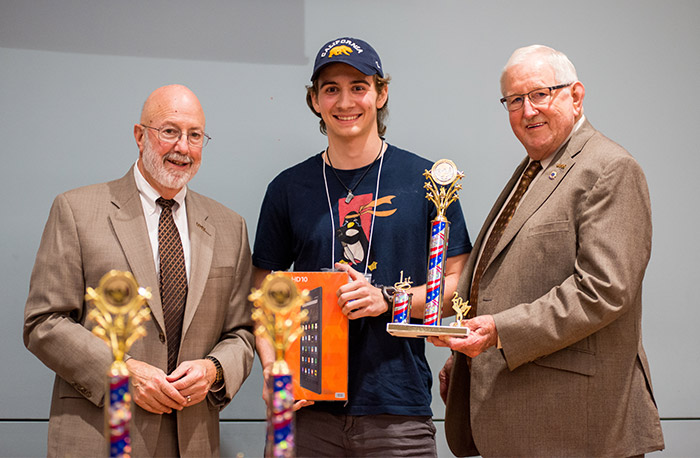 Liam Porr, center, a St. Joseph High School senior, accepts a trophy and Kindle Fire tablet Wednesday after placing first in the UHV Mathematics & Robotics Awareness Day computer science test. With Porr are David Cockrum, UHV interim provost and vice president for academic affairs, left, and UHV President Vic Morgan.
Students gasped as images of three-dimensional street art were shown from one angle and then another.
Depending on where the observer stood, the image was either a cute baby or an elongated, amorphous blob on the sidewalk. As students looked at these and other images, they learned how math can be used to calculate the perception of an image depending on the angle from which it is viewed.
The images were part of an illusions presentation Wednesday during the 22nd annual Mathematics & Robotics Awareness Day at the University of Houston-Victoria. A group of 216 high school students from eight Crossroads schools and one homeschooler took part in activities that included mathematics and computer science tests, learning sessions and technology demonstrations. High schools participating in the event were Austwell-Tivoli, Calhoun, Goliad, Hallettsville, Palacios, St. Joseph, Victoria East and Victoria West.
A grant from Alcoa Foundation funded the event as well as robotics courses for high school students. Some of the students from the robotics courses showcased their maze-solving robots during the event. The grant also will fund summer math and robotics camps.
"Math & Robotics Awareness Day is an exciting event every year," said Ricardo Teixeira, a UHV assistant professor of mathematics and the event's academic organizer. "Students from across the region get to see some of the amazing applications for math and technology, and we have the opportunity to inspire future leaders. It's an outstanding experience."
During the day, students attended three learning sessions: illusions, mathemagic and algorithms. Each session focused on how math and technology can be used in everyday life.
Students also were able to visit expo booths set up by various groups and companies including a Calhoun High School robotics class, Caterpillar, Children's Discovery Museum, CivilCorp, Formosa, UHV Math and Science Club, UHV Admissions & Student Recruitment, and a Victoria Independent School District engineering class.
Recipients of the top three computer science scores received a trophy and a Kindle Fire tablet. The winners for the computer science contest were:
First – Liam Porr, St. Joseph High School
Second – Corbin Adams, Victoria West High School
Third – James Easton, Victoria West High School
Porr said computer science is an interesting way to use programming to develop logic.
"I like how computers can be used as tools to test if your logic is correct," he said. "Computers will do exactly what you tell them to do, so if the logic is sound, the program will work. Eventually, I want to earn my doctorate and research artificial intelligence."
The mathematics tests were divided by grade. The second- and third-place winners received medals, and the first-place students in each grade each received a trophy and a Kindle Fire tablet. The winners for the math contest by grade and high school were:
Freshmen – Madison Samford, Victoria West, first; Jude Stehling, Victoria West, second; Cade Quirey, Calhoun, third.
Sophomores – Marco Di Leo, Victoria West, first; Michael Choi, Victoria West, second; Marcus Hermes, Victoria West, third.
Juniors – Mason Koehl, Victoria East, first; Ethan Lempa, Victoria West, second; Jack Buchanan, Victoria West, third.
Seniors – Cameron Reyes, Goliad, first; Caleb Urbano, Victoria West, second; Claire Wang, Victoria East, third.
"Math comes easily to me, so it's just pure fun," Di Leo said. "I got second last year behind my friend Michael Choi. We often switch out in the first and second spots. It's good to have some friendly competition. This was a great event, and I'm grateful to UHV for hosting it."
The University of Houston-Victoria, located in the heart of the Coastal Bend region since 1973 in Victoria, Texas, offers courses leading to more than 80 academic programs in the schools of Arts & Sciences; Business Administration; and Education, Health Professions & Human Development. UHV provides face-to-face classes at its Victoria campus, as well as an instructional site in Katy, Texas, and online classes that students can take from anywhere. UHV supports the American Association of State Colleges and Universities Opportunities for All initiative to increase awareness about state colleges and universities and the important role they have in providing a high-quality and accessible education to an increasingly diverse student population, as well as contributing to regional and state economic development.