Close
New book to show how South became Bible Belt
When Joseph Locke, a University of Houston-Victoria assistant professor of history, began researching Texas' history during the Progressive Era, he was surprised to find that the "Bible Belt" moniker didn't yet apply to the American South. It wasn't even coined yet.
"It was rare for clergy and religious leaders to take part in political discussions or advocate for specific causes," Locke said. "When Prohibition came to the forefront and the clergy started championing the issue, it led to this major focus on what role, if any, the pulpit should have in politics."
That conversation and the confrontations and social changes that followed became the focus for Locke's book "Making the Bible Belt: Texas Prohibitionists and the Politicization of Southern Religion." The book is published by Oxford University Press and will be released on July 3.
"Dr. Locke is an outstanding member of our history faculty, and his insights into Texas' history are exciting to see," said Jeffrey Di Leo, dean of the UHV School of Arts & Sciences. "We live in a time of political turmoil, and this book provides a welcome perspective on how the attitude of mingling politics and religion surfaced in the South."
The Progressive Era, which stretched from the 1890s to the 1920s, always has interested Locke. During that period, social and political movements pushed for reform, and new laws were put in effect to regulate how major industrial groups did business.
Many of those changes were spurred and debated in industrial centers in the Northeast and Midwest. But Locke wondered what was happening in Texas. What he found bore an interesting similarity to how politics are discussed today.
"I wanted to find an historical context for what so many people take for granted about Texas and the South," Locke said. "So many people cling to that image of the Bible Belt, but if you look back 100 years, the idea of having religion so heavily involved in politics was a new, jarring, controversial concept."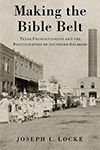 In particular, Locke was surprised by the vitriolic language on both sides of the Prohibition issue. U.S. Sen. Richard Coke spoke during a Waco rally and encouraged attendees to "scourge back" clergy who preached politics. "The worst sign of the times that I can perceive is to be found in the delivery of stump speeches on the holy Sabbath day from God's pulpit," he said.
At that time, religion and politics widely were seen as separate matters, so even church members had to be convinced that the two could work together, Locke said. In the end, religious leaders won the argument, Prohibition became the law of the land, and the idea of politics being influenced by religion became generally accepted.
"That attitude is very much alive today," Locke said. "Whether Christian denominations still discourage the consumption of alcohol – and some do – many encourage members to vote based on religious principles. It's been interesting to see how a discussion a century ago has affected today's attitude toward politics and religion."
Locke's book can be purchased through Amazon, Barnes & Noble, the Oxford University Press and other major book retailers.
The University of Houston-Victoria, located in the heart of the Coastal Bend region since 1973 in Victoria, Texas, offers courses leading to more than 80 academic programs in the schools of Arts & Sciences; Business Administration; and Education, Health Professions & Human Development. UHV provides face-to-face classes at its Victoria campus, as well as an instructional site in Katy, Texas, and online classes that students can take from anywhere. UHV supports the American Association of State Colleges and Universities Opportunities for All initiative to increase awareness about state colleges and universities and the important role they have in providing a high-quality and accessible education to an increasingly diverse student population, as well as contributing to regional and state economic development.