Close
UHV employee honors mother with endowed scholarship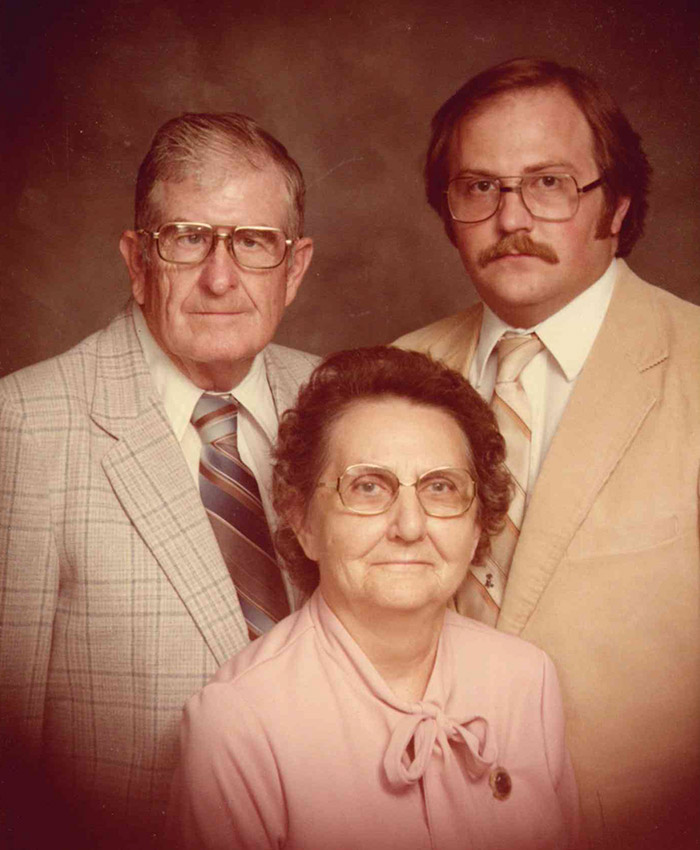 Carl, left, and Doris Ferguson pose with their son, Joe, in a photo taken several decades ago. The Doris W. Ferguson Endowed Scholarship honors the memory of Doris and is now fully funded. It will be awarded to future UHV education students.
A new endowed scholarship at the University of Houston-Victoria will honor the memory of a Victoria teacher by helping future educators receive a higher education.
The Doris W. Ferguson Endowed Scholarship recently became fully funded. The scholarship was created by her son, Joe Ferguson, as a way to honor his mother. He began contributing to the scholarship fund in 2007.
"At first, I purchased a brick with her name on it, but that didn't feel like enough," said Joe, executive director of UH System IT shared services. "Then I saw a news article about another family that set up an endowed scholarship for its loved one. Creating a scholarship to help future teachers seemed like something Mom would appreciate."
The scholarship is endowed, which means the initial funds will be invested and scholarships will be disbursed based on the returns. The scholarship will be available to UHV School of Education, Health Professions & Human Development students who are pursuing undergraduate degrees in early childhood education or graduate degrees in curriculum and instruction.
"This scholarship is a touching gesture of dedication to Joe's mother and a strong endorsement of UHV," said Jesse Pisors, UHV vice president for advancement and external relations. "Joe has worked at UHV for 42 years, and he's trusting the university with this scholarship. In addition, the years he's spent building this fund illustrate his commitment to honoring his mother and supporting UHV students."
Doris taught elementary school for almost 30 years. She grew up near Corsicana and taught in Denton, Waco and Bellmead before moving to Victoria. She taught second and third grade in Guadalupe and Aloe elementary schools. By the time she retired in 1979, she was teaching the children of some of her former students. She passed away in 1989.
Looking back, Joe remembered how his mother and her teaching career had an impact on his life. When he was a child, that meant he always had to behave at school because her classroom was just down the hall.
"Once, Mom gave me an envelope to give to my third-grade teacher," Joe said. "I asked if she knew my teacher. Mom smiled and said, 'Oh, she's my best friend.' I was very careful not to get in trouble that year."
Even after Doris retired, she always had a cabinet full of teaching materials at home. Watching her and seeing how hard she worked instilled in Joe a respect for education and the people who work hard to develop it in others.
"She showed me the value and importance of getting an education," he said. "I saw that when education is done right, it has an amazing, positive effect on a person's future. I want to use this scholarship to pass that value on to others."
Joe's decision to invest in future generations of educators is encouraging for UHV, Pisors said. Through the years, the scholarship will continue to grow and help students for decades, just as Doris taught multiple generations.
"When someone chooses to do something like this in memory of a loved one, it's usually a careful choice that comes with a lot of consideration," Pisors said. "It's a special thing that carries a lot of weight. UHV is honored that Joe chose to use our university to preserve his mother's memory."
The University of Houston-Victoria, located in the heart of the Coastal Bend region since 1973 in Victoria, Texas, offers courses leading to more than 80 academic programs in the schools of Arts & Sciences; Business Administration; and Education, Health Professions & Human Development. UHV provides face-to-face classes at its Victoria campus, as well as an instructional site in Katy, Texas, and online classes that students can take from anywhere. UHV supports the American Association of State Colleges and Universities Opportunities for All initiative to increase awareness about state colleges and universities and the important role they have in providing a high-quality and accessible education to an increasingly diverse student population, as well as contributing to regional and state economic development.