Close
UHV SBDC offices, training workshops moving to Victoria Tower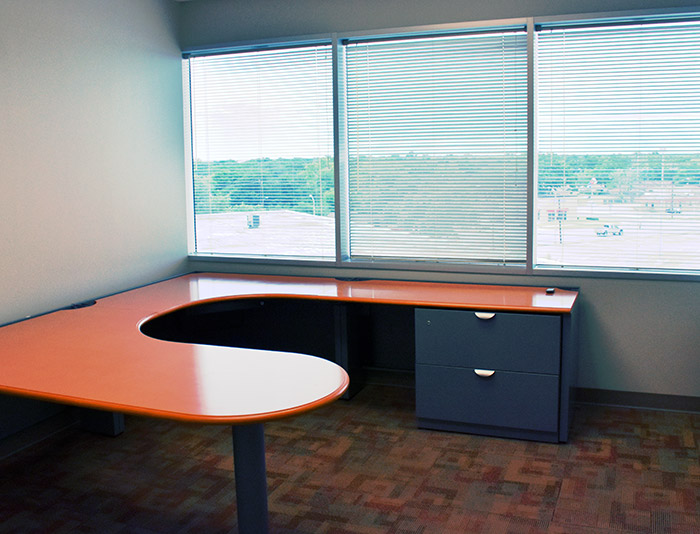 An empty office for a UHV Small Business Development advisor overlooks Laurent Street. The SBDC will move into its new office inside Victoria Tower early next month.
With ample parking, a convenient location and plenty of room for workshops and client meetings, University of Houston-Victoria Small Business Development Center staff see Victoria Tower as an ideal location for the next few years.
The SBDC and UHV Regional Center for Economic Development and Entrepreneurship soon will relocate to an office suite on the fourth floor of Victoria Tower, 1908 Laurent St. The move is expected to be completed by July 5.
The SBDC and the economic development center have been in University North on UHV's main campus since the building opened in summer 2015.
"This location on Laurent Street will be easy for people to find, and there will be no problems with parking," SBDC Director Joe Humphreys said. "As nice as the university offices are, it was difficult for a new client to find a place to park and then find us inside."
The UHV SBDC is part of a nationwide small business assistance program that serves the small business community in partnership with federal, state and local governments. The center offers business advising, training and technical assistance to existing and start-up businesses in an 11-county area. The economic development center provides a regional hub for small business resources and promotes community engagement and partnerships to support educational, economic and cultural development throughout the area.
A training room will be located at the front of the new office where a variety of free workshops will take place for small business owners, employees and interested community members. Previously, SBDC had most of its trainings in a conference room.
"That wasn't as ideal because it was one big conference table," Humphreys said. "We'll be able to have tables and chairs in the new training room, so it will feel more like a classroom setting."
Another advantage of the new location is the SBDC staff will be together. The staff has been split between the first and second floors of UHV University North. Humphreys said advisors will have their own offices where they can meet confidentially with clients.
"This move was made with clients' interests in mind," said Farhang Niroomand, dean of the UHV School of Business Administration. "It makes sense for the SBDC to be located where it's most accessible to the business owners and managers that use its services."
The move will free up more office space for UHV School of Business Administration faculty members on the second floor of University North. UHV's Human Resources office will relocate from University West to the first floor space vacated by SBDC.
Originally called Laurent Tower, the new location of SBDC and economic development center was constructed in 1965 as a two-story American Bank of Commerce. In 1983, a six-story addition was constructed behind the original section.
UHV will have two reserved parking spots directly outside the north entrance at Victoria Tower for clients who have meetings at the SBDC or economic development center. There also is a large parking lot to accommodate more vehicles when there are training workshops and group meetings.
UHV's long-term plan is to have the SBDC and economic development center move into the former Town Plaza Mall, located in the 1500 block of Airline Road just east of Laurent Street. UHV is in the process of acquiring a large portion of Town Plaza Mall from Our Lady of Victory Catholic Church to house university offices, labs, storage and space for community development initiatives.
The U.S. Department of Commerce awarded UHV a $1 million matching grant in May to renovate the portion of the building that will house the SBDC and economic development center.
"The eventual move to the former Town Plaza Mall won't be too disruptive because it's not that far, and we still will be close to Laurent Street," Humphreys said. "In the meantime, we will be centrally located and close to a lot of businesses."
The SBDC and economic development center will have an open house for the community once staff is moved. The first SBDC training session in Victoria Tower is scheduled for July 19.
"We'll still be closely associated with UHV in terms of affiliation and distance," Humphreys said. "In fact, you can see both the university and former Town Plaza Mall from the windows of our new office."
The University of Houston-Victoria, located in the heart of the Coastal Bend region since 1973 in Victoria, Texas, offers courses leading to more than 80 academic programs in the schools of Arts & Sciences; Business Administration; and Education, Health Professions & Human Development. UHV provides face-to-face classes at its Victoria campus, as well as an instructional site in Katy, Texas, and online classes that students can take from anywhere. UHV supports the American Association of State Colleges and Universities Opportunities for All initiative to increase awareness about state colleges and universities and the important role they have in providing a high-quality and accessible education to an increasingly diverse student population, as well as contributing to regional and state economic development.