Close
UHV to host South Korean secondary school teachers
Two high school teachers from South Korea will get a taste of Texas public education when they come to Victoria through a visit arranged by the University of Houston-Victoria.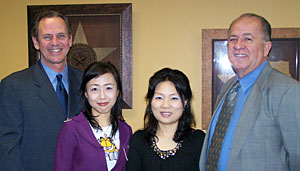 South Korean teachers Kim ("Grace") Hye Ju, second from left, and Cho ("Carrie") Mung Yeong pose with University of Houston-Victoria President Tim Hudson, left, and Vic Padelford, UHV director of international programs and special projects.
The two participants in the seventh annual Fulbright American Studies Institute for Korean Secondary School Teachers of English will be in Victoria on Sunday through Feb. 8 learning about U.S. culture, life and public education, particularly English as a Second Language programs.  
"I think this program will really strengthen our partnership between UHV and Victoria Independent School District so that we can collaborate on more projects in the future," said Fernando Mesa, principal of Profit Magnet High School in Victoria and a UHV graduate. "I also think it will bring a great deal of outside experience to my students and teach them the concept of a global society."
The two teachers, Hyomi ("Emma") Kim and Sung ("Christine") Soon Roh arrived in Austin Dec. 30 with 25 other middle and high school teachers from throughout South Korea. Participants in the program are given English names to use while they are in the United States.
The teachers take classes in Austin for four weeks before going to different parts of the state for two-week residencies in Texas public schools. The residencies are arranged by the Texas International Education Consortium with UHV's office of international programs and other Texas universities. For the seventh week of the program, the teachers return to Austin to talk about their experiences and how they will use what they have learned when they return to South Korea. TIEC puts on the training program under the sponsorship of the Korean-American Educational Commission in Seoul, Korea.
"International programs are all about connectivity," said Vic Padelford, UHV director of international programs and special projects. "This is a great way to broaden everyone's understanding of each other."
This is the second year that UHV has been involved with the program. Last year, Kim ("Grace") Hye Ju and Cho ("Carrie") Mung Yeong visited Victoria. While in Victoria, "Grace" and "Carrie" talked to and observed classes at UHV and Victoria College; visited English as a Second Language, mainstream English and social studies classrooms throughout the school district; and went to local areas of interest such as Goliad and Corpus Christi.
"They weren't the only ones who learned a lot," said Jan Wendt, program coordinator for UHV international programs and special events. "They were delightful women, and I learned a lot about South Korea."
This year, a tentative schedule shows "Emma" and "Christine" attending meetings at UHV and observing and teaching at Profit, Chandler Elementary School, and Howell and Crain middle schools. They also will be touring the Nave Museum and the McNamara House, and watching a Victoria Community Theatre dress rehearsal.
"This visit will be a wonderful opportunity for UHV to help the English as a Second Language program in South Korea and for us to learn from these teachers about how we can better prepare students to compete in a globally interdependent society," UHV President Tim Hudson said.
Melanie Burns, a speech teacher at Profit, has agreed to serve as the mentor for the teachers. "Emma" will live with Burns and her husband, Brian, and "Christine" will stay with Padelford and his wife, Norma.
The University of Houston-Victoria, located in the heart of the Coastal Bend region since 1973 in Victoria, Texas, offers courses leading to more than 80 academic programs in the schools of Arts & Sciences; Business Administration; and Education, Health Professions & Human Development. UHV provides face-to-face classes at its Victoria campus, as well as an instructional site in Katy, Texas, and online classes that students can take from anywhere. UHV supports the American Association of State Colleges and Universities Opportunities for All initiative to increase awareness about state colleges and universities and the important role they have in providing a high-quality and accessible education to an increasingly diverse student population, as well as contributing to regional and state economic development.