Close
UHV broadens partnership with university in Mexico
The University of Houston-Victoria is increasing its presence in Mexico with expansion of its Global MBA and student exchange programs, more staff members traveling to take language immersion classes, and a partnership to help a Mexican university become accredited.  
"Eventually, we want to have a Texas university center in Mexico, and this is how we're working toward that goal," said Vic Padelford, UHV director of international programs and special projects.
UHV administrators are partnering with Rector Javier Espinosa, president of the Universidad Internacional in Cuernavaca, Mexico, to develop programs that will increase the international skills of students, faculty and staff at both universities.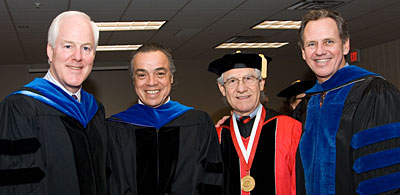 Rector Javier Espinosa, second from left, president of the Universidad Internacional in Mexico, attends the UHV fall graduation ceremony. Also pictured are, from left, Texas Sen. John Cornyn, outgoing UH System Regent Raul Gonzalez and UHV President Tim Hudson. UHV is working with the Universidad Internacional to establish a Texas university center in Mexico.
One of these programs is the UHV Global MBA program, which is available online and allows students to learn about the global economy and different business practices and models that work around the world. UHV has signed an agreement with the Universidad Internacional, also known as Uninter, to offer the program with the first students from Mexico taking online classes in 2009. UHV is one of only 65 universities in the United States that offers a full-degree program in other countries.  
"We've worked closely with Uninter to attract MBA students from Mexico," said Charles Bullock, dean of the UHV School of Business Administration. "This will be a wonderful opportunity for all of us to learn from each other."
UHV also is working with the Universidad Internacional through the Reciprocal Education Exchange Program, which allows U.S. and foreign students to study abroad for a semester but pay the same tuition costs they would if they stayed at their home universities. The program has been available for two years, but implementing it has been difficult, Padelford said. The lack of dormitories at UHV has made using REEP hard for Mexican Uninter students, although several are interested. In addition, it is not common for UHV students to study abroad because in most cases they have family and work responsibilities here. But more UHV students need to consider it, he said.
"Our students will continue to be disadvantaged in the global labor force if they have not started to acquire skills in another language by the time they graduate," Padelford said. "Our programs in the Spanish-speaking world are clearly the most effective way for them to learn Spanish and about Latin American culture."
Another program UHV has offered since 2005 is a Spanish language and culture immersion program that allows UHV students, faculty and staff to travel to Universidad Internacional for three, five or 12 weeks and earn college credit. Billy Lagal, a recruiter at UHV-Sugar Land; Danny Ochoa, manager of the UHV Letting Education Achieve Dreams program; and Michael Gonzalez, a 2006 UHV MBA graduate who is chief financial officer for the Bloomington school district; returned last month from three weeks at Universidad Internacional.
"The experience at Uninter is tremendously valuable, not only in terms of improving language proficiency but also as far as understanding Mexican history and culture," Ochoa said. "The immersion approach is, by far, the best method by which to learn Spanish. In only three weeks, my ability and confidence level with speaking Spanish improved dramatically."
The final way UHV is working with the Universidad Internacional is by mentoring the university as it prepares to go through accreditation from the Commission on Colleges of the Southern Association of Colleges and Schools. This is the recognized regional accrediting body for colleges and universities in Texas and 10 other U.S. southern states plus Latin America. UHV is accredited by SACS, and when the Universidad Internacional receives SACS accreditation, it will be only the fifth university in Mexico to achieve this status.
"This is a way for the Universidad Internacional to be at the forefront of higher education accreditation in Mexico," UHV President Tim Hudson said. "We will do everything we can to offer guidance. SACS accreditation would not only help their university, it would help UHV students."
Espinosa attended UHV fall graduation as a visiting foreign dignitary in what has become an informal UHV tradition. He then went to the SACS annual meeting in New Orleans with Hudson and Provost Suzanne LaBrecque.
More students at UHV and universities throughout Texas would be able to attend school at the Universidad Internacional if it was SACS accredited because their financial aid and class credits would transfer more easily.
The University of Houston-Victoria, located in the heart of the Coastal Bend region since 1973 in Victoria, Texas, offers courses leading to more than 80 academic programs in the schools of Arts & Sciences; Business Administration; and Education, Health Professions & Human Development. UHV provides face-to-face classes at its Victoria campus, as well as an instructional site in Katy, Texas, and online classes that students can take from anywhere. UHV supports the American Association of State Colleges and Universities Opportunities for All initiative to increase awareness about state colleges and universities and the important role they have in providing a high-quality and accessible education to an increasingly diverse student population, as well as contributing to regional and state economic development.