Close
UHV graduate gets book of poetry published
the process of elimination
By Van G. Garrett from "Songs in Blue Negritude"
cute little babies in their bassinets
are crawling slowly into their caskets
as gang violence rattles and infects
and murders to dissect
the young guns
our daughters
our sons
the fortunate/misfortunate ones
that wouldn't harm a fly
the very ones we nurse
and rhyme to
with spirits so fresh and so alive
before they fall in our driveways
riddled by drive-bys
University of Houston-Victoria graduate Van G. Garrett's first book was released this month complete with a color cover featuring a photo of a self-portrait he painted.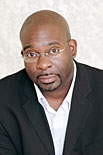 Van G. Garrett
"Songs in Blue Negritude," published by the Xavier Review Press, is a book of poetry about experiences that are historically specific to black people, Garrett said. It is available through Xavier, Amazon.com, Baker and Taylor, the Book House and Midwest Library Service.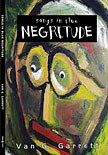 "Songs in Blue Negritude"
"I started writing it about 10 years ago," said Garrett, who received his master's degree in interdisciplinary studies in 2006 from UHV. "It wasn't that easy, but my mentors encouraged me to keep working."  
One of those mentors was Dan Jaeckle, a UHV English professor who taught Garrett in his first graduate-level poetry class. Jaeckle remembers a paper Garrett wrote that analyzed the poetry of Adrienne Rich.
"He's a very bright man," Jaeckle said. "He amazed me more than once."
Garrett received his bachelor's degree in mass media and English in 1999 from Houston Baptist University before attending UHV. He also earned a graduate certificate in African-American Studies in 2006 from the University of Houston.
"My UHV professors were very supportive of what I was trying to do," Garrett said. "I think they really prepared me for looking at literature from a comparative perspective."
"We are very pleased that one of our graduates is receiving this kind of recognition. It is a testimony to our school and Van's hard work that he has become a successful author," said Jeffrey Di Leo, dean of the UHV School of Arts & Sciences and one of Garrett's graduate professors.
Garrett, a Houston resident who teaches reading and writing at Lanier Middle School, has been passionate about writing for years. He received the Danny Lee Lawrence Prize for Poetry in 1999 from Houston Baptist University. He was one of 10 poets selected nationally in 2002 and 2004 for the Callaloo Creative Writing Fellowship, a two-week poetry workshop at Texas A&M University, and one of 11 selected in 2006 for the Hurston/Wright Fellowship at American University in Washington, D.C. His poems have been anthologized and published in journals in the United States, Africa, Switzerland, Turkey and London.
Garrett said he came up with the idea for his book from his peers, who suggested he find a way to categorize the poems he had written.
The unifying theme throughout "Songs in Blue Negritude" is music. Negritude is a literary and ideological movement led by French-speaking black writers and intellectuals that began in the 1930s.
Garrett said he submitted the manuscript for the book in April to Xavier Review Press in New Orleans. He found out in September that Xavier was going to publish the book.
The publishing company gave him freedom with his book and even let him photograph one of his paintings for the cover. The painting is called "Somber Negritude: A Self-Portrait." This marks the first time Xavier has printed a full-color book cover.
Garrett said his future plans are to continue writing and teaching because those are his passions.
"I have an environmental comic book, C.O.S.T. (Council of Species for Tributaries), that will be published by Milq Toast Comics in the spring," he said. "I am planning to continue teaching middle school students, as well as preparing to teach undergraduate students at a leading research university in the fall."
The University of Houston-Victoria, located in the heart of the Coastal Bend region since 1973 in Victoria, Texas, offers courses leading to more than 80 academic programs in the schools of Arts & Sciences; Business Administration; and Education, Health Professions & Human Development. UHV provides face-to-face classes at its Victoria campus, as well as an instructional site in Katy, Texas, and online classes that students can take from anywhere. UHV supports the American Association of State Colleges and Universities Opportunities for All initiative to increase awareness about state colleges and universities and the important role they have in providing a high-quality and accessible education to an increasingly diverse student population, as well as contributing to regional and state economic development.