Close
UHV recognizes Employee of the Year
Sandra Wood, the senior administrative secretary in the University of Houston-Victoria School of Arts & Sciences, recently was named the UHV 2007 Employee of the Year.  
The UHV employee was honored Feb. 7, along with employees celebrating employment milestones, at the university's annual Employee Recognition Luncheon.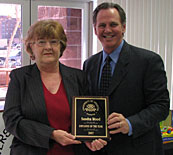 University of Houston-Victoria employee Sandra Wood, left, and UHV President Tim Hudson hold a plaque Wood received for being named the 2007 UHV Employee of the Year.
"Sandra deserves this award," UHV President Tim Hudson said. "She is a hard worker who inspires everyone at UHV to do his or her best."  
Wood, who has worked at UHV since June of 1993, was voted Employee of the Year by her peers. They selected Wood from a ballot listing each 2007 Employee of the Month.
Co-workers describe Wood as upbeat, optimistic, confident and full of energy. They said she appreciates those with whom she works and brings out the best in everyone.
"Ms. Wood has earned this award," said Jeffrey Di Leo, dean of the UHV School of Arts & Sciences. "She is a great team builder who helps everyone in Arts & Sciences to succeed. I deeply value her contributions."
Wood received a $500 check, a UHV T-shirt and a plaque. Her name also will be engraved on the Employee of the Year plaque displayed in the West Building.
UHV also recognized the following employees for working five, 10, 15, 20 and 25 years at the university:
Five Years
Alma Alvarado
Sanjiv Behl
Kathy Caylor
June Cernosek
Chien Ping Chen
Kurt Czupryn
Tracy Damborsky
Carolina Garza DeLaVega
Jeffrey Di Leo
Randy Fingers
Xavier Garza-Gomez
Faye Landry
Judy Lucas
Jean Mutschler
Danny Ochoa
Amit Patel
Ronald Salazar
Linda Schantz
Siva Somasundaram
John Sprinkle
David Summers


10 Years
Sherry Faulk
Donald Fry
Lois Lemke
Mark Roskey
Tong-Ai Zhang


15 Years
Elois Kraatz
Linda Lassmann
Mary Mahan
Carolyn Mallory
Melody Olsen
Paula Packard
Laura Smith


20 Years
Sheron Barnes
Rick Harrington
Luh-Yu Ren


25 Years
Sherrie Kroll
Karen Locher
The University of Houston-Victoria, located in the heart of the Coastal Bend region since 1973 in Victoria, Texas, offers courses leading to more than 80 academic programs in the schools of Arts & Sciences; Business Administration; and Education, Health Professions & Human Development. UHV provides face-to-face classes at its Victoria campus, as well as an instructional site in Katy, Texas, and online classes that students can take from anywhere. UHV supports the American Association of State Colleges and Universities Opportunities for All initiative to increase awareness about state colleges and universities and the important role they have in providing a high-quality and accessible education to an increasingly diverse student population, as well as contributing to regional and state economic development.