Close
New UHV partnership brings Chinese professor and students to Sugar Land
A professor and three students from China are learning this semester how U.S. business is conducted thanks to new partnerships between the University of Houston-Victoria and five Chinese universities.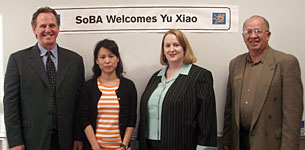 Visiting Chinese professor Yu Xiao, second from left, is honored, from left, by University of Houston-Victoria President Tim Hudson, School of Business Administration Director of Services Jane Mims and Director of International Programs and Special Projects Vic Padelford during a reception Wednesday. The reception for Xiao and three students also are visiting from China this semester was held in Sugar Land.
"Part of the excitement of these partnerships is the enrichment they offer faculty and students in terms of globalization," said Jane Mims, director of services for the UHV School of Business Administration. "China's economy has enjoyed an annual growth rate of nearly 10 percent since 1978. This outpaces every other national economy in the world and makes China an important partner for business and education. Both Chinese and American faculty and students benefit from working side by side in the academic setting."  
Chinese students Peng Yu, Ting "Tina" Wang and Jian Zhang are taking classes at the University of Houston System-Sugar Land so that they can obtain their Global Master of Business Administration degrees in a year. Yu Xiao, a marketing professor at Hohai University in Nanjing, is auditing classes and conducting research during the spring semester at the campus. UHV oversees administration of UHSSL.
"I hope I can learn some new teaching methods and cooperate with professors on marketing research," Xiao said. "I want to gain rich knowledge for my students in China."
Xiao and the students were able to come to the Sugar Land campus after UHV administrators completed partnership accords in mid-October with Chinese universities in Xi'an, Beijing, Nanjing and Hangzhou.
"These accords are another step toward UHV's goal of internationalization," UHV President Tim Hudson said. "The signing of these agreements is a testament to the quality of the School of Business Administration, and professors like Jifu Wang and Chun-sheng Yu under the leadership of Dean Charles Bullock."
The Chinese Ministry of Education and the Chinese university administrators were attracted to the UHV School of Business Administration in part because of its accreditation from AACSB International – The Association to Advance Collegiate Schools of Business, said Jifu Wang, who was born in China. The organization accredits about 550 of the estimated 7,000 business schools throughout the world and is dedicated to the worldwide advancement of quality management education.
"UHV is very impressive to the international students because of our accreditation and our quality programs provided by our competent faculty," said Wang, who also is chairman of the business school's Management and Marketing Department.
The partnerships allow Chinese students to take their eight Global MBA foundation courses from the Chinese universities. The courses are taught in English. The students then attend classes at UHV to complete their degrees.
The program will continue to grow in the fall when as many as 35 students from China are expected to come to UHV through the partnership.
Yu, who previously attended China Petroleum University in the Shandong Province, said he thinks the next group of Chinese students also will enjoy their experience. He is taking classes like business and society, organizational behavior and management, financial analysis and strategic marketing this semester.
"The professors are very patient and teach me a lot of things," he said. "I'm very glad that I could come here to experience different cultures and different people."
Ting Wang, who is married to Zhang, said she also is having a good experience. Her mother, Huixia Pan, is dean of the business school at Xi'an International Studies University, one of the Chinese partner institutions. Pan encouraged her daughter and son-in-law to take classes in the United States.
"My classes are excellent," Ting Wang said. "The professors are helpful and my classmates are friendly."
Wang, who has a bachelor's degree in accounting, said she hopes to increase her management skills while she is getting her Global MBA.
Zhang said he has not found it hard to adjust to UHSSL because he has been to the United States before and was an economics student at the University of Ottawa in Canada.
"My professors and classmates have given me a lot of help," he said. "We think it's a good university."
The University of Houston-Victoria, located in the heart of the Coastal Bend region since 1973 in Victoria, Texas, offers courses leading to more than 80 academic programs in the schools of Arts & Sciences; Business Administration; and Education, Health Professions & Human Development. UHV provides face-to-face classes at its Victoria campus, as well as an instructional site in Katy, Texas, and online classes that students can take from anywhere. UHV supports the American Association of State Colleges and Universities Opportunities for All initiative to increase awareness about state colleges and universities and the important role they have in providing a high-quality and accessible education to an increasingly diverse student population, as well as contributing to regional and state economic development.