Close
UHV alumna to open new junior high school in Katy
University of Houston-Victoria graduate Patti Shafer will be the first principal of the new WoodCreek Junior High School in Katy Independent School District.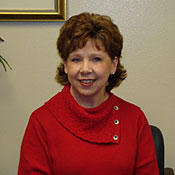 Patti Shafer
"It's exciting to be able to open up a school, hire your staff, start new traditions that you know will last, and help these students be successful in their futures," Shafer said. "It's quite an exciting adventure."  
Shafer is hiring 69 employees to staff the new school for its opening for the 2008-2009 school year.
Shafer earned two master's degrees in education from UHV. The first in 1985 focused on curriculum and instruction, which allowed her to become certified to teach special education. The second one in 1993 focused on administration/supervision and allowed her to become an assistant principal at Patti Welder Magnet Middle School in Victoria.
Without UHV being in Victoria, she said she probably wouldn't have gotten either master's degree.
"I had young children and was teaching and raising a family," she said. UHV made it possible for her to further her career in a significant way.
Her experiences at the institution also prepared her for the tremendous task she is now performing by taking a school on its maiden voyage into the sea of education.
"UHV is why I am where I am. That's why I felt I did a good job as an assistant principal; my classes were excellent," she said.
Shafer's skills and abilities drew the attention and strong support of her superiors in Katy ISD.
"When Katy ISD selects principals for our schools, we look for strong instructional leaders who can interact effectively with staff, parents and teachers to create a high-quality learning environment," said Alton L. Frailey, superintendent of Katy ISD. "At no time is that role more important than opening a new school, when a principal is responsible for every detail necessary to building a successful school from the ground up."
Patti Shafer met all of those qualifications, he said.
"The combination of her leadership skills, positive attitude and energy gives me great confidence that she has the experience, resourcefulness and vision to ensure a successful opening for WoodCreek Jr. High School next fall.
Shafer has been in education for 32 years now and plans to keep at it for at least five to 10 more years.
"The best measure of a school is the quality of its graduates," said John Stansell, dean of the UHV School of Education & Human Development. "Graduates like Patti Shafer make our school shine brightly."
Few principals will ever get the chance to open a school in their careers, but the school strives to make sure all its graduates are capable of mastering such a huge task, he said.
"Patti Shafer is proof positive that we have succeeded," he said.
Graduates like Patti Shafer show just how wide of an area UHV impacts.
"Our graduates are bringing positive change to this region, this state and, with the continuing development of our international programs, the rest of the world," UHV President Tim Hudson said.
Through innovative programs like study abroad opportunities and the new Global MBA degree, UHV has a presence in countries like Mexico, Britain, India and China, he noted.
"We are very proud of what Patti is accomplishing for her students, her school, and the world of education as a whole," Hudson said.
The University of Houston-Victoria, located in the heart of the Coastal Bend region since 1973 in Victoria, Texas, offers courses leading to more than 80 academic programs in the schools of Arts & Sciences; Business Administration; and Education, Health Professions & Human Development. UHV provides face-to-face classes at its Victoria campus, as well as an instructional site in Katy, Texas, and online classes that students can take from anywhere. UHV supports the American Association of State Colleges and Universities Opportunities for All initiative to increase awareness about state colleges and universities and the important role they have in providing a high-quality and accessible education to an increasingly diverse student population, as well as contributing to regional and state economic development.