Close
Graduates from School of Business Administration stand out among peers
Every semester, each school at the University of Houston-Victoria recognizes students earning bachelor's and master's degrees who stand out from the crowd.  
For the spring semester, the faculty and staff in the School of Business Administration picked Mounia Zouggarh as the distinguished master's degree candidate and Alfred Baca for the top bachelor's degree candidate.
"It's quite an honor. I was somewhat taken aback," Baca said about learning of his selection.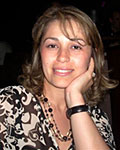 Mounia Zouggarh
Baca decided to go back to school to get his Bachelor's of Business Administration after spending 16 years running his own restaurant.  
"I'd still like to find out what the criteria were for being chosen," he joked.
One staff member who worked with Baca obliged his request.
"During his studies at UHV, he has been a strong student academically and is deserving of this honor," said Rhiannon Smith, International Student Services coordinator for the School of Business Administration.
Baca also distinguished himself outside of the classroom, she said.
"He was the top-ranking BBA student during the fall BBA Conference based on his performance in an oral presentation and written case study," she noted.
Baca advised other students that success is often all about following through.
"I think for some students, it's tempting to sacrifice a certain assignment if you get busy or to look for easy ways of doing things," he said. "I would stress students should complete all assignments and not take shortcuts."
After graduation, Baca plans to pursue a career in management.
Zouggarh earned her MBA at the University of Houston System-Cinco Ranch after almost giving up finding a business school close enough to her home in Richmond.
"I was about to give up, and since I speak other languages, I decided to look into getting a teaching certificate in French," she said. While researching that certification, she found UHSCR.
It was a perfect fit for distance and time. But to get her degree, she would have to overcome several challenges.
First, she had to overcome her difficulties with English using nothing more than books and self discipline. The Morocco native is fluent in both Arabic and French. She also had to balance school and time with her now-10-year-old son.
While doing this, one of her professors noted she really stood out among the other MBA candidates.
"She is very hard working, dedicated and committed. She always strives to do more and better," business professor Ziad Swaidan said. "She believes that her grades do not necessarily make her the most successful learner, but rather her engagement and critical thinking do. Mounia is an active learner who always analyzes, assesses and strives to improve her reasoning abilities."
Zouggarh said her secret to success lies in perseverance.
"I'm a very dedicated person," she said. Zouggarh plans to pursue a career in marketing.
"We are so proud of all our graduates who have worked hard to reach this milestone in their lives, but these two students have really distinguished themselves," said Charles Bullock, dean of the School of Business Administration. "I'm looking forward to hearing about the great things they will accomplish in the future, both near and far."
Outstanding graduates from all schools will be recognized at 9 a.m. on May 10 at the UHV main campus, 3007 N. Ben Wilson St. U.S. Rep. and presidential candidate Ron Paul will deliver the commencement address.
For more information, contact the UHV Special Events office at 361-570-4352.
The University of Houston-Victoria, located in the heart of the Coastal Bend region since 1973 in Victoria, Texas, offers courses leading to more than 80 academic programs in the schools of Arts & Sciences; Business Administration; and Education, Health Professions & Human Development. UHV provides face-to-face classes at its Victoria campus, as well as an instructional site in Katy, Texas, and online classes that students can take from anywhere. UHV supports the American Association of State Colleges and Universities Opportunities for All initiative to increase awareness about state colleges and universities and the important role they have in providing a high-quality and accessible education to an increasingly diverse student population, as well as contributing to regional and state economic development.