Close
UHV employees part of weekend war on cancer
Among the army of soldiers marching, running and walking in the war against cancer this weekend will be a platoon from the University of Houston-Victoria.  
A team of UHV employees will participate in the American Cancer Society's Relay for Life from 6 p.m. Friday to 6 a.m. Saturday at the Memorial High School Senior Campus track.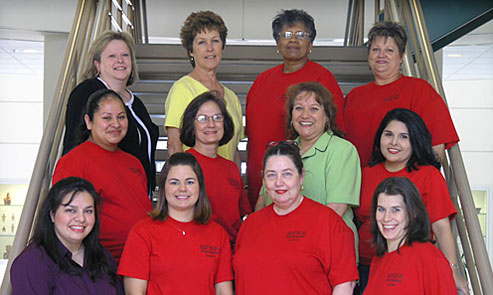 Members of the UHV Relay for Life team are, back row from left, Susie Albert, Jan Wendt, Judy Lucas, Linda Parr; middle row, Ana Laura Pineda, Mary Densman, Yolanda Gonzalez and Yvonne Garcia; front row, Betty Tucker, Magen Besancon, Rosemary Baker and Morgan Matula.

Not pictured are Kristin Morgenroth, Deborah Westbrook, Elois Kraatz, Carolyn Fritz, Trudy Wortham, Minnie Urbano and Cheryl Shumbera.
"Our whole team walks during that night. Every team has to have one member out there walking every hour," said team captain Linda Parr, who also works as admissions coordinator.
Relay for Life is an annual event organized by American Cancer Society chapters across the country to raise money for cancer research and awareness about the disease, explained Karen Hable, team development chairwoman for Relay for Life in Victoria.
"Right now, we have 124 teams," she said. Each one has eight to 15 team members. Teams raise money through various fundraising projects they hold throughout the year. The money will be donated the night of the relay, she said. The organizers of the Victoria event hope to raise $200,000.
Last year, UHV's team raised $7,000, the largest single contribution, Parr said. This year, the team hopes to increase that number through bake sales, pledge drives, garage sales and other efforts. The team has raised about $4,000 so far, she said.
Members still are taking pledges and working hard to raise funds, Parr said. It's a lot of work, but team members don't mind since to many, this fight is personal.
"I've had several family members and friends die of cancer, so I'm trying to find a cure," Parr said. "The more we become aware of it and the more we raise money for it, the greater the possibilities are for the future."
Team member Kristin Morgenroth, who also works as a UHV admissions analyst, lost her aunt to cancer. Her mother is now defeating cancer that was thankfully detected in the earliest stages.
But all vendettas aside, the effort is also quite enjoyable, Morgenroth said.
"It's great. We get to do all of these activities, and everyone is so supportive of all our events," she said.
The relay itself has an upbeat, family environment with children playing and tons of booths and activities, Morgenroth said.
"It's really a lot of fun," she said, even if it makes for a night with little sleep. Morgenroth will be walking on the track from 11 p.m. to 1 a.m.
"I'm sure I'll have to have some coffee before I go," she said.
Some UHV students are participating in the event through the United Campus Ministries organization based at both UHV and The Victoria College. The group has thus far raised $300.
"We are participating in the Relay for Life because we think it is very important that the students understand and are aware that there are different types of cancer and those all can be fought with raising money for research," team captain Layna Lockhart said. The team has 15 members, some of whom are students at both institutions.
Anyone wanting to make a donation to the UHV team can contact any of its members. Parr can be reached at 361-570-4119 or parrl@uhv.edu.
Anyone wanting to make a donation to the UCM team can contact Lockhart at 361-573-3291, ext. 6440.
For more information about Relay for Life, contact Hable at 361-579-9525.
The University of Houston-Victoria, located in the heart of the Coastal Bend region since 1973 in Victoria, Texas, offers courses leading to more than 80 academic programs in the schools of Arts & Sciences; Business Administration; and Education, Health Professions & Human Development. UHV provides face-to-face classes at its Victoria campus, as well as an instructional site in Katy, Texas, and online classes that students can take from anywhere. UHV supports the American Association of State Colleges and Universities Opportunities for All initiative to increase awareness about state colleges and universities and the important role they have in providing a high-quality and accessible education to an increasingly diverse student population, as well as contributing to regional and state economic development.