Close
UHV, Lone Star College team up to encourage seamless transfers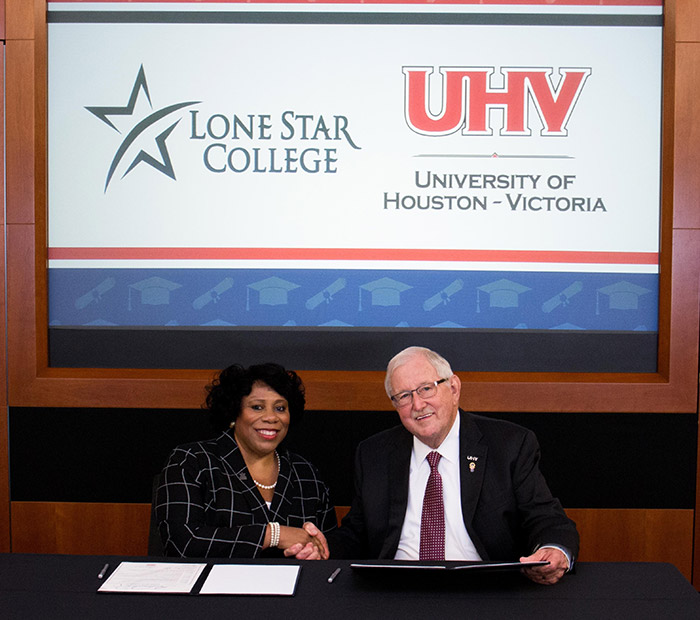 Alicia Harvey-Smith, left, Lone Star College executive vice chancellor of academic, workforce and student success, and UHV President Vic Morgan shake hands after signing an articulation agreement Tuesday at Lone Star College University Park. The agreement will make it easier for Lone Star students to transfer to UHV.
With neighboring locations in Katy, the University of Houston-Victoria and Lone Star College want to make sure there are no obstacles for students who want to earn associate and bachelor's degrees.
UHV and Lone Star College held a signing ceremony Tuesday at Lone Star College-University Park in Houston to celebrate the partnership between the schools. Leaders inked an articulation agreement, as well as operational partnership agreements for joint admissions and cooperative advising.
The agreements give Lone Star students from any of the six colleges, two university centers and eight satellite centers an easier path to a bachelor's degree. Transfer or joint admission students can take UHV classes at UHV Katy, UHV's main campus in Victoria or online.
"The bottom line is both institutions want to see students prosper," UHV President Vic Morgan said. "By working together to remove any real or perceived hurdles, we are setting the groundwork for students to conveniently earn associate and bachelor's degrees. We are thrilled to work with Lone Star College and look forward to exploring ways to further that relationship."
UHV and Lone Star College have worked together in the past. In 2011, an agreement between the schools made it easier for nursing students to transition from Lone Star to UHV. A year later, UHV expanded its nursing program to The Woodlands where courses were taught at Lone Star College University Center at Montgomery.
However, after the UHV School of Nursing moved to UH in 2015, UHV and Lone Star no longer had direct ties. When UHV moved its Greater Houston operations to one Katy location in 2016, it triggered an increased need to work with Lone Star, said David Cockrum, UHV interim provost and vice president for academic affairs.
Lance LaCour, president and CEO of the Katy Area Economic Development Council and a member of the UHV President's Regional Advisory Board, encouraged a partnership, pointing out that UHV Katy's location at 2002 W. Grand Parkway N., Building 2, is just 10 minutes away from the Lone Star College-Cypress Center.
"Lone Star College is committed to student success with myriad support services to help our students reach their goals," said Stephen C. Head, Lone Star College chancellor. "This agreement provides a solid pathway for Lone Star College students who are interested in transferring and earning a four-year degree at the University of Houston-Victoria."
The procedure for transfer credits is spelled out in the agreement. UHV will accept at least 60 semester credit hours of work from Lone Star students, which can include dual credit along with advanced placement or College Level Examination Program credits.
"We already have begun working on 2+2 agreements in education and other academic areas," Cockrum said. "This will clarify which courses students should take at Lone Star and which they should take at UHV so there's no confusion or repetition."
Another advantage of the agreement is Lone Star students will have the opportunity to finish their associate degree even after transferring to UHV. If a student transfers to UHV short of the credit hours needed for an associate degree, he can complete his associate degree by taking UHV courses for reverse transfer. The same classes also will count toward earning a UHV bachelor's degree.
The schools also will share different types of data. If a Lone Star student has expressed an interest in transferring to UHV, the college can share contact information with UHV and make the student aware of UHV's financial aid, scholarships and degree requirements. Students also will have access to both schools' academic advisors.
"Our advisors will have access to their students and vice versa," Cockrum said. "If Lone Star students aren't sure what classes they need, our advisors will take care of them. It applies to all programs and students who are undecided on a major."
Students also have the option of being jointly admitted to Lone Star and UHV at the same time. Those students can co-enroll at both institutions in the same semester or they can alternate enrollment in different semesters. Students will have access to libraries, computer labs, sporting events and student employment opportunities at both schools.
The partnership could boost the number of UHV international students. More than 3,000 international students from 100 different countries attend Lone Star College, making it one of the most popular destinations for international students in the U.S.
"This is an opportunity to recruit international students without leaving the state," Cockrum said.
Overall, the agreements signed Tuesday provide a framework to develop programs designed to enhance the educational experience of students attending both Lone Star and UHV.
"We've got this growing Katy location, so we need to be an option for Lone Star's graduates," Cockrum said. "The next steps are important. We already are meeting with Lone Star's staff to make it a meaningful relationship."
The University of Houston-Victoria, located in the heart of the Coastal Bend region since 1973 in Victoria, Texas, offers courses leading to more than 80 academic programs in the schools of Arts & Sciences; Business Administration; and Education, Health Professions & Human Development. UHV provides face-to-face classes at its Victoria campus, as well as an instructional site in Katy, Texas, and online classes that students can take from anywhere. UHV supports the American Association of State Colleges and Universities Opportunities for All initiative to increase awareness about state colleges and universities and the important role they have in providing a high-quality and accessible education to an increasingly diverse student population, as well as contributing to regional and state economic development.