Close
UHV student overcomes obstacles to graduate on Saturday
When University of Houston-Victoria senior Juan Diego Martinez graduated from Memorial High School in 2001 with average grades, he never thought he'd do more with his life than work in a fast-food restaurant.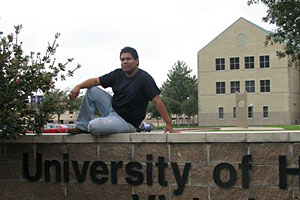 Juan Diego Martinez is ready to graduate on Saturday from the University of Houston-Victoria. Martinez overcame many obstacles to finish his degree, but he'll graduate with a bachelor's in psychology and communications.
He had lived in Victoria since the age of 15, shuffling between the homes of relatives and friends after moving out of his father's house in Seadrift. His relationship with his parents was strained. No one cared if he went to school, and he struggled to get to class and work at Church's Chicken to pay his bills.  
"I was rebellious and was only going to school to show my family that I could do it," the 24-year-old said.
But slowly he began to believe that he could get a college degree. He met Louis and Jane Castillo of Victoria after attending a Life Teen program at Our Lady of Sorrows Church. They had a son his age and told Martinez they knew he could go to college.
"God gave me the grace to see the potential in him," said Jane Castillo, who Martinez calls "Mom." "I kept encouraging him. I would say 'when' you go to college, not 'if" you go to college."
Martinez worked for two more years at Church's Chicken and then got his own apartment and a job at Wal-Mart. The managers there were flexible with his schedule and let him work around taking classes at The Victoria College. Martinez began to see the light at the end of the tunnel.
He started classes at UHV in fall of 2006 and has put himself through school by spending four nights a week working at Wal-Mart and at least three days a week working as a student employee in UHV Student Services. Now Martinez will graduate from UHV on Saturday with a bachelor's degree in psychology and communications. In the fall, he'll start work at UHV on a master's degree in psychology.
"The difference between me in high school and college is I grew up," Martinez said. "The obstacles I've faced made me stronger and shaped me into this dependable, independent person. I've tried to be the best."
Not only has Martinez excelled in his classes at UHV, he's worked to get involved on campus. Martinez was treasurer of the Student Senate this school year and was elected last month to be the Senate's 2008-2009 vice president. In addition, he's a member of Gamma Beta Phi, a national honor and service organization, and Psi Chi, a national psychology honor society.
Minnie Urbano, Student Senate sponsor and manager of UHV Student Services, where Martinez has worked for two years, said she has enjoyed getting to know him.
"He's very caring with the other students who come in here," she said. "When a student needs any kind of help, he goes out of his way to assist that person. He's very dependable and always does a good job."
Martinez's professors also have been impressed with his work.
Sandy Venneman, an associate professor of psychology and biology, said Martinez is enthusiastic and works hard in classes.
"He's just a delightful student to have," she said.
Martinez wants to spend this summer earning money and possibly traveling overseas before he starts on his master's degree. He hopes his experiences will inspire other students facing challenges to go to college.
"If I could give any advice, it would be to not lose your motivation and determination to do what you want to do," he said. "If I can do it, anyone can do it."
The University of Houston-Victoria, located in the heart of the Coastal Bend region since 1973 in Victoria, Texas, offers courses leading to more than 80 academic programs in the schools of Arts & Sciences; Business Administration; and Education, Health Professions & Human Development. UHV provides face-to-face classes at its Victoria campus, as well as an instructional site in Katy, Texas, and online classes that students can take from anywhere. UHV supports the American Association of State Colleges and Universities Opportunities for All initiative to increase awareness about state colleges and universities and the important role they have in providing a high-quality and accessible education to an increasingly diverse student population, as well as contributing to regional and state economic development.