Close
Student will be a different kind of veteran teacher
Some teachers may describe their classrooms as battlefields, but very few have actually been on a real one.  
Aspiring teacher Leslie Haug has. Before enrolling as an education major at the University of Houston-Victoria in 2006, the Army Reservist spent a year in Iraq in 2004.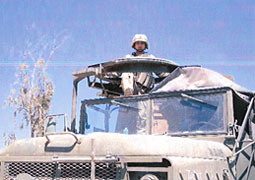 UHV student Leslie Haug stands in a truck in full combat gear while serving in Iraq in 2004.
The now-25-year-old drove 18-wheelers across some of the most unfriendly highways and byways in the world.  
"Our job was hauling supplies from camp to camp," Haug explained.
That meant the now-infamous Improvised Explosive Devices were part of her daily life.
"Over there, it's just so scary," the staff sergeant said. "You are on edge the whole time. Anything you see on the side of the road – garbage bags, anything – could possibly be an IED. You drive past it holding your breath."
On one occasion, her worst fears were realized.
"My truck actually got a flat from an IED. Thank God, that's all it got. It was a smaller one," she recalled.
After the blast suddenly went off, she drove the vehicle onto a median as black smoke blocked her vision. Along with the fear of harm to herself and her assistant driver came the fear of running over an Iraqi civilian. Fortunately, that fear didn't come to pass.
She activated a system on the truck that allowed it to drive on a flat tire and left the area as quickly as possible. After putting some distance between them and the device, she and her assistant driver took a few moments to catch their breath and regain composure.
They had to find the courage to go through that same area on their way back later that day.
Amidst the shared danger, she and her co-driver, Zackery Haug, formed a tight bond. The two were married shortly after returning home in 2005. Their first son was born later that year. The couple was blessed with a daughter in November of 2006 and is expecting a son in August.
Coming home wasn't easy, Haug said, especially since she never went home on leave.
"If I came home during those two weeks, I knew I would not want to go back," she said.
After living life constantly on alert, adapting to civilian life took time. The time in Iraq probably explains the aggressive driving habits she shares with her husband, she said with a laugh.
Through her military life, Haug learned patience that has helped her acquire excellence in her new educational pursuits. That excellence has captured the attention of her professors.
"Leslie is an outstanding student," said Jane Fry, a professor in the School of Education & Human Development. "She embodies all of the characteristics of an exemplary educator."
Her sense of duty and dedication stand out, she added.
"A great school is nothing without great students," said John Stansell, dean of the School of Education & Human Development. "Leslie possesses the traits of commitment and self-sacrifice that make us proud to count her as one of our students."
After graduating, possibly in 2009, Haug wants to teach kindergarten.
To her, teaching is a calling just like being a soldier in the military, she said.
"I feel very passionate about empowering young minds, and I feel just as passionate about service to my country," she said.
Haug has been part of the Inactive Ready Reserve, exempt from monthly drills, since 2005. In August, her term of enlistment expires, and she doesn't plan to re-enlist.
"I will miss it. I'm just proud to be a veteran," she said. But now, it's time to take on the new challenges of raising a family and teaching children.
The University of Houston-Victoria, located in the heart of the Coastal Bend region since 1973 in Victoria, Texas, offers courses leading to more than 80 academic programs in the schools of Arts & Sciences; Business Administration; and Education, Health Professions & Human Development. UHV provides face-to-face classes at its Victoria campus, as well as an instructional site in Katy, Texas, and online classes that students can take from anywhere. UHV supports the American Association of State Colleges and Universities Opportunities for All initiative to increase awareness about state colleges and universities and the important role they have in providing a high-quality and accessible education to an increasingly diverse student population, as well as contributing to regional and state economic development.