Close
UHV professor to deliver speech in Japan
Andrew Baerg, assistant professor of communications at the University of Houston-Victoria, will deliver a keynote address in late July during a conference in Japan.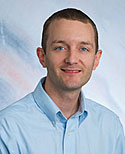 Andrew Baerg
Baerg will speak during a workshop on digital sport as part of the Fifth World Congress of Sociology of Sport in Kyoto, Japan.  
At the event organized by the International Sociology of Sport Association, Baerg will speak about digital sports gaming and its impact on athletics and society.
"I'm going to talk about how bodies are quantified for digital games," Baerg said. For example, how can a pitcher's ability to throw a 96 mph fastball be rated and incorporated into the physics of a video game? Baerg will talk about how statistics are used to express an athlete's abilities accurately in a video game.
"This goes beyond just sports statistics like home runs and ERAs," Baerg said. A player may be rated with a 95 power ranking and a 90 speed ranking. The computer uses these numbers to determine how the players appear on screen and how they perform against other players rated on a similar scale.
Baerg also plans to address how such computations shape the society around sports.
"It might make players more cogs in the machine than people. It can potentially dehumanize athletes," he said.
Baerg addressed similar subjects in the article "Fight Night Round 2, the Mediation of the Body and Digital Boxing" published in September in the Sociology of Sport Journal, a publication of the American Society for the Sociology of Sport.
The trip will be Baerg's first to the island nation and his first speech to the ISSA.
"It's a real honor and privilege," Baerg said. "It's not something I would have expected. It's a great opportunity."
The honor brought further accolades from the leader of the School of Arts & Sciences, under which Baerg teaches.
"The keynote speaker at an event is like the cornerstone of a building. It is a unique honor to be selected to give such an address," SoAS Dean Jeffrey Di Leo said. "It speaks well of Dr. Baerg that he was chosen for such an honor on the other side of the world. This is a great credit to his abilities as a scholar, just as he is a credit to this school and this institution."
ISSA is an international organization devoted to the sociological aspects of sports around the world.
The University of Houston-Victoria, located in the heart of the Coastal Bend region since 1973 in Victoria, Texas, offers courses leading to more than 80 academic programs in the schools of Arts & Sciences; Business Administration; and Education, Health Professions & Human Development. UHV provides face-to-face classes at its Victoria campus, as well as an instructional site in Katy, Texas, and online classes that students can take from anywhere. UHV supports the American Association of State Colleges and Universities Opportunities for All initiative to increase awareness about state colleges and universities and the important role they have in providing a high-quality and accessible education to an increasingly diverse student population, as well as contributing to regional and state economic development.