Close
UHV faculty elects new members to Senate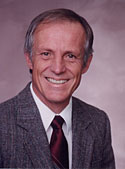 Dan Jaeckle
Dan Jaeckle, a University of Houston-Victoria professor of humanities and English, recently was named president of the UHV Faculty Senate, an elected group that represents faculty members at the university.  
"I feel proud to represent the fine faculty at UHV as it works with administration to improve the university," said Jaeckle, who will be president during the 2008-2009 school year.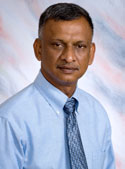 Nags Ramamoorthy
The Senate consists of at least nine members, two from each of UHV's four schools, plus members of the Executive Committee. Senators are elected by faculty from their respective schools, while members of the Executive Committee are elected by the entire UHV faculty.  
The new Faculty Senate will start meeting in mid-August. The purpose of the Senate is to advise UHV administration on nonacademic matters and give the faculty a collective voice on academic issues, Jaeckle said.
Other members of the Senate are as follows:
Executive Committee:
Cindy Schnebly – vice president
Nagarajan Ramamoorthy – past president
Jonathan Du – secretary
Diane Prince – School of Education & Human Development
Jay Dune – School of Nursing
Senators:
Bud Fairlamb – School of Arts & Sciences
Mel Damodaran – School of Arts & Sciences
Ron Sardessai – School of Business Administration
Joseph Ben-Ur – School of Business Administration
Roy Foley – School of Education & Human Development
Tim Berkey – School of Education & Human Development
Jay Dune – School of Nursing
Ramamoorthy was Faculty Senate president this past school year. He said he is pleased that the Senate was able to increase promotion raises for the faculty. The faculty also has recommended starting a new fund that faculty members could donate to for student scholarships.  
"I am quite happy with what we accomplished," Ramamoorthy said.
Jaeckle first was elected chairman of the UHV Faculty Council in 1984, just two years after coming to UHV. The position basically is the same as Faculty Senate president, but the structure of the organization was different then. He served until 1986 and then again in 1995-96 and 1999-2000.
He was elected Faculty Senate vice president in 2007-2008 and automatically moves up to president for the coming school year and then past president in 2009-2010.
Jaeckle said one of his goals for the coming school year is to work with administration if UHV is given the approval to expand to a four-year university.
"I hope that we're in some form of transition to downward expansion," he said. "Managing that transition will be important."
He also would like to work more closely with administration on curriculum and academic policy issues, and rewrite the Senate's constitution and bylaws to ensure fair representation for the School of Nursing. Nursing received approval by the Texas Higher Education Coordinating Board in December to become a full-fledged school.
The University of Houston-Victoria, located in the heart of the Coastal Bend region since 1973 in Victoria, Texas, offers courses leading to more than 80 academic programs in the schools of Arts & Sciences; Business Administration; and Education, Health Professions & Human Development. UHV provides face-to-face classes at its Victoria campus, as well as an instructional site in Katy, Texas, and online classes that students can take from anywhere. UHV supports the American Association of State Colleges and Universities Opportunities for All initiative to increase awareness about state colleges and universities and the important role they have in providing a high-quality and accessible education to an increasingly diverse student population, as well as contributing to regional and state economic development.