Close
Unusual scholarly collaboration takes two senior UHV officials to Spain
An interesting conversation between the University of Houston-Victoria president and past faculty senate president will result in a trip for both to Spain.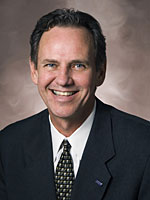 Tim Hudson
UHV President Tim Hudson and 2007-2008 Faculty Senate President and associate business professor Nagarajan Ramamoorthy will present a paper at the 15th annual conference of the Educational Innovation in Economics and Business (EDiNEB) Network from June 11-13 in Malaga, Spain.  
Few people have heard of university presidents collaborating with faculty members on research papers for a good reason: It is an extremely rare occurrence, Hudson said. The time constraints placed on a university president often leaves little time for such efforts.
"I may be a university president, but I still have intellectual interests," said Hudson, who has been a college professor for the last 30 years. "I'm a teacher and learner at heart."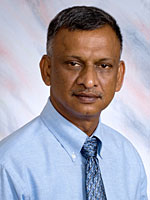 Nagarajan Ramamoorthy
Interestingly, at other universities, friction often exists between university and faculty senate presidents as one is like the senior representative of management and the other essentially represents labor.  
As UHV president, Hudson spends a lot of time with his Faculty Senate president because of a personal management philosophy of open collaboration and a high degree of respect he has for the position.
"We can't talk about university business all the time. When one of our conversations turned to the rapidly developing world of online education, we found we had similar ideas, philosophies and, most importantly, questions," Hudson said.
As the conversations continued, the two decided to collaborate on a research project to answer those questions. The unusual joint effort eventually became the paper "Self-Directed Learning Readiness, Individualism-Collectivism and Adult Student Learning in an Online Environment: Development and Test of a Causal Model."
The study examines how the different ways adult students learn affects their performance in the present generation of online courses. The two studied 89 Master of Business Administration students taking an online management class. Their findings could be a valuable part of the continuing development of the online learning environment. More and more colleges make heavy use of such courses. Many, like UHV, offer degree programs entirely online.
After creating the study, the two looked for a proper conference to subject it to peer review.
Both men spoke favorably of their collaboration.
"Dr. Hudson is quite the researcher. He's a scholar as well as a university president. His input was invaluable to the project," Ramamoorthy said.
"He deserves the credit, really," Hudson said. "He is an accomplished scholar who was gracious enough to allow me some space for input. I don't know how he's managed to be so productive with the time requirements of being faculty senate president."
Ramamoorthy has published numerous papers in journals around the world. Both he and Hudson have received prestigious Fulbright awards.
The duo plans to expand upon the research in the future by looking into the effect of variables like ethnicity and gender Web-based learning.
But that doesn't mean management and labor won't ever conflict at UHV.
"I won't be shy about letting him know if I disagree with a policy from a faculty perspective," Ramamoorthy said.
"I would expect nothing less from him," Hudson concluded.
The University of Houston-Victoria, located in the heart of the Coastal Bend region since 1973 in Victoria, Texas, offers courses leading to more than 80 academic programs in the schools of Arts & Sciences; Business Administration; and Education, Health Professions & Human Development. UHV provides face-to-face classes at its Victoria campus, as well as an instructional site in Katy, Texas, and online classes that students can take from anywhere. UHV supports the American Association of State Colleges and Universities Opportunities for All initiative to increase awareness about state colleges and universities and the important role they have in providing a high-quality and accessible education to an increasingly diverse student population, as well as contributing to regional and state economic development.