Close
UHV names interim dean and search committee
The University of Houston-Victoria School of Business Administration soon will have an interim dean who has helped bring the school global recognition by creating partnerships between UHV and Chinese universities.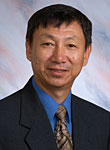 Jifu Wang
Jifu Wang, chairman of the SoBA Management and Marketing Department, recently was appointed interim dean of the school by UHV President Tim Hudson upon the recommendation of Suzanne LaBrecque, UHV provost and vice president for academic affairs.  
Wang, who was born in China, will become interim dean July 1 while a newly appointed committee works to find a replacement for outgoing Dean Charles Bullock. Bullock has accepted a position as vice chancellor of academic affairs at Chapman University College in Orange, Calif.
"Although I will miss Dean Bullock's exceptional leadership, I know Dr. Wang is up to the challenge," LaBrecque said. "He knows the administration and has experience at the department-chairman level. He will keep things running smoothly."
Wang was hired by Bullock in 2001 as an assistant professor of management. He was promoted to an associate professor with tenure in 2007. He served as chairman of the school's Curriculum Assessment and Planning Committee for three years before being named chairman of the Management and Marketing Department in 2005.
Wang has been a member of both SoBA's Academic Team and Executive Team. He was instrumental in developing UHV's partnership accords last year with seven Chinese universities in Xi'an, Beijing, Nanjing and Hangzhou. The partnerships allow Chinese students to take eight Global Master of Business Administration foundation courses at Chinese universities. The students then attend classes at UHV to complete their degrees.
"I think there will be a lot of challenges as an interim dean, but I'm also looking forward to it," Wang said. "Being the interim dean involves not only internal service to the university but also connecting with the community and the business world to show what UHV has to offer."
Wang recently accepted nominations to serve as editor in chief of the Journal of International Business Management and Research, and an executive editorial board member of the Intellectbase International Consortium. Wang has seven years of experience working in top management teams in the corporate world.
The search and screening committee was formed to include various sectors of the university and community in the dean selection process. The committee is expected to start advertising the position nationally this summer and identify finalists to interview on campus in the fall. The goal is to have the new dean start sometime during the spring semester of 2009, LaBrecque said.
"The fact that Dean Bullock was recruited to join another university shows that UHV's School of Business Administration has become highly regarded across the nation," Hudson said. "I want to thank Dean Bullock for the great strides he made with the school, and I look forward to its continuing growth under new leadership."
With Bullock as dean for the past 12 years, UHV's business enrollment has grown by more than 150 percent. The school and its programs have been ranked by the Princeton Review, GetEducated.com, Entrepreneur and Fortune Small Business. The school also earned accreditation by AACSB International – The Association to Advance Collegiate Schools of Business.
Hudson is expected to appoint a community member next month to the search and screening committee. John Stansell, dean of the School of Education & Human Development, will serve as committee chairman. Other committee members are:
Peggy Cloninger and David Satava - SoBA faculty members
Siva Somasundaram - Faculty Senate appointee
Rosie McCusker - SoBA staff member
Kristen Lindley - SoBA student and 2008-2009 Student Senate president
Robin Cadle - Office of University Advancement representative
The University of Houston-Victoria, located in the heart of the Coastal Bend region since 1973 in Victoria, Texas, offers courses leading to more than 80 academic programs in the schools of Arts & Sciences; Business Administration; and Education, Health Professions & Human Development. UHV provides face-to-face classes at its Victoria campus, as well as an instructional site in Katy, Texas, and online classes that students can take from anywhere. UHV supports the American Association of State Colleges and Universities Opportunities for All initiative to increase awareness about state colleges and universities and the important role they have in providing a high-quality and accessible education to an increasingly diverse student population, as well as contributing to regional and state economic development.