Close
UHV provides student mentors 21st century-style
Distance means nothing when you e-mentor.  
Thanks to the Internet, students at the University of Houston-Victoria can mentor community college students at the four campuses of Beeville-based Coastal Bend College.
Through online chats and e-mail, UHV e-mentors answer questions and concerns from CBC students looking to continue their educations by earning bachelor's degrees, E-Mentoring Program coordinator Ersilia Garcia said.
"It helps CBC students make the transition from junior college to upper-level studies," she said.
The program, which will start its third year this fall, is part of a larger state-funded effort to increase educational attainment levels among minorities in Texas.
The E-Mentoring Program needs about 25 mentors for the fall semester. Volunteers need to have at least a 2.5 grade-point average and be available for training in Victoria. Volunteers can be students from any UHV location: Victoria, Sugar Land, Cinco Ranch or online.
Mentors describe the work as extremely rewarding, and those who the program helps (known as "mentees") said the assistance is invaluable.
One former CBC student said the program made her transition to UHV much easier.
Sara Longoria, a 33-year-old single mother of three, asked her mentors about what classes were like and which professor would best fit her personality and learning style.
"When I got to the university, it was almost like I already had people I knew there," Longoria said. "I wasn't as intimidated. I wasn't afraid. I already had someone I could talk to. I really think that helped me and gave me confidence, as well."
Longoria, who plans to graduate in fall 2009 with a business degree, hopes to go on to earn her Master of Business Administration and open a coffee shop/book store in Beeville.
Mentors also talk to the students about registration challenges, financial aid options and other topics, Garcia said. Mentors follow a syllabus of topics to cover with their "mentees" as they make contact at least once a week. They also answer any questions the community college students may have at other times.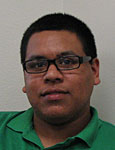 Juan Diego Martinez
"It's very satisfying to help someone make the jump to the university environment," said Juan Diego Martinez, a mentor and UHV master's student. "I know that when I was going to junior college, I didn't have that kind of influence, that kind of help to give me direction at UHV."  
He wishes he had. Past students have had questions about health insurance programs for students and professor personalities, he said. He had to find the answers to these questions on his own.
During the last two years, the program has proven itself an asset to students at the Costal Bend College's campuses in Beeville, Alice, Kingsville and Pleasanton, former CBC program liaison Karen Garza said. The program previously recruited "mentees" in Beeville and rotated recruitment among the other campuses, she said. Organizers hope to have the program active on all campuses simultaneously by fall 2009.
To sign up to be a mentor, contact Garcia at 361-570-4142 or garciae@uhv.edu.
CBC students can sign up to be mentored by contacting grant coordinator Nick Cardenas at 361-354-2268 or 866-722-2838, ext. 2277.
The University of Houston-Victoria, located in the heart of the Coastal Bend region since 1973 in Victoria, Texas, offers courses leading to more than 80 academic programs in the schools of Arts & Sciences; Business Administration; and Education, Health Professions & Human Development. UHV provides face-to-face classes at its Victoria campus, as well as an instructional site in Katy, Texas, and online classes that students can take from anywhere. UHV supports the American Association of State Colleges and Universities Opportunities for All initiative to increase awareness about state colleges and universities and the important role they have in providing a high-quality and accessible education to an increasingly diverse student population, as well as contributing to regional and state economic development.