Close
Campaign school selects UHV graduate to go through political training
A University of Houston-Victoria graduate recently was selected from more than 100 applicants to participate in a program dedicated to producing the next generation of political activists in Texas.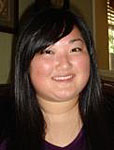 Kelli Gill
Kelli Gill, who graduated in May with a Master of Arts in psychology, will travel to Washington, D.C., to receive training July 25 to Aug. 4 as one member of the 2008 Annie's List Campaign School.  
"The campaign school is highly competitive to get into," said Robert Jones, Annie's List political director. "We took seven people this year, and we had more than 100 applications. We're very excited about it. Kelli is the first University of Houston System student we've selected."
Annie's List is an Austin-based political action committee that is dedicated to electing Democratic women in Texas to office. The purpose of the campaign school is to train recent college graduates about all aspects of political campaigns and then place them with campaigns for the three months before the November elections, Jones said.
Annie's List pays for all training and then gives the campaign school graduates a monthly stipend, free housing, and travel expenses to and from their assigned campaigns. The graduates function as full-time members of the campaign team where they are assigned. They may work as fundraising assistants, press secretaries, volunteer coordinators or in other roles. The graduates then meet in Austin for a post-election retreat. They work with the staff from Annie's List to update their resumes, and the staff helps them find full-time jobs in politics.
"One of the main things I hope to get out of this is to learn the tools necessary to become more involved with campaigning," Gill said. "Most people, especially young people, think it's not important to vote because their vote doesn't matter. Elected officials are deciding policies that affect our daily lives, and it does matter."
Gill, the 2007-2008 UHV Student Senate secretary, said she heard about the Annie's List Campaign School from a friend who got an e-mail and immediately thought Gill would be perfect for the school. Gill has worked on presidential hopeful Barack Obama's campaign since January and would eventually like to have a job in the field of political psychology, where she would study voter trends and other political behaviors.
"Getting into the political field is usually about who you know, and Annie's List will give me an opportunity to make those connections," she said.
Minnie Urbano, Student Senate sponsor and manager of UHV Student Services, said the candidate who gets Gill assigned to her campaign will be lucky.
"They will benefit from her enthusiasm and commitment," she said.
The University of Houston-Victoria, located in the heart of the Coastal Bend region since 1973 in Victoria, Texas, offers courses leading to more than 80 academic programs in the schools of Arts & Sciences; Business Administration; and Education, Health Professions & Human Development. UHV provides face-to-face classes at its Victoria campus, as well as an instructional site in Katy, Texas, and online classes that students can take from anywhere. UHV supports the American Association of State Colleges and Universities Opportunities for All initiative to increase awareness about state colleges and universities and the important role they have in providing a high-quality and accessible education to an increasingly diverse student population, as well as contributing to regional and state economic development.