Close
Hispanic Heritage Month to encourage pursuit of higher education
This year's Hispanic Heritage Month promises something for everyone with events Sept. 11 through Oct. 15, including a parade, fiesta, concert by Austin-based Latin rock band Del Castillo and an art contest exhibit.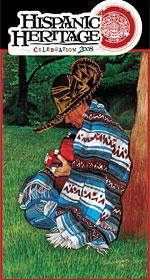 Hispanic Heritage Month
"The purpose of the events is to give back to the community. We want to promote higher education for Latinos in the region and raise money for scholarships," said Robert Cortez, a UHV employee and co-chair of the Victoria Alliance for Latino Education, or VALE, which is organizing events during the month.  
One of the first events will be a parade and fiesta Sept. 13. The parade will feature more than 40 entries and will begin at 10 a.m. It will start at the corner of Commerce and Red River streets and will head east on Red River to North Ben Wilson Street and then north to the University of Houston-Victoria.
A traditional fiesta will be from 11 a.m. to 2 p.m. both in front of the UHV University Center building at 3007 N. Ben Wilson St., and in the Multipurpose Room inside the building. Representatives from UHV and The Victoria College will be on hand to talk to interested community members about higher education opportunities. Mexican food such as tamales and nachos will be available for sale as will plants, T-shirts, jewelry and other items. The crowd will be entertained by dancers and live music.
Community groups interested in participating in the parade or having a booth at the fiesta are encouraged to call the UHV Letting Education Achieve Dreams (LEAD) office at 361-570-4893. There is no cost to participate, but reservations must be made by 5 p.m. Friday.
Another highlight of the month will be an Oct. 3 concert by Del Castillo at the Power Avenue Warehouse, 402 E. Power Ave. The concert will begin at 8 p.m. and will feature the bands eclectic blend of flamenco, rock, Latin, blues and world music.
Del Castillo began in 2000 when brothers Rick and Mark del Castillo decided to put together an album for their parents and friends in their hometown of Brownsville. The six-member band has won numerous awards, including Album of the Year at the 2007 Austin Music Awards/South by Southwest Music Conference and Festival. They have toured with Los Lonely Boys, the Neville Brothers, Don Henley, Los Lobos, Ozomatli and many other musicians.
Tickets for the concert will be $15 and will be sold at the fiesta, online through UHVconnect at www.uhvconnect.org and through Cal-Com Federal Credit Union, T-Town Music and Siesta Restaurant.
Other events during the month will include an exhibit at UHV featuring entries from the Hispanic Heritage Month Art Contest.
Howell Middle School student Matthew Durham, 13, won first place and two years of tuition from both UHV and VC. His work, "El Compositor," is featured on this year's Hispanic Heritage Month poster. Thirty-four art students from Howell and Crain middle schools submitted works to the contest.
The second- and third-place winners will be announced during a reception from 5:30 to 6:30 p.m. Sept. 16 in the UHV Multipurpose Room. The Minority Business Council will sponsor scholarships for the winners to either UHV or VC. The second-place winner will receive a $1,000 scholarship, while the third-place recipient will receive a $500 scholarship.
The works submitted to the contest will be displayed Sept. 15 through Oct. 15 inside the UHV University Center during business hours. The public is invited to view the pieces.
VALE started in 2004 as the Spanish Speaking Initiative. Representatives from UHV, VC, Victoria Chamber of Commerce, Cultural Council of Victoria, Victoria Art League and community volunteers and civic leaders work to encourage Hispanics to obtain a higher education.
The organization recently changed its name because there was some misperceptions in the community that the group was working to encourage people to speak Spanish, said Cortez, who is the senior business and community recruitment program coordinator for UHV's LEAD program. "Vale" means something that is valid and worthwhile in Spanish, so the group's members thought it was a fitting name.
"The mission has always been to increase educational attainment levels of Hispanics in Victoria and the surrounding region through cultural and educational activities," Cortez said.
He and co-chair Angie Estraca, a community activist, hope to involve more community volunteers and student organizers with the group. For more information, call the UHV LEAD office.
Major sponsors for Hispanic Heritage Month are TDECU, H-E-B, Exelon Generation, Wal-Mart, IBC, Pooley Land and Realty Co. and Cal-Com Federal Credit Union.
Numerous other events are scheduled during Hispanic Heritage Month:
Sept. 11 - UHV/American Book Review Fall Reading Series featuring award-winning journalist Rubn Martinez, noon, Alcorn Auditorium of the UHV University West.



Sept. 13 - Parade and fiesta, 10 a.m.-2 p.m. Parade starts at Commerce and Red River streets and ends at UHV. Fiesta will be in front of the UHV University Center and inside the UC Multipurpose Room.



Sept. 15 - Oct. 15 - Art contest exhibit, 8 a.m. to 4 p.m. Monday through Friday inside the UHV University Center.



Sept. 16 - Art contest reception, 5:30-6:30 p.m., Multipurpose Room of the UHV University Center.



Oct. 3 - Latin rock concert featuring Del Castillo, 8 p.m.-midnight, Power Avenue Warehouse.



Oct. 7 - Performance by Jesus "Chuy" Negrete, 10 a.m.-noon, VC Johnson Symposium.



Oct. 8 - Fourth Annual Hispanic Heritage Month Academic Conference, "Quality of Life Issues in the Latino Community," 11:30 a.m.-4:30 p.m., Multipurpose Room of the UHV University Center, and 5:30-8:30 p.m., location to be announced.
The University of Houston-Victoria, located in the heart of the Coastal Bend region since 1973 in Victoria, Texas, offers courses leading to more than 80 academic programs in the schools of Arts & Sciences; Business Administration; and Education, Health Professions & Human Development. UHV provides face-to-face classes at its Victoria campus, as well as an instructional site in Katy, Texas, and online classes that students can take from anywhere. UHV supports the American Association of State Colleges and Universities Opportunities for All initiative to increase awareness about state colleges and universities and the important role they have in providing a high-quality and accessible education to an increasingly diverse student population, as well as contributing to regional and state economic development.