Close
Students come from China to study business at UHV
One group of new students at the University of Houston-Victoria left home for college in a major way this fall. They came all the way from China to take classes at the University of Houston System at Cinco Ranch, where UHV offers the majority of the classes.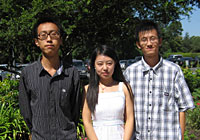 Zhang Chao, left, Jin Hao and Yang Fan are three of the Chinese students studying business in America as part of a new program at the University of Houston-Victoria.
The 18 students will work on their Global Master of Business Administration degree thanks to agreements UHV signed last year with five universities in China that allow students to finish their degrees while spending a year or two in America. The program began last spring with three students and a professor.  
Students in the program may take eight Global MBA foundation courses from the Chinese universities using textbook selections and syllabi approved by UHV. Students then finish their degrees stateside.
"This is just one more example of how UHV is achieving international recognition and scope through the hard work and imagination of our faculty and staff," UHV President Tim Hudson said. "I'd like to thank everyone who had a hand in establishing this wonderful new program and making our guests feel welcome."
Hudson offered special thanks to Charles Bullock, the former dean of the School of Business Administration who accepted a position as vice chancellor of academic affairs at Chapman University College in Orange, Calif., this summer.
"Dean Bullock was instrumental in putting this accord together," Hudson said. Hudson, Bullock and Interim Dean Jifu Wang traveled to China last year to sign the agreements.
The students spoke favorably of their experiences thus far.
"America is the leading country with business. That's the reason why I came to the U.S. to study for my MBA," Jin "Jade" Hao said.
"The teaching style... is quite different from what we have in China; I really like it," she said. In China, the teaching is very structured, and teachers exercise a lot of oversight on student work, Hao said. In America, students have to teach themselves a lot more.
Hao added she is looking forward to taking classes with American students who have full-time jobs while they go to school. Interacting with people with such experiences will help broaden the perspectives of her and her fellow students and accentuate their educations.
"America is the most advanced country in the world," said Zhang Chao, another student. "I think I can gain more knowledge here and have another new experience that is different from China."
Another classmate said he has big plans when he returns to China.
"First, I will work in an international company and get some work experiences, and then I hope I will have a company of my own," Yang Fan said.
Chao also noted the legendary Texas hospitality the students are receiving.
"The most impressive thing for me is the people here are very, very friendly and treat us very well," he said.
One student and a recent graduate were hired to help guide the visiting students and drive them to places like Wal-Mart to get them what they need for their studies.
Getting to school is easy. The students live in the same apartment complex about a block from the Cinco Ranch campus, said Rosie McCusker, the Cinco Ranch student recruitment coordinator who has been helping coordinate efforts with the students.
Two visiting Chinese professors will be auditing several foundation classes for the Global MBA program. These professors will teach the courses to a new group of students in China, Interim Dean Wang said. The Xian International Studies University, where the professors teach, has recruited for the program two classes of about 60 students who eventually will come to UHV after taking their foundation courses at home.
The new program is just one more way UHV is proactively adapting to the rapidly changing world.
"With technology, our entire world is more integrated every year," Hudson said. "For our graduates to truly prosper in the future, we must be a university with true international reach. This program is just one more way we are achieving that goal and becoming a sustainable university of choice."
The University of Houston-Victoria, located in the heart of the Coastal Bend region since 1973 in Victoria, Texas, offers courses leading to more than 80 academic programs in the schools of Arts & Sciences; Business Administration; and Education, Health Professions & Human Development. UHV provides face-to-face classes at its Victoria campus, as well as an instructional site in Katy, Texas, and online classes that students can take from anywhere. UHV supports the American Association of State Colleges and Universities Opportunities for All initiative to increase awareness about state colleges and universities and the important role they have in providing a high-quality and accessible education to an increasingly diverse student population, as well as contributing to regional and state economic development.