Close
UHV president co-founds international fiction prize
The president of the University of Houston-Victoria recently co-founded a new literary fiction prize as part of an upcoming international writer's conference.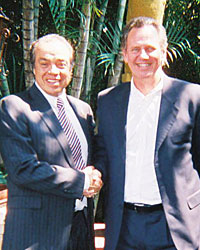 Universidad Internacional Rector Javier Espinosa, left, and University of Houston-Victoria President Tim Hudson take a break during a recent meeting in Cuernavaca, Mexico. Hudson and his wife, Dee Dee, recently teamed with Espinosa to fund a new literary fiction prize.
UHV President Tim Hudson and his wife, Dee Dee, teamed with Universidad Internacional Rector Javier Espinosa to fund the Hudson-Espinoza Fiction Prize.
The $500 prize will be awarded to the best work of short fiction submitted by aspiring authors attending The Writer's Edge conference March 16 to 21 on the campus of Universidad Internacional in Cuernavaca, Mexico. The conference will bring together attendees and 10 established authors and editors for workshops and one-on-one sessions.
The Hudsons and Espinoza made initial private donations of $2,500 each, a total of $5,000, to establish an endowment to maintain the prize indefinitely as a way of promoting international understanding, Hudson said.
"Rector Espinosa, Dee Dee and I share a deep concern about the current state of cross-cultural understanding in the world," he said. "We also agree that reading good fiction is one of the key ways to see the world through the eyes of someone else. We wanted to provide an incentive to encourage up-and-coming writers to create quality works of short fiction that would shape and expand individual world views. This prize is one way to accomplish that goal."
Along with the universities, the conference is being jointly organized by two entities based at the UHV campus. The American Book Review is an international literary journal that champions frequently neglected works of fiction, poetry and criticism from small presses. Fiction Collective Two is an independent, alternative press that recently moved its major operations to UHV.
The published authors and editors at the event will choose the winner through careful reflection and discussion, ABR Editor and Publisher Jeffrey Di Leo said.
"The winner will be selected by some of the most cutting-edge authors plying the craft today," said Di Leo, who also is dean of the UHV School of Arts & Sciences. "Along with the financial rewards, the prize offers recognition and praise by some of the big names in the modern literary arts world. In other words, this prize comes with some serious bragging rights."
ABR-affiliated authors and editors Dagoberto Gilb, Macarena Hernandez, Kevin Prufer, Thomas Williams and Eric Miles Williamson, along with FC2 staff members and authors Alexandra Chasin, Jeffrey Deshell, Stephen Graham Jones, Lance Olsen and Lidia Yuknavitch, will collaborate to name the winner.
The two university chiefs are no strangers to the literary world. Espinoza has been an educational leader in Mexico for three decades. Hudson himself is an author, and he and his wife are longtime supporters of the literary arts. "Rector Espinoza, Dee Dee and I all feel the helm of this award bearing our names is in good hands," Hudson said. "As avid readers, we look forward to seeing the works these competing writers will craft."
Di Leo thanked the three sponsors.
"Thanks to the generosity of our three benefactors, this year's Writer's Edge Conference will be that much more memorable for everyone involved," he said.
The cost for the conference is $500 for the entire week or $275 for either half of the week. The deadline to register is Jan. 21.
To register or for more information, contact The Writer's Edge staff at 361-570-4101 or writersedge2009@gmail.com.
Fees do not include the cost of travel and accommodations.
The University of Houston-Victoria, located in the heart of the Coastal Bend region since 1973 in Victoria, Texas, offers courses leading to more than 80 academic programs in the schools of Arts & Sciences; Business Administration; and Education, Health Professions & Human Development. UHV provides face-to-face classes at its Victoria campus, as well as an instructional site in Katy, Texas, and online classes that students can take from anywhere. UHV supports the American Association of State Colleges and Universities Opportunities for All initiative to increase awareness about state colleges and universities and the important role they have in providing a high-quality and accessible education to an increasingly diverse student population, as well as contributing to regional and state economic development.