Close
UHV purchases large portion of Town Plaza Mall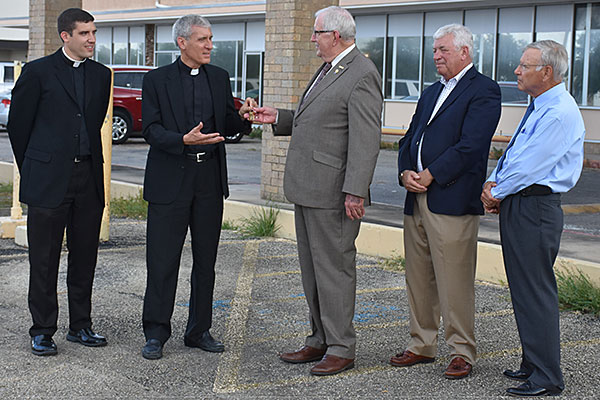 UHV President Vic Morgan, center, accepts the keys to the former Town Plaza Mall Thursday from Rev. Gary Janak, chancellor of the Diocese of Victoria and pastor of the Cathedral of Our Lady of Victory. UHV purchased 132,000 square feet of the former mall from the cathedral. Also pictured are Rev. Kristopher Fuchs, left, parochial vicar of the Cathedral of Our Lady of Victory; Lee Swearingen, president of Coldwell Banker Commercial; and Wayne Beran, UHV vice president for administration and finance.
University of Houston-Victoria has purchased a large segment of the former Town Plaza Mall to house university classrooms, labs, storage and space for business and community development initiatives.
The university acquired 132,000 square feet of the former mall on 10 acres of land located in the 1500 block of Airline Road just east of Laurent Street – about a mile from campus. UHV used $1.9 million in capital construction bonds to buy the property from Cathedral of Our Lady of Victory.
"The addition of Town Plaza Mall will give UHV flexibility as we continue to grow into a comprehensive university," UHV President Vic Morgan said. "We plan to add more students and programs at a rapid rate in the next decade, so having additional space and parking nearby is critical. The purchase of this building will make a major difference to UHV's future as well as helping to rejuvenate this part of Victoria."
Rev. Gary Janak, chancellor of the Diocese of Victoria and pastor of the Cathedral of Our Lady of Victory, turned over the building keys to Morgan on Thursday.
"UHV will be a great neighbor," Janak said. "I think the renovations UHV and the church are undertaking will transform this part of the city. This building has been empty for a long time."
Our Lady of Victory kept the former J.C. Penney location and is renovating it into a conference and reception center. A driveway and green space will be created between the old J.C. Penney building and the rest of the mall to provide separation between the properties.
The former mall will be home to the UHV Small Business Development Center and the UHV Regional Center for Economic Development and Entrepreneurship. Last month, the U.S. Department of Commerce Economic Development Administration awarded a $1 million matching grant to UHV to renovate the portion of the former mall that will house the SBDC and economic development center.
"One of our objectives as a university is to help bolster regional economic development and community development in the Coastal Bend," Morgan said. "This property will be the centerpiece of those efforts. It will be a place to go for small business resources and advice, and a venue where communities across the region can engage in meaningful partnerships."
Also relocating to Town Plaza will be:
UHV classrooms and lab space
Dalkey Archive Press, an internationally renowned nonprofit literary organization housed at UHV
UHV Center for the Arts
American Book Review
Transportation Department
Book storage for Dalkey Archive Press and the new University Commons
Climate-controlled record storage
The next step is hiring an architect to plan the repairs and renovations. A total of 11 architects have submitted proposals for the project. Morgan said construction could begin late this year or early next year. The first part will focus on the exterior of the building, fixing the parking lot and repairing the roof.
"The building will have a new facade, so it will look more like a university building and less like a mall," Morgan said. "Having a large parking lot also is beneficial. That way we will not have to construct an expensive parking garage on campus. Eventually, we'll extend our shuttle services to Town Plaza."
The building will be renovated on an as-needed basis rather than all at once. The first portion of the renovations could be finished as early as fall 2018, Morgan said.
"It's easier to renovate space than to build new," he said. "We can have programs, faculty offices and classrooms ready more quickly in the former mall than with new construction."
Town Plaza Mall was built in 1969. J.C. Penney Co., Walgreens and Luby's Cafeteria were once among the tenants. Our Lady of Victory bought the mall in 2011. The seven remaining tenants had left by 2012.
"UHV had its eye on the property for a while," Janak said. "When I became pastor four years ago, I knew it was too much property for us. We had our vision for the old J.C. Penney property, and that was adequate space."
The UHV Facilities Space Planning Committee, made up of faculty, staff, administrators and a Student Government Association representative, evaluated the property and recommended to Morgan that UHV purchase it.
"This property is in good condition, and it offers a great value," said Wayne Beran, UHV vice president for administration and finance. "It's the only property of its size located about a mile from campus, and the price is more than fair for property in the city limits."
The University of Houston-Victoria, located in the heart of the Coastal Bend region since 1973 in Victoria, Texas, offers courses leading to more than 80 academic programs in the schools of Arts & Sciences; Business Administration; and Education, Health Professions & Human Development. UHV provides face-to-face classes at its Victoria campus, as well as an instructional site in Katy, Texas, and online classes that students can take from anywhere. UHV supports the American Association of State Colleges and Universities Opportunities for All initiative to increase awareness about state colleges and universities and the important role they have in providing a high-quality and accessible education to an increasingly diverse student population, as well as contributing to regional and state economic development.