Close
Education professor receives award at international conference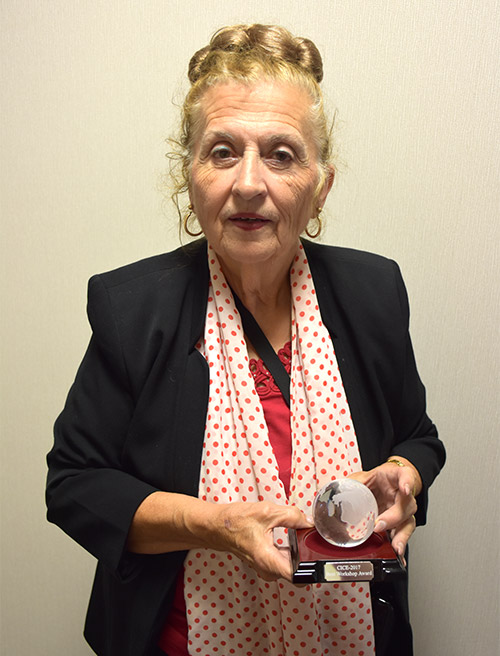 Barba Patton, a UHV professor of curriculum and instruction, holds her award for presenting the best workshop at the Canadian International Conference on Education. Patton received the award during the June 26 to 29 conference at the University of Toronto Mississauga.
A University of Houston-Victoria faculty member recently presented two papers and won an award for the best workshop for her unique presentation about math education at an international education conference.
This is the second time Barba Patton, a UHV professor of curriculum and instruction, has received an award from the Canadian International Conference on Education. The conference was held from June 26 to 29 at the University of Toronto Mississauga in Mississauga, Ontario. She received her first award during the 2012 conference.
"This is a great conference because it's large enough to have a variety of attendees but small enough for attendees to network with other educators," Patton said. "It was a wonderful opportunity, and I am honored that my workshop, out of all the excellent topics presented, was chosen to receive this award."
Patton's workshop, "Mx: M=Mastering Math; X=Models, Mice, Monkeys, Moose …" focused on finding ways to integrate math and language in the classroom to relieve students' anxiety about word problems. To do this, she took the James Patterson book "Word of Mouse" and used excerpts to look at the various math applications in the real world.
"The book is full of learning opportunities," Patton said. "The story features all kinds of situations that can be used to illustrate math concepts and help students learn to navigate the language used in word problems."
Standardized testing has made it particularly important for students to be able to handle word problems, Patton said. If students are not able to navigate the language used to describe the math equation, they can't answer the question. That issue becomes even larger when similar language is used in multiple test questions.
In addition to the workshop, Patton presented two papers. Her papers were chosen for presentation out of more than 2,000 sent to the conference.
The first, "Publish or Perish," focused on how educators can share their methods with others by publishing academic papers. The second, "Those Who Can't Do Teach," examined the problems created when teachers with incorrect knowledge pass those misconceptions on to students.
"Dr. Patton is an outstanding member of our faculty who has presented excellent papers and workshops at multiple conferences," said Fred Litton, dean of the UHV School of Education, Health Professions & Human Development. "Her dedication to finding the best methods to help future educators reach students is encouraging to see. I congratulate her on receiving yet another award."
The University of Houston-Victoria, located in the heart of the Coastal Bend region since 1973 in Victoria, Texas, offers courses leading to more than 80 academic programs in the schools of Arts & Sciences; Business Administration; and Education, Health Professions & Human Development. UHV provides face-to-face classes at its Victoria campus, as well as an instructional site in Katy, Texas, and online classes that students can take from anywhere. UHV supports the American Association of State Colleges and Universities Opportunities for All initiative to increase awareness about state colleges and universities and the important role they have in providing a high-quality and accessible education to an increasingly diverse student population, as well as contributing to regional and state economic development.