Close
UHV students learn leadership strategies, explore China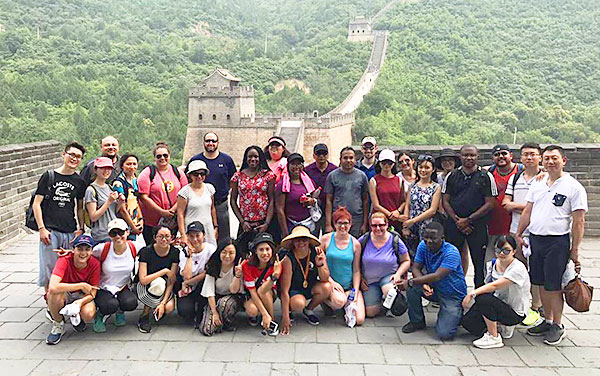 University of Houston-Victoria and Chinese students take a group photo on the Great Wall of China. Eighteen UHV students spent two weeks in China learning about leadership management, visiting cultural sites and interacting with Chinese business leaders and students.
The two weeks Brittany Bennett spent in China could best be described as mind opening.
Bennett, a Houston resident pursuing a Bachelor of Business Administration in accounting, was one of 18 University of Houston-Victoria students who visited China from July 15 to Sunday to compare and contrast management principals in two different cultures.
"The trip made me feel more open-minded in terms of the type of jobs I would consider after graduation," she said. "I wouldn't hesitate as much about considering taking an international job. Going to China opened my eyes. Once we found similarities, it was easier to adapt."
Learning about leadership similarities was one objective of the trip. The students took the leadership management course "Leadership Management: Comparison and Application Between the East and the West."
"This trip provided an opportunity to build leadership and management capabilities, allowing our students to become more competitive in the dynamic international business environment," said Farhang Niroomand, dean of the UHV School of Business Administration. "We teach about the increasingly global nature of business, but seeing it firsthand really hammered the point home."
The UHV School of Business Administration provided $2,000 scholarships to help each student pay for the program thanks to a $600,000 donation in 2013 from Chinese businessman Bingxin Wu and his wife, Shuqin Feng. This donation also was used for the establishment of the Wu-Feng Center for International Business at UHV. Wu was awarded a UHV honorary doctorate in 2016.
UHV students were joined in the classroom by students from the School of Government at the Central University of Finance and Economics and the Academy of Consumption at the University of International Business and Economics in Beijing.
"They also joined us when we were out visiting local sites and stores," Bennett said. "It was fun getting to socialize with them and learn about them on a personal level."
The students attended lectures by Jifu Wang, associate dean of the UHV School of Business Administration, and by Chinese business leaders and faculty members. Wu taught a few lessons himself, sharing his views and stories about economics and consumer consumption.
"Thanks to Chairman Wu's generosity, 60 students have had made this unforgettable trip during the past three years," Niroomand said. "If that weren't enough, he takes the time to lead the class, provide accommodations and get to know our university and students."
The program compared Eastern and Western business techniques, including several cultural and business visits. Bennett said it was incredible to see the Great Wall of China, Tai Mountain, the Forbidden City and Confucius temple.
"Getting to see the cultural and historical sites was remarkable," she said. "I also liked that we had free time in the evenings to roam and explore China ourselves."
Bennet said Eastern and Western management styles turned out to have more in common than she originally thought.
"The best part of the class was getting a chance to compare styles," she said. "We found out we are similar in a couple of aspects. Despite our cultural differences, we have a lot in common as individuals."
For information about future UHV School of Business Administration study abroad programs, contact Rosie McCusker, UHV manager of student recruitment and marketing for graduate business programs, at mccuskerr@uhv.edu or 281-396-3729.
The University of Houston-Victoria, located in the heart of the Coastal Bend region since 1973 in Victoria, Texas, offers courses leading to more than 80 academic programs in the schools of Arts & Sciences; Business Administration; and Education, Health Professions & Human Development. UHV provides face-to-face classes at its Victoria campus, as well as an instructional site in Katy, Texas, and online classes that students can take from anywhere. UHV supports the American Association of State Colleges and Universities Opportunities for All initiative to increase awareness about state colleges and universities and the important role they have in providing a high-quality and accessible education to an increasingly diverse student population, as well as contributing to regional and state economic development.