Close
UHV accounting student wins excellence award, $10,000 scholarship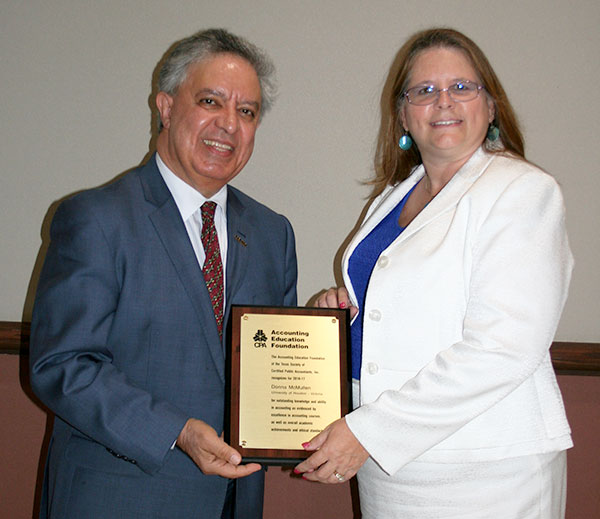 Farhang Niroomand, left, dean of the UHV School of Business Administration, presents Donna McMullen, a UHV senior from Rosenberg, with a plaque for winning the Accounting Excellence Award from the Accounting Education Foundation of the Texas Society of CPAs.
A University of Houston-Victoria senior's classroom performance recently earned her a pair of prestigious honors from state and national accounting groups.
Donna McMullen of Rosenberg was awarded a $10,000 scholarship from the Public Company Accounting Oversight Board for the 2017-2018 academic year. In addition, she received an Accounting Excellence Award from the Accounting Education Foundation of the Texas Society of CPAs.
McMullen is pursuing a Bachelor of Business Administration with a concentration in accounting. She will graduate in the spring.
"To receive a scholarship of that size is unbelievable," McMullen said. "I have been taking out student loans, so to know the rest of my tuition and books are taken care of by this scholarship is a real blessing."
The Public Company Accounting Oversight Board is a nonprofit corporation established by Congress to oversee the audits of public companies and broker-dealers to promote investor protection. The board established the scholarship program to provide a source of funding to encourage outstanding students to pursue a career in auditing.
"Earning a scholarship from the Board is a substantial accomplishment and one that should be celebrated," said Farhang Niroomand, dean of the UHV School of Business Administration. "Donna is one of our prized BBA students. She has shown a great deal of resolve and commitment by returning to school to pursue her degree."
McMullen, 54, first became interested in accounting while attending Springville High School in Iowa. However, during her senior year, her father passed away, and she went down a different path.
"My life took a left turn," she said. "I didn't go to college. I fiddled around for a while. Later, I went back to school to get my paralegal studies associate degree at Wharton County Junior College. Eventually, I decided to come full circle and get my accounting degree like I had originally planned."
McMullen is interested in forensic accounting, a field in which accountants investigate fraud or embezzlement and analyze financial information for use in legal proceedings. McMullen said the law firm where she works uses forensic accounts from time to time.
She is a paralegal at The Pinak Law Firm in Sugar Land. She said UHV is a good fit for her because she has been able to take classes after work, first at UH Sugar Land and now at UHV Katy. She takes no more than three classes a semester, so she can balance her time between work, school and family.
"I really like the professors at UHV," she said. "The faculty has always been really supportive. I do participate a lot in class and ask many questions. I think that has to do with being an older student. I'm to the point where no question is stupid."
Accounting students with a cumulative GPA of 3.5 or higher are eligible to be nominated for the Accounting Excellence Award. McMullen had a 4.0 GPA in the fall. Yong Lee and Danny Chiang, UHV associate professors of accounting, nominated McMullen for the award.
"Donna is motivated and asks a lot of practical questions," Chiang said. "I like that she shares her perspectives in class and takes her studies seriously."
The Accounting Education Foundation of the Texas Society of CPAs presents the Academic Excellence Award to an outstanding accounting student at each participating school. McMullen received a recognition plaque, in addition to having her name engraved on the permanent Accounting Excellence Award plaque in the UHV School of Business Administration office. She also was granted membership to the CPA society, which will be great for networking, she said.
"It was special to receive the award, especially when I realized that only one student from each school receives it," she said.
The University of Houston-Victoria, located in the heart of the Coastal Bend region since 1973 in Victoria, Texas, offers courses leading to more than 80 academic programs in the schools of Arts & Sciences; Business Administration; and Education, Health Professions & Human Development. UHV provides face-to-face classes at its Victoria campus, as well as an instructional site in Katy, Texas, and online classes that students can take from anywhere. UHV supports the American Association of State Colleges and Universities Opportunities for All initiative to increase awareness about state colleges and universities and the important role they have in providing a high-quality and accessible education to an increasingly diverse student population, as well as contributing to regional and state economic development.