Close
Chinese professor researches ESL, teacher education while visiting UHV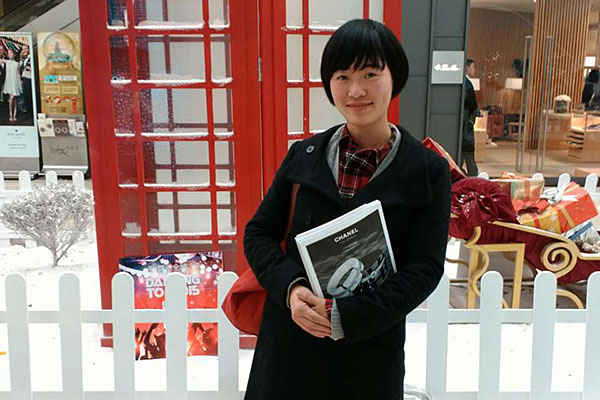 Chinese professor Youna Chen poses for a photo at a Chinese shopping mall. Chen is a faculty member at Zhejiang Ocean University in China and is spending a yearlong sabbatical at UHV researching English as a Second Language and teacher education programs.
When Youna Chen came to the University of Houston-Victoria in May, it was her first time in a foreign exchange program.
Chen is a faculty member at Zhejiang Ocean University in China and wanted to research English as a Second Language and teacher education programs. She has spent the past few months at UHV Katy, 2002 W. Grand Parkway N., Building 2.
"We have different teaching methods in China, and it's been interesting to see how American educators encourage students to learn," Chen said. "My American colleagues have welcomed me with open arms and allowed me to participate in their courses, research and community service projects. This experience will have a profound impact when I return to China."
Chen decided to visit UHV when she met Liping Wei, a UHV assistant professor of curriculum and instruction, through a friend and explained her desire to spend a year doing research in the U.S. Wei helped Chen get approval from the UHV School of Education, Health Professions & Human Development and is serving as her host advisor.
Although she has only been at UHV Katy a few months, Chen's involvement has produced some exciting learning experiences, Wei said.
"Dr. Chen has brought a fresh, unique perspective to UHV," said Fred Litton, dean of the UHV School of Education, Health Professions & Human Development. "We appreciate all the time she has spent sharing ideas with and learning from our faculty, and we hope she will be able to take home some outstanding learning tools and techniques."
Since arriving at UHV Katy, Chen has participated in research studies about ESL teachers' professional development, attended a teacher education session at a professional conference, submitted a proposal to a regional Teachers of English to Speakers of Other Languages conference, and read extensively in the field. She also sat in on summer courses, and participated in the grant projects and various activities led by UHV faculty members, Wei said.
"Youna's days at UHV have been very enriching and productive," Wei said. "All these experiences have helped her better understand American classrooms, education and culture; learn new research methodologies and ideas; and find many new research areas she is interested in and wants to explore in the future."
One of the projects that impressed Chen was the bookmobile program led by Amy Barnhill, a UHV associate professor of literacy education, and Janelle Bouknight, a UHV assistant professor of literacy education. The program, funded by a $4,000 grant from The Dollar General Literacy Foundation, brings books to children in disadvantaged neighborhoods. The program is intended to encourage children to enjoy reading and learning.
"It was interesting to see how such a simple project could have so much meaning to these children and help them become interested in learning," Chen said. "In China, we have a lot of libraries. But a program like this that brings the learning materials to kids who need them is rare."
Another thing that caught Chen's attention was how U.S. teachers are encouraged to pursue their own interests and, in turn, help students do the same.
"I realized that learning about yourself can be an integral part of promoting learning and teaching," she said. "I appreciate all the help and encouragement I have received from my UHV colleagues. Their support and experience has shown me how different approaches to learning can boost students' interest."
Wei hopes that through Chen, UHV will become known by more people in China.
"I am very glad to see how much Chen has grown in many aspects over this short period," Wei said. "I am grateful to the school administration and my colleagues for providing her with so many rewarding experiences. I've already seen how much information Chen will bring back to China to benefit her research and teaching. After such an amazing experience at UHV, this is going to be life-changing for her."
The University of Houston-Victoria, located in the heart of the Coastal Bend region since 1973 in Victoria, Texas, offers courses leading to more than 80 academic programs in the schools of Arts & Sciences; Business Administration; and Education, Health Professions & Human Development. UHV provides face-to-face classes at its Victoria campus, as well as an instructional site in Katy, Texas, and online classes that students can take from anywhere. UHV supports the American Association of State Colleges and Universities Opportunities for All initiative to increase awareness about state colleges and universities and the important role they have in providing a high-quality and accessible education to an increasingly diverse student population, as well as contributing to regional and state economic development.