Close
New University College sets up freshmen, sophomores for UHV success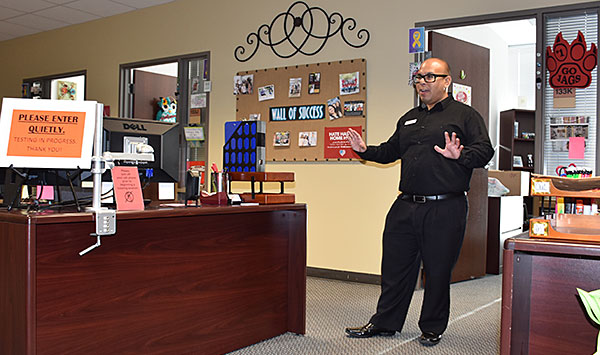 Eric Camarillo, UHV testing and tutoring manager, points out some of the new features of the Academic Success Center inside UHV University West. The center is part of the new University College for UHV freshmen and sophomores.
Many University of Houston-Victoria freshmen write down a major on paperwork before starting college, but that doesn't mean they are sure it is the subject they want for a future career.
"It's pretty normal for students to come to college undecided on a major or to change a major once they've taken some classes," said Beverly Tomek, UHV associate provost for University College. "One of the benefits of University College is that it lets students get acclimated to college before they move into a major."
University College is the new academic home for UHV's lower-division students. Students are part of University College until they have taken more than 45 credit hours and choose a major. At that point, the student will transition into one of UHV's three schools: Arts & Sciences; Business Administration; or Education, Health Professions & Human Development.
UHV is debuting University College when the fall semester starts on Monday as a way to streamline, consolidate and improve freshmen's and sophomores' college experience.
One of the goals of University College is to assist students in their transition to the college environment. By guiding students, providing a dynamic first-year experience and introducing programs that focus on excellence, UHV aims to encourage retention and prepare students for success.
"We took a good, hard look at what life is like as a UHV freshman and what we could do as a university to improve," UHV President Vic Morgan said. "University College creates universal support for student learning and development, and links the undergraduate curriculum to everyday life. I think our underclassmen will benefit immensely from their time spent in University College."
Within University College, there are three areas: Academic Success Center, First Year Experience and Undergraduate Excellence.
The Academic Success Center will be located in UHV University West, Suite 133. Students can visit the center to talk with Student Success Coaches as well as get assistance for their classes.
Student Success Coaches help students acquire the skills and confidence necessary to succeed by providing support and connecting them to resources. The coaches advise and guide freshmen and sophomores academically and check with them to make sure any questions or problems are addressed. Tutoring and supplemental instruction also are part of the center.
"Unfortunately, there are some students who don't do well in early classes, so they give up on the idea of getting a higher education," Tomek said. "In University College, we will guide these students from the beginning and show them what it will take to succeed. The idea is with close care and guidance, they are more likely to make it through the first year or two and be ready to flourish when they enter one of the schools."
UHV's First Year Experience includes the "Freshman Seminar" class and UHV's Living and Learning Communities, which are groups of freshmen who spend portions of their first year at UHV living and learning together. Both programs have been in place in past years, but some tweaks have been made. One difference is the introduction of themes to "Freshman Seminar."
"I thought it would be more fun if people teaching the course came up with a theme, and from there it could link to another course," Tomek said. "Students still will learn about college life and how to succeed, and they still will be introduced to the campus and Victoria. In addition, all of that is built around a theme."
An example of a freshman seminar theme is "Enter Freely and of Your Own Will: The Vampire in Literature and Cinema" taught by Eric Camarillo, UHV testing and tutoring manager. It's linked to an English course taught by Nadya Pittendrigh, an English assistant professor. The same students will be in both courses. Some of the other theme examples include global citizenship, hip hop, conversation in the age of texting, career building and digital yoga.
The Undergraduate Excellence component of University College will include a new honors program set to debut in fall 2018.
The UHV School of Arts & Sciences started an honors track last school year. It was directed by Justin Bell, an assistant professor of philosophy. Tomek and Bell are expanding it to a universitywide honors program. The program will be housed in Jaguar Suites and open to students in all three schools. Bell will serve as the director.
"The UHV Honors Program will provide unique opportunities for high-performing students to participate in our academic community," Bell said. "I think that feeling integrated and cared for will result in higher retention of students as well as better performance in the classroom. Our goal is to create a curriculum that incorporates students into the academic world through personal contact and interaction with faculty and other high-performing students."
As part of the Academic Excellence component, Tomek also plans to roll out a new parent outreach program, a professional development center for faculty members and an annual event to introduce the concept of college to middle school students.
In the fall, a committee made up of UHV faculty, staff and a student put together the structure for University College. Tomek was appointed the associate provost in the spring.
"Some people will say this is hand holding," Tomek said. "There's a little bit of that, but that's OK because there are students who are underprepared. "We can't let them just be thrown in. This is a way to get them to where they should be, so they can flourish as UHV students."
The University of Houston-Victoria, located in the heart of the Coastal Bend region since 1973 in Victoria, Texas, offers courses leading to more than 80 academic programs in the schools of Arts & Sciences; Business Administration; and Education, Health Professions & Human Development. UHV provides face-to-face classes at its Victoria campus, as well as an instructional site in Katy, Texas, and online classes that students can take from anywhere. UHV supports the American Association of State Colleges and Universities Opportunities for All initiative to increase awareness about state colleges and universities and the important role they have in providing a high-quality and accessible education to an increasingly diverse student population, as well as contributing to regional and state economic development.