Close
UHV Campus Lions Club member leads hurricane donation effort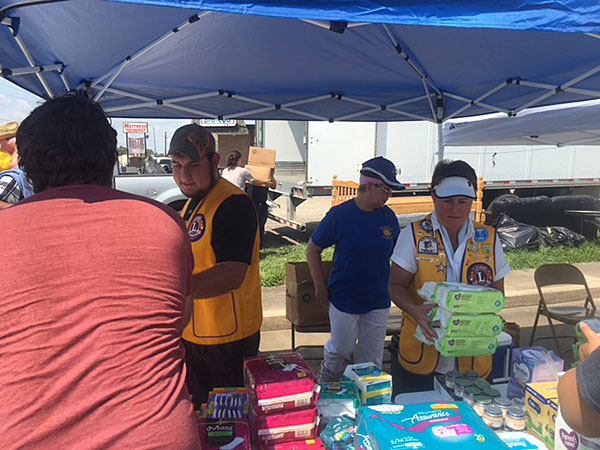 UHV student Vito Lozano, left, in yellow, works with other volunteers on Sept. 2 to distribute food, water and other items to those impacted by Hurricane Harvey in Victoria. Lozano gathered the donations and brought them to Victoria from his hometown of Eagle Pass. The UHV Campus Lions Club, UHV students and staff, and members of two of the Lions Clubs in Victoria distributed the items to the community.
When Vito Lozano evacuated to his hometown in Eagle Pass before Hurricane Harvey made landfall, he wondered what would happen to Victoria after the hurricane had passed.
"Victoria and the University of Houston-Victoria are like a second home for me," Lozano said. "During the storm, I got updates from friends who stayed in the area, and their experiences really impacted me. After finding out how Victoria was affected, I just wanted to find a way to help."
On Sept. 2, a group of 20 volunteers, including UHV students and staff members, and members of two of the Lions Clubs in Victoria, came together to distribute donations collected by Lozano. Victoria community members affected by Hurricane Harvey drove up to a donation station set up in the parking lot of 6412 N. Navarro St. The donations of food, water, toiletries and clothing were distributed from 2 to 7 p.m. to more than 300 cars.
Lozano, a UHV sophomore and member of the Campus Lions Club, began collecting donations through his father's connections in the Eagle Pass Lions Clubs. He ended up filling a 53-foot semitrailer with six pallets of water, three pallets of food, two or three pallets of toiletry items and lots of donated clothing. The items were donated by several sources, including Walmart, H-E-B, McCoy's Building Supply and Eagle Pass community members. The truck and driver were provided by Trinity Logistics Group.
"I was happy to see so many people receive these donations," Lozano said. "We gave almost everything away, but there were some leftover clothes that we took to Goodwill at the end of the day. It was amazing to see how much effort everyone put into helping others. Even some of the people we gave donations to came back and volunteered for an hour or two."
Lozano worked with Hilary Kofron, UHV associate director of Student Life, to set up the donation site and gather volunteers. Kofron contacted UHV students and staff members as well as Lions Clubs in Victoria to solicit help.
"It was amazing to see so many people come out to help get these donations to people who needed them," Kofron said. "We had so many people coming to receive the items that we had to assign volunteers just to direct traffic. It was wonderful to see so many people with kind hearts willing to go the extra mile."
The Campus Lions Club was chartered in May. Members do service projects at the campus and in the community.
Aarushi Kumar, of Bangalore, India, responded to Kofron's call for volunteers. The UHV sophomore biology major is not a member of the Campus Lions Club, but she was looking for an opportunity to help after the hurricane.
"It felt good to help out," Kumar said. "It was heartbreaking to hear all these stories about people who lost so much, their roofs caved in or they were sleeping on the floor. It's eye-opening to see how everything can change in an instant. I'm glad I could be there to help."
This was the first time Kumar had experienced a hurricane. She rode out the storm with her aunt and uncle.
"After the storm, my aunt and I were talking about how some people seem to think everything is always fine in America," Kumar said. "This was a big reminder that even developed countries can't escape some things. No one has control over natural calamities."
After he returned to Victoria and saw the effects of Hurricane Harvey for himself, Lozano agrees. He saw houses that were hit by fallen trees and downed power lines across the city.
"This storm had a major impact on so many lives in this area," Lozano said. "I know if I was in the place of those people, I also would want help."
In addition, UHV has launched the UHV Relief Fund to raise money for students who need assistance replacing items lost during the hurricane. To donate to the fund, go to www.uhvconnect.org/donations and select the UHV Relief Fund or contact UHV University Advancement at 361-570-4306.
The University of Houston-Victoria, located in the heart of the Coastal Bend region since 1973 in Victoria, Texas, offers courses leading to more than 80 academic programs in the schools of Arts & Sciences; Business Administration; and Education, Health Professions & Human Development. UHV provides face-to-face classes at its Victoria campus, as well as an instructional site in Katy, Texas, and online classes that students can take from anywhere. UHV supports the American Association of State Colleges and Universities Opportunities for All initiative to increase awareness about state colleges and universities and the important role they have in providing a high-quality and accessible education to an increasingly diverse student population, as well as contributing to regional and state economic development.