Close
Disney chooses UHV professor to write movie novel adaptation
As Disney prepares to release its latest movie, "Coco," in November, a novelization of the story written by a University of Houston-Victoria faculty member already is on bookstore shelves.
"Coco: A Story About Music, Shoes and Family" was released Oct. 10. The book adaptation of the film was written by Diana López, a UHV associate professor of creative writing.
"This was a dream project for me," López said. "When I watch movies, I'm always curious about the possibilities and expanded stories for different characters that viewers miss because of time limitations. But this gives me the opportunity to expand the story and give characters more development."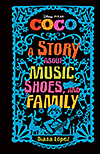 "Coco" follows the story of a Mexican boy named Miguel who loves music and wants to become an accomplished musician. However, his family has banned music for generations. As he tries to prove his talent, Miguel finds himself in the Land of the Dead with his dog, Dante. There, Miguel begins a journey to find the secret history of his family.
López has written several books for middle school students in the past. In 2016, she published "Nothing Up My Sleeve," the story of three young boys who decide to learn magic tricks. She has published three other books, including "Confetti Girl," "Choke" and "Ask My Mood Ring How I Feel."
"Diana is a talented writer who has an understanding of how to reach young people," said Jeffrey Di Leo, dean of the UHV School of Arts & Sciences. "She brings an outstanding talent to UHV's faculty, and it is exciting to see her talent receive such prestigious recognition from an international business."
Disney's road to the creation of "Coco" was a long one, and the company learned some harsh lessons along the way, López said. The original title for the film was "Día de los Muertos," and Disney tried to trademark the phrase. That set off a public backlash, especially from Mexican Americans, who said Disney was trying to trademark their culture. Soon after, Disney withdrew the trademark request and changed the film's name.
However, despite that controversy, Disney's approach to making the film and associated books has been encouraging, López said. The company is making a clear effort to use Latino voice artists and writers, just as it employed people from Pacific Island cultures for "Moana."
"It's encouraging to see Disney take this more inclusive direction," she said. "I can tell Disney is really trying to expand the cultures it features in its movies and give them accurate portrayals."
López's book will be one of several titles connected to the movie. The titles will range from picture books for young children to expanded stories and young adult novels. All of the books will be written by Latino authors.
The experience of writing a book based on a screenplay presented an interesting challenge, López said. It was a much more rigid, collaborative effort than her previous writing projects. There was an intense schedule of deadlines, and there were multiple approval processes during the project. In addition, the different methods of writing screenplays left a lot of details unknown.
"When you look at a screenplay, it's almost all dialogue," López said. "There might be a few minimal setting descriptions, but a lot is left to the discretion of the director. Thankfully, I could use some pictures from the film to fill in some of the blanks, but ultimately, I had to write the novel without actually seeing the film."
"Coco: A Story About Music, Shoes and Family" is available at major book retailers such as Barnes & Nobles and Books-A-Million. It also can be bought through Amazon and other online retailers.
The University of Houston-Victoria, located in the heart of the Coastal Bend region since 1973 in Victoria, Texas, offers courses leading to more than 80 academic programs in the schools of Arts & Sciences; Business Administration; and Education, Health Professions & Human Development. UHV provides face-to-face classes at its Victoria campus, as well as an instructional site in Katy, Texas, and online classes that students can take from anywhere. UHV supports the American Association of State Colleges and Universities Opportunities for All initiative to increase awareness about state colleges and universities and the important role they have in providing a high-quality and accessible education to an increasingly diverse student population, as well as contributing to regional and state economic development.