Close
ABR author sees writing, activism as lifelong pursuits
When she was growing up in Sri Lanka, Ru Freeman's family spent a great deal of time reading and writing, and political involvement was a natural extension of those activities.
"We didn't have a TV or radio," said Freeman, an author and activist. "Writing was just something we did. We wrote short stories, poems and other things about political topics and social justice. We all participated in political activism."
Freeman will be the next presenter in the fall University of Houston-Victoria/American Book Review Reading Series. She will offer two readings. Her first will be at noon Oct. 26 in the Alcorn Auditorium of UHV University West, 3007 N. Ben Wilson St. The second will be at 7 p.m. Oct. 27 in the third floor Multi-Purpose Room of UHV Katy, 2002 W. Grand Parkway N. The presentations are free and open to the public.
"Ru Freeman has the ability to mix the beauty and pain of human reality into a compelling narrative," said Jeffrey Di Leo, dean of the UHV School of Arts & Sciences, and ABR editor and publisher. "We've received requests to bring the series to Katy, and I am excited to hear her presentations in both cities."
Freeman's writing often focuses on and reflects what she and her family experienced during the Sri Lankan Civil War, which began in 1983 and lasted until 2009. It was a time when the Cold War and the influence of big American corporations were having a negative effect in the country, she said. Social services were being shut down, poverty was growing, local resources were being abused, and people's access to resources was restricted.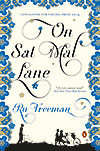 That became the backdrop to her novel, "On Sal Mal Lane," which tells the story of a family in Sri Lanka as its country moves toward civil war. The story begins when the Herath family moves onto a quiet street where children play and grow up in peace. However, as the years pass and civil war looms on the horizon, the peace of the neighborhood begins to fall apart.
The story grew out of a national newspaper piece Freeman wrote about the end of the war. The newspaper wanted a black-and-white article that just looked at facts and events. But Freeman wanted to do something more and write the story of the people.
"I lived on a road very similar to the one in this book," Freeman said. "It's similar to so many roads in Sri Lanka, because the population is much more mixed-up than American neighborhoods. Everyone has an opinion and position, and they find a way to live together. Life in Sri Lanka is very communal."
Freeman used the narrative of the Herath family and its neighbors to highlight how small policy changes can build divisions that eventually lead to people fighting wars.
"People often look for the big event that triggers a conflict, but it doesn't start that way," she said. "It's the little changes in the system that foster an 'us vs. them' attitude. I want people to look at my work and start to pay attention to the little changes that create that division. Social injustices don't just come out of nowhere. They build up from smaller things that were permitted along the way."
Other writers scheduled for the fall UHV/ABR Reading Series are:
Frederick Luis Aldama, Nov. 16 – Aldama has authored more than 30 books, including the recent "Long Stories Cut Short: Fictions from the Borderlands." In his teaching and publishing, he seeks to advance, promote and encourage the narrative and graphic arts, especially those by and about Latinos. Aldama has created pipelines for Latinos in education, with a special interest in the humanities and storytelling arts. As an Ohio State University professor, he directs a Latino outreach program called LASER. The program won the 2015 White House Bright Spot for Higher Education Award.
Clay Reynolds, Dec. 6 – Reynolds is a scholar, teacher and writer. He is the director of creative writing, and teaches creative writing and modern literature at the University of Texas at Dallas. Reynolds writes fiction and nonfiction, as well as scholarship, book criticism and journalistic essays and articles. His novels, "Franklin's Crossing" and "Monuments," both won the Violet Crown Award from the Writers' League of Texas. He is a National Endowment for the Arts Fellow and has received grants from the Texas Commission on the Arts.
ABR is a nonprofit, internationally distributed literary journal published six times a year. It began in 1977, moved to UHV in 2006 and has a circulation of about 8,000. The journal specializes in reviews of works published by small presses.
For more information about the UHV/ABR Reading Series, call the ABR office at 361-570-4101 or go to www.americanbookreview.org.
The University of Houston-Victoria, located in the heart of the Coastal Bend region since 1973 in Victoria, Texas, offers courses leading to more than 80 academic programs in the schools of Arts & Sciences; Business Administration; and Education, Health Professions & Human Development. UHV provides face-to-face classes at its Victoria campus, as well as an instructional site in Katy, Texas, and online classes that students can take from anywhere. UHV supports the American Association of State Colleges and Universities Opportunities for All initiative to increase awareness about state colleges and universities and the important role they have in providing a high-quality and accessible education to an increasingly diverse student population, as well as contributing to regional and state economic development.