Close
Professor helps bring history of African American Recolonization to light
Black history and civil rights form the connecting threads of Beverly Tomek's research interests, and she in turn has woven together essays by various scholars to produce a major work about the subject of recolonization.
An associate professor of history at the University of Houston-Victoria and associate provost for University College, Tomek co-edited the book "New Directions in the Study of African American Recolonization" recently published by the University Press of Florida. The book is part of the "Southern Dissent" series edited by two major scholars in the field of Southern history.
The essays in "New Directions" examine the effort led by the American Colonization Society to resettle black Americans in Africa in the 19th century. The movement remains controversial today. Some scholars think it was inspired by antislavery principles, and others think it was a proslavery reaction against the presence of free blacks in society. The essays in "New Directions" reflect and expand on this complexity of the subject while exploring the religious, political and social aspects that influenced the recolonization project.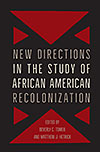 "Another interesting debate the collection addresses involves the question of whether Abraham Lincoln supported colonization," Tomek said. "Many historians have argued and continue to argue that Lincoln abandoned colonization during the war, but two of our chapters show that he supported it until his death."
Tomek's idea to create the volume grew out of scholarly interest generated by her 2011 book, "Colonization and Its Discontents: Emancipation, Emigration, and Antislavery in Antebellum Pennsylvania." After its release, other scholars also working on topics related to recolonization started to contact her.
"It occurred to me that there was a lot of new work being done in the field, and it was time to bring some of it together and offer a collective assessment of where the field is and where it is going," Tomek said.
Tomek explained how she and co-editor Matthew Hetrick of the Bryn Mawr School selected essays for inclusion: "We wanted to amass a collection that would represent each avenue in the growing subfields – those that focus on missionary work, life in the African colonies, the role of race, the political dimension of colonization, and the black reaction to the colonization movement."
Reviewers have praised the book for its extensive scope and treatment of the subject.
"Never has the story of American African colonization been so thoroughly explored," wrote reviewer Violet Showers Johnson, coauthor of "African & American: West Africans in Post-Civil Rights America."
"New Directions" is yet another significant contribution by Tomek to the greater body of literature about African American history, said Jeffrey Di Leo, dean of the UHV School of Arts and Sciences.
"This work will be an invaluable resource to scholars in their quests for truth and understanding of a historical event that for decades has stirred considerable debate," he said.
Tomek presently is finishing her manuscript for a third book called "Slavery and Abolition in Pennsylvania" for the Pennsylvania Historical Association. She also is preparing to write a biography about James Farmer, a civil rights leader who founded the Congress of Racial Equality and laid the groundwork for initiatives such as the Freedom Rides and Freedom Schools.
The University of Houston-Victoria, located in the heart of the Coastal Bend region since 1973 in Victoria, Texas, offers courses leading to more than 80 academic programs in the schools of Arts & Sciences; Business Administration; and Education, Health Professions & Human Development. UHV provides face-to-face classes at its Victoria campus, as well as an instructional site in Katy, Texas, and online classes that students can take from anywhere. UHV supports the American Association of State Colleges and Universities Opportunities for All initiative to increase awareness about state colleges and universities and the important role they have in providing a high-quality and accessible education to an increasingly diverse student population, as well as contributing to regional and state economic development.