Close
Writer wants to share stories left out of history
Although he's written and edited more than 30 nonfiction books, Frederick Aldama chose to make the jump to writing fiction to convey some of the hard truths in life, especially for Latinos.
"Fiction and nonfiction are similar because they can be used to deconstruct concepts of reality," said Aldama, an author and an arts and humanities distinguished professor at The Ohio State University. "Nonfiction has a basis in verifiable fact while fiction is more creative and flexible in its storytelling. I've used them both to engage and transform readers and try to affect change in the world."
Aldama will be the next presenter in the fall University of Houston-Victoria/American Book Review Reading Series. His reading will be at noon Nov. 16 in the Alcorn Auditorium of UHV University West, 3007 N. Ben Wilson St. The presentation is free and open to the public.
"Frederick Aldama's writing takes an unflinching, honest look at the hard truths of life as a Latino in America," said Jeffrey Di Leo, dean of the UHV School of Arts & Sciences, and ABR editor and publisher. "I'm excited to hear him read from his anthology."
Writing has been a lifelong pursuit for Aldama. He always was attracted to reading, especially fiction.
"I saw how it could be used to create entire worlds," Aldama said. "I attempted to do some fiction writing as a juvenile, but I didn't really get into creative fiction until I was an adult and had lots of experience writing nonfiction."
Aldama plans to read from "Long Stories Cut Short: Fictions from the Borderlands," an anthology of flash fiction, during his visit to Victoria. All of the stories are shorter than 750 words, and he wrote them as depictions of life for Latinos in America – and purposefully so. Given that Latinos in the U.S. encounter daily different forms of racism, they often are disallowed from realizing full potentialities, he said. Their lives are cut short, and they aren't given the possibility of living the "full narrative."
"Even though many of the characters aren't explicitly tagged as Latino, I want my readers to experience the hard emotional truths of what it means to be Latino in the Americas and at different phases of life: from infancy and childhood through teens, adulthood and end of life," he said.
Everything from the cover design by Jaime Hernandez (of Love & Rockets fame) that features Latinos from all walks of life exploding out of the Americas like superheroes to Aldama's style of writing the stories in both English and Spanish with subtle differences between translations reflect the multifaceted way Latinos exist in and across cultures and languages. In form and content, Aldama seeks to dissolve borders and walls to reflect the actual experience of Latinos who exist across cultural, regional and national.
"My own heritage crosses borders," Aldama said. "Born in Mexico City to a Mexican papá and growing up Latino in the U.S to an Irish and Guatemalan U.S. American-born mamá, I wanted to write something that shared that experience and explored others."
The reality of stories cut short is something Aldama personally has experienced. His mother dedicated her life to teaching Latino children in a low-income, rural part of California. The school was next to agricultural fields that regularly were sprayed with pesticides, and after years of working in that environment, she developed cancer.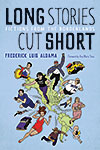 Just as his mother's life was cut short, Aldama tells stories of people who made sacrifices in communities without needed resources and whose stories often end too quickly as a result.
"I want readers to open their eyes and look for the full narrative," he said. "I want them to know that Latino voices matter, and there's power in solidarity. Even if they aren't Latino, they have neighbors and people they meet in other places who are, and those people are just as complexly human as anyone else."
The last writer scheduled for the fall UHV/ABR Reading Series is Clay Reynolds, who will speak on Dec. 6.
Reynolds is a scholar, teacher and writer. He is the director of creative writing, and teaches creative writing and modern literature at the University of Texas at Dallas. Reynolds writes fiction and nonfiction, as well as scholarship, book criticism, and journalistic essays and articles. His novels, "Franklin's Crossing" and "Monuments," both won the Violet Crown Award from the Writers' League of Texas. He is a National Endowment for the Arts Fellow and has received grants from the Texas Commission on the Arts.
ABR is a nonprofit, internationally distributed literary journal published six times a year. It began in 1977, moved to UHV in 2006 and has a circulation of about 8,000. The journal specializes in reviews of works published by small presses.
For more information about the UHV/ABR Reading Series, call the ABR office at 361-570-4101 or go to www.americanbookreview.org.
The University of Houston-Victoria, located in the heart of the Coastal Bend region since 1973 in Victoria, Texas, offers courses leading to more than 80 academic programs in the schools of Arts & Sciences; Business Administration; and Education, Health Professions & Human Development. UHV provides face-to-face classes at its Victoria campus, as well as an instructional site in Katy, Texas, and online classes that students can take from anywhere. UHV supports the American Association of State Colleges and Universities Opportunities for All initiative to increase awareness about state colleges and universities and the important role they have in providing a high-quality and accessible education to an increasingly diverse student population, as well as contributing to regional and state economic development.